Big Tech's Bracing for a Recession
Darkness has come for Big Tech. Many are reducing the pace of hiring as they brace for an economic downturn.
Last week, Google's CEO told employees in a memo that the Internet search giant must be more entrepreneurial than it has been in sunnier times, according to a report at Business Insider.

This is good news for shareholders. Let me explain.
The tech sector as a whole is in a funk. Investors are worried that the Federal Reserve will raise short-term interest rates too much, leading to an economic recession.
Tech companies, especially the big platforms, are unusually well-insulated from most macroeconomic shocks. The corporate world is in the midst of long-term digital transformation strategies.
Related Post: How the New iPhone Will Dial Up Apple Shares
I've written often about this theme. The gist of it is big companies want to make sense of all the digital data they're collecting. They want to learn more about customers, supply chains and how to be more efficient.
It's a huge investment, but one that will ultimately hand the big tech companies like Amazon.com (AMZN), Microsoft (MSFT), Alphabet (GOOGL) and Apple (AAPL) a big win.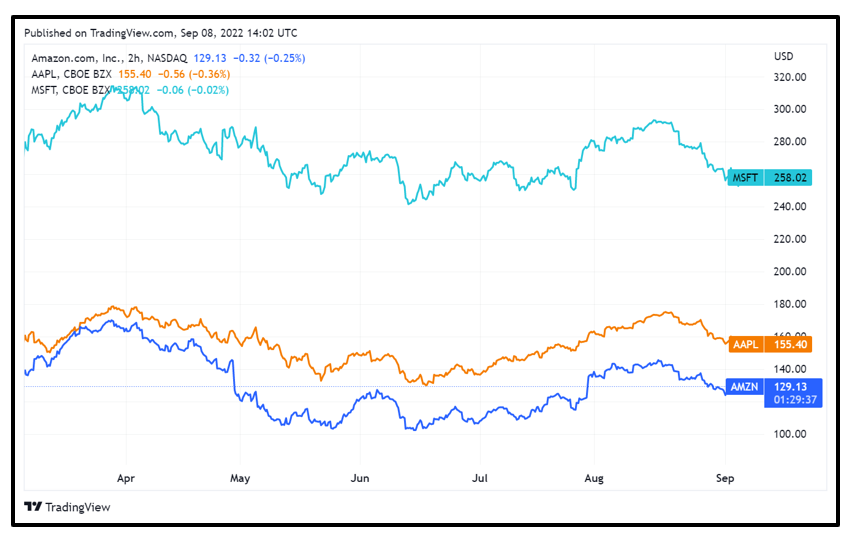 Six-month chart of AAPL, MSFT and AMZN.
Click here
to see full-sized image.
To gear up, big tech has been spending voraciously to build data centers and hire engineers.
Bloomberg reported in December that bidding wars for engineering talent had erupted throughout Silicon Valley, where most of the big tech companies have headquarters. Apple paid high-profile recruits $180,000 signing bonuses to prevent defections to Meta Platforms (META).
The Google memo from CEO Sundar Pichai is the first concrete sign that process is now in the rearview mirror. Pichai isn't pledging a hiring freeze, but he's redeploying assets to higher priorities.
This renewed focus should mean better profit margins. Ultimately, that's good for share prices and shareholders.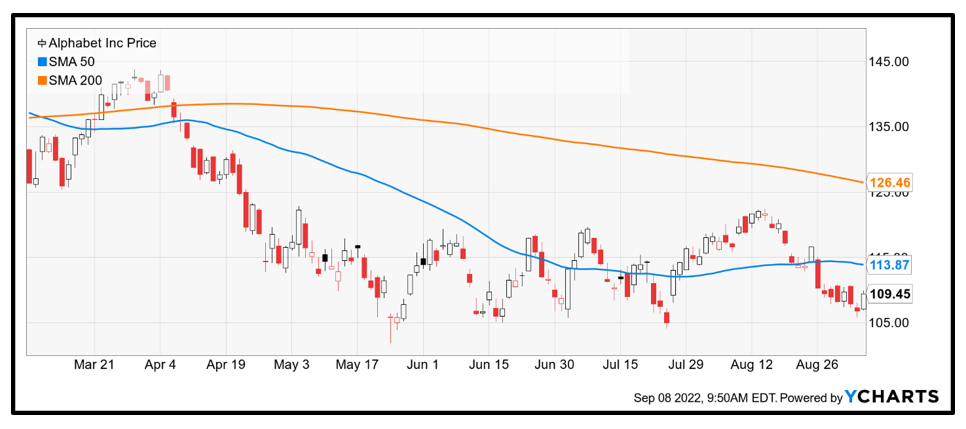 Six-month chart of GOOGL.
Click here
to see full-sized image.
Google isn't alone in doing more with less.

The Verge notes that Uber (UBER), Snap (SNAP), Spotify (SPOT) and Meta Platforms have implemented hiring freezes. Twitter (TWTR) and Netflix (NFLX) have announced layoffs.
Hiring freezes and layoffs always seem dark. After all, growth companies are supposed to keep growing. It's sort of the point of growth-stock investing.
However, these are big companies. Executive teams need to refocus. Most importantly, they must keep growing profits and building shareholder wealth.
Related Post: Tough Times for Tech Investors Could Get Worse
The fact that the leader at Google is telling his team it's time to do more with less is a good sign in the long term. It means Pichai is mindful of shareholders.
The short-term outlook for tech shares in general remains dark, though.
Despite a better than-2% rally on Wednesday for the tech-heavy Nasdaq Composite index, the biggest tech stocks are still vulnerable. I expect the index will soon test the June lows at 10,560.
All the best,
Jon D. Markman