Another crypto exchange platform is on the verge of failure, and its demise is creating weakness across all asset classes.
On Sunday, Celsius Network announced that users would no longer be allowed to withdraw, swap or make digital coin transfers.
It's the equivalent of a bank closing its doors while executives reflect … not exactly an ideal situation by any means.
Investors across all asset classes should take notice becausethere's more of this story to come.
Celsius is one of those platforms that seems too good to be true. At first glance, the business looks like a traditional bank.
Celsius acts as a custodian for customers, holding their Bitcoin (BTC), Ethereum (ETH) and other digital assets while paying them interest.
Related Post: War Fuels Inflation
The company, based in the U.K., then lends those assets to borrowers who pay a fee. The spread between the interest paid and the fees collected is the profit.
However, this is crypto. There are some special caveats.
Crypto Is Volatile, but Keep a Long-Term Outlook
Account holders on the Celsius platform don't have deposit insurance. The company also holds the cryptographic keys to all digital coins on deposit.
In a cash crunch, Celsius could take over all assets. To offset these potential pitfalls, account holders earned a whopping 18.6% annual percentage yield (API), according to a report by The Wall Street Journal.
And the number of accounts through May grew to 1.7 million, while assets on deposit swelled to $11.8 billion. Everything seemed fine.
Then last month, Luna (LUNA) and its UST stablecoin collapsed.
UST was supposed to track the U.S. dollar with an algorithmic system.
There wasn't anything really backing the greenbacks other than a math puzzle that rewarded and punished competing crypto holders to maintain the peg. It fell apart in the middle of May, and investors lost $60 billion, according to a report by Bloomberg.
Celsius seemed immune. The platform was founded by Alex Mashinsky, a founder of eight startups and noted engineer during the developmental era of Voice over Internet Protocol (VoIP).
Celsius also became a favorite of the monied class. One of the largest pension funds in Canada headlined a $750 million funding round only a year ago.
Unfortunately, Celsius wasn't immune to crypto volatility post-Luna. Pausing all customer withdraws, swaps and transfers reminded investors that it isn't a bank, either. Yikes.
In a memo to the Celsius community, executives made it clear that this is an important step to ensure that over time, the company can honor future withdrawal obligations. The key part is "over time."
Investors should understand what this language implies. Celsius is effectively closing its doors to customers, refusing to give back their money.
More important, Celsius is not a small operation. The company's attracted deep-pocketed investors and financial institutions.
It looks like it's only a matter of time before large crypto-related losses come to light at these firms. These unexpected losses occur during every cycle, and they always shock the market.
Warren Buffett had a saying for this phase: It's only when the tide goes out that you learn who's been swimming naked.
One of the most interesting developments Monday was the carnage across all asset classes. From stocks and bonds to commodities and even gold, investors were selling. Nothing was safe.
Investors can no longer bury their heads in the sand. Our country is facing a true financial crisis. The "golden age" of investing and free money that we've witnessed for the last 12 years is over. Now comes the fallout of those actions. Roaring inflation has seen to that, and this crisis has barely begun. Click here for all the details.
Volume of the New York Stock Exchange (NYSE) was 20-to-1 negative. Volatility, as measured by the CBOE Volatility index (VIX), surged by 22.5%. Only one stock in the tech-heavy Nasdaq Composite index finished higher.
Investors have been focused on surging energy prices and falling Treasury bonds. They worry that the Federal Reserve will move too quickly raising interest rates to fight inflation.
Related Post: Amazon Has Lost Its Way
However, the May low for the S&P 500, and the selling earlier this week, came in response to crypto blowups.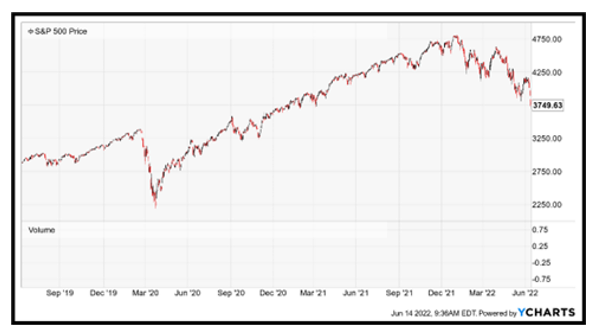 Crypto is the weak link that nobody is talking about.
Remember to always do your own due diligence before buying anything.
Best wishes,
Jon D. Markman