Why Coinbase Is a Great Play on NFTs
The intersection of digitalization and blockchain is leading to an unlikely boom in non-fungible tokens (NFTs). NFTs have become a popular way to monetize digital media, yet that is only the beginning.
NFTs became part of the zeitgeist in March when a digital collage created by Beeple, a popular new media artist, sold for $69 million at a Christie's auction. It's a new era of verification and scarcity.
From an investment standpoint, Coinbase Global, Inc. (Nasdaq: COIN) is the best way to participate.
For centuries, fine art has been the collectible of choice for the extremely rich. Van Gogh, Picasso and other artists' paintings were passed between generations because they were one of a kind. Their value is non-fungible, which means they are so unique that there is no substitute within the same asset class. That scarcity makes physical artwork an extremely good longer-term investment.
Now, skip forward to 2016 and the beginning of the cryptocurrency mania.
The foundation of cryptocurrency is the blockchain, a secure distributed digital ledger that can't be corrupted or hacked because there is no central authority. Every record is public and permanent. The math behind blockchain is next-level genius. It is also an extremely useful tool for the verification of items entered into the ledger.
Digital media is plentiful in the internet era. We consume it daily without any thought about the intellectual property owners. This was certainly true in the case of Mike Winklemann, the digital artist also known as Beeple.
Related Post: Coinbase, a Bitcoin-Platform IPO, Is Anything but Cryptic
Fourteen years ago, he set a goal to create a digital art piece every day. These images have been continuously gifted to his followers on Instagram and other social media platforms, according to a report from The Verge.
These files also became the source material for the collage that was put up for auction at Christie's.
The difference was "Everydays: the "First 5,000 Days," as it was named, had been tokenized on a blockchain. It was verified. There will be no duplicates, no counterfeits, ever.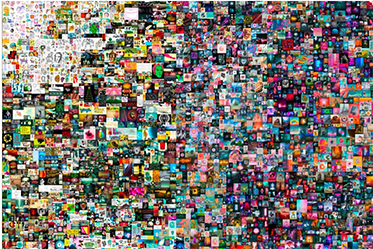 "Everydays: the First 5,000 Days" NFT Source: Slate.com
The piece also memorializes the daily exploits of the most prolific digital artist at the start of a movement. The backstory is perfect. In the parlance of the art world, "Everydays: the First 5,000 Days" is the piece de resistance. Its place in the history of NFTs, plus scarcity, was reflected at auction where the file fetched a whopping $69,346,250.
At first, Coinbase might not seem like the obvious way to play the rise of NFTs. The cryptocurrency exchange debuted on the New York Stock Exchange (NYSE) last week. Shares zoomed from the reference price of $250 all the way to $430 before settling back into the low $300s. Don't be fooled by the relative weakness from the session highs.
Related Post: Why PayPal Is Cashing In on Digital Money Wars
The San Francisco-based company is the most trusted exchange for cryptocurrency assets. This includes Ethereum (ETH), the preferred currency for NFT transactions. Coinbase collects a fee to help crypto investors exchange fiat currencies like U.S. dollars for Ethereum. It's an extremely lucrative business. In some cases, the commission can be up to 30%.
In the Securities and Exchange filing leading up to the listing, Coinbase managers noted that revenue during the first quarter was $1.8 billion, up 900% from a year ago. Profits are expected to be in the range of $730 to $800 million. If you take the midpoint, it is a year-over-year increase of 2,300%.
If that business looks suspiciously like Mastercard, Inc. (NYSE: MA), Visa Inc. (NYSE: V), Square, Inc. (NYSE: SQ) and PayPal Holdings, Inc. (Nasdaq: PYPL) on steroids, it is not by accident. Coinbase operates a pure, transaction-based platform where customers must pay to play. The likelihood of a fantastic increase in those transactions is excellent.
The sky is the limit with NFTs … and it is not merely about digital artists.
Professional sports organizations have begun to tokenize memorable video clips. A famous snip of a LeBron James dunk sold for $230,000. Topps, the trading card company, plans to release major league baseball NFTs on April 20. Gaming companies want to sell avatars and other virtual trinkets. And real-world assets like designer sneakers, purses and dresses are natural fits seeking verification.
It's a brand new era for digital assets. Scarcity will create many lucrative new businesses. Longer-term investors should strongly consider staking their claim now.
Best wishes,
Jon D. Markman