Why Ford Could Be the Next Tesla
Ready. Set. Go! The race for electric vehicle (EV) dominance is on, and Ford (NYSE: F) is in the best position to fight Tesla's (Nasdaq: TSLA) early dominance.
The total market capitalization of Teslais nearing $1.2 trillion. Investors are giddy about the prospects of making EVs, even from the most unlikely sources … and the hype is getting out of hand.
On Friday, analysts at Morgan Stanley (NYSE: MS) upgraded shares of Ferrari (NYSE: RACE) on the premise that investors are overlooking the EV made by the Italian supercar maker.
It's a stretch and I don't buy it because there's already so much competition in the industry.
Other companies — like Ford — are in a much better position to fight Tesla's early dominance. Ford deserves the upgrade, not Ferrari.


• The lesson of investing in EVs, or any burgeoning technology for that matter, is simple: Invest in the big idea because that drives the narrative … and ultimately the price. Along the way, ignore naysayers. They are looking at the wrong metrics and they are going to be wrong.
In 2010, automobile sector veterans laughed at Elon Musk when the Tesla chief said he had a plan to move the world away from internal combustion engine (ICE) vehicles. Industry insiders said the idea that consumers wanted EVs, let alone those made by a company with no manufacturing experience, was preposterous. It would never happen … so they claimed.
Related Post: 2 Semiconductor Companies Cashing in on the Chip Shortage
Skip forward a decade, and every major automobile company in the world is scrambling to electrify their fleet … even sports car titan Ferrari.
But in most cases, this process is simply not going to work.
Teslas represent the evolution of cars and light trucks. The driving experience is unique because its EVs were never designed to be traditional cars and trucks. From structure to safety and software to acceleration, everything is superior.
• Most legacy car companies are entering the EV marketplace with an outdated game plan. They are bolting on an electric motor or two, slapping a touchscreen on the dash and calling it a day. Yes, these new cars will grow the EV market, but no, they will not displace Tesla. They are half measures.
The Ferrari brand is about exclusivity and the finest fully aspirated, handmade sports cars in the world. The SF 90 Stradale, its new $513,000 hybrid EV, is a monster.
It will use electric drive technologies supplied by Daimler (OTC: DMLRY), and other bits and pieces cobbled together through partnerships, according to a report from Reuters. That is hardly a rebuild from the ground up.
• Ford is taking a different route that looks much more likely for sustained EV success.
In September, CEO Jim Farley announced the company will spend $11 billion to build new battery manufacturing plants in Glendale, Kentucky, and Stanton, Tennessee.
Ford is also partnering with SK Innovation to increase production at a Georgia factory now under construction. The combined production by 2025 should supply one million EVs. Ford is going to need those batteries for its growing lineup of sold-out EVs.

The Ford e-Transit, an all-electric version of its best-selling commercial van, will start production later this month. The initial production run is fully subscribed. In October, Farley said that global demand for the Mustang Mach-E now exceeds 200,000 units. In Norway, a country where an astonishing 77.5% of all new vehicles sold are EVs, sales of Ford's stylish SUV are only topped by Tesla.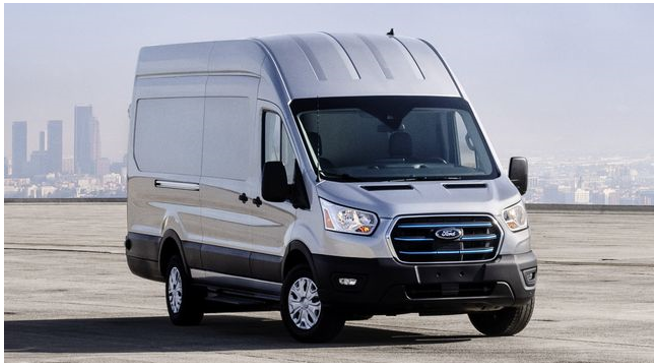 Ford's 2022 E-Transit Source: Car and Driver
And reservations for the Ford F-150 Lightning, a full-size electric pickup, have now reached 160,000. The functioning pre-production concept has wowed automotive writers with its blazing 4.5-second 0-60 mph acceleration, towing capacity and practicality.
The battery can power plug-in table saws, air compressors and even a house during a power outage. The Lightning also has a huge, lockable frunk (front trunk) where the engine used to be. All these new features will translate into increased sales.
• So, while the Ferrari Stradale may look nicer and flashier than the new Ford EVs, the new Morgan Stanley upgrade is just clever clickbait. Investors are underestimating Ferrari's total EV portfolio.
But the Italian supercar maker is not an EV company and it should not get a premium valuation based on that transition.
Related Post: Why GM Is a Software Company Now
Clearly, Ford is different and deserves an EV valuation because it is well positioned for future EV growth and success.
The Detroit-based carmaker has a legitimate electrification transition plan — a big idea that drives investor narratives. As production inevitably ramps up the share price will follow, as it did with Tesla.
None of this is going to make any sense to the naysayers. Ignore them and their financial ratios. Investors have moved onto other valuation metrics such as EV investment, battery capacity and ultimately production.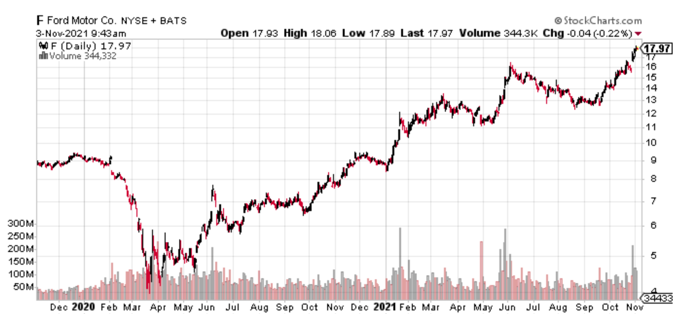 Ford shares are up around 103% over the past two years.
Ford is in the early stages of transitioning to become an EV company. Shares could possibly double within the next 12 months. Longer-term investors should consider buying shares into any near-term weakness.
Best wishes,
Jon D. Markman