How to Profitably Play the Swift Rise of Corporate Hacking
The transition from analog to digital has forced all companies to embrace technology. And while technology brings about a great deal of convenience, it also presents a higher risk of security breaches.
Unfortunately, most corporations are failing to secure their data. This has created an opportunity for savvy investors.
In a financial filing on Thursday, executives at T-Mobile (TMUS) acknowledged that 37 million customer accounts had been hacked. This is the company's eighth security breach since 2018.
Investors should consider buying cybersecurity shares, especially CrowdStrike Holdings (CRWD).
Apart from securing customer data, T-Mobile is a wonderful business. The Bellevue, Washington-based company has amassed 110 million customers and continually ranks highest in overall satisfaction among U.S. wireless carriers. Clearly, its legacy phone business is not the problem.
Like many companies, T-Mobile is having a tough time with digital transformation.
Smartphones and cloud-based software pushed corporations to digitize key infrastructure. While productivity and business opportunities have increased, so have the challenges.
In many cases, corporations were wholly unprepared for bad actors, like hackers and digital extortionists.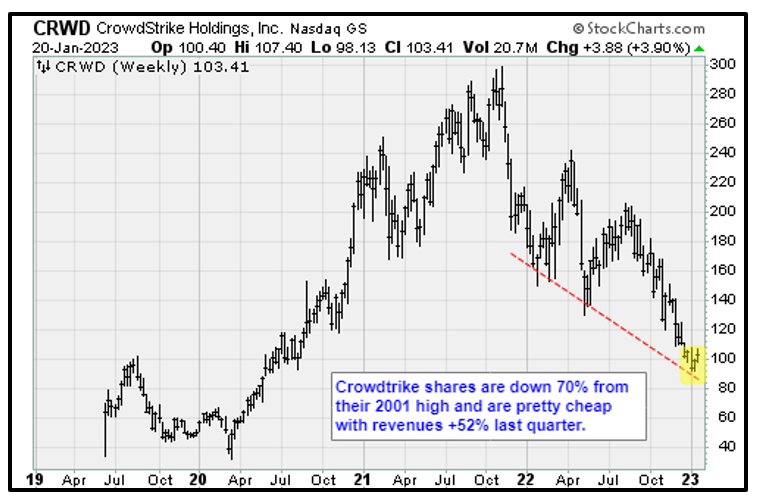 Four-year chart of CrowdStrike.
Click here
to see full-sized image.
T-Mobile infrastructure was breached in March 2021, exposing 75 million customers accounts, according to a filing with the Securities and Exchange Commission.
Hackers infiltrated a third-party email vendor to gain access to T-Mobile servers and proceeded to steal customers' personal information, including social security numbers and other sensitive government identification data.
Related Post: Why Tesla Shares Will Recover
Lapsus$, a United Kingdom-based hacking group, gained access to T-Mobile's internal tools last year. The cyber thieves attempted to take control of customer phone numbers through digital SIM swaps. Had they been successful, Lapsus$ would have been able to reset credentials for email accounts and cryptocurrency wallets.

Sadly, the rate of these attacks is only increasing.
A spokesperson for Zurich Insurance Group told the Financial Times in December that cyberattacks are becoming so common that they will soon be uninsurable.
Last week, Zurich executives disclosed that its network suffered a breach. Hackers compromised a third-party contractor, then gained access to 757,463 current and former customer accounts.
CrowdStrike is uniquely qualified to prevent these invasions.
The fast-growing Sunnyvale, California-based company operates a cloud-based platform that collects threat data simultaneously across all devices connected to the client's network.
It analyzes the information using AI, then seamlessly updates all endpoints. Protecting these endpoints is critical to overall network safety because that is where hackers are gaining entry.
Forrester Research ranks CrowdStrike as the clear leader in endpoint detection and response.
CrowdStrike shares traded as high as $297 in November 2022; however, it has gone downhill since. Like with many growth stocks, investors focused on CrowdStrike's high price-to-earnings ratio and the prospect that growth would slow as the economy entered a recession and corporate coffers dwindled.
Related Post: The GameStop Fiasco Is Happening Again
Corporations can't afford not to invest more in cybersecurity. The threat to their new digital businesses is existential.
At a share price of $103.41, the CrowdStrike shares trade at 51.9x forward earnings and 11.5x sales. Although these ratios may seem steep, the company has gross margins of 73.5%, and sales growth remains strong.

CrowdStrike reported in November that Q3 revenues grew to $581 million, up at 52.8% year over year. Annual Recurring Revenue increased 54% from a year ago, to $2.34 billion. Of this amount, $198.1 million was added in Q3.
Investors underestimate the business potential of CrowdStrike because they can't see the size of the potential marketplace.
T-Mobile and other corporate clients are good at their underlying businesses, but they are clearly not spending enough to master the security of their digital networks. Budgets will increase as the threats to the enterprise become too large.
Companies like CrowdStrike will benefit.
All the best,
Jon D. Markman
P.S. If you enjoyed this article and want more specific and prudent investing recommendations from me, consider checking out my trading service, The Power Elite. Members of that service are currently sitting on open gains of 156%, 133% and 107%!