The GameStop Fiasco Is Happening Again
Small tech stocks are suddenly surging again despite bearish analyst commentary. However, nothing has really changed, and the businesses remain broken.
This means one thing — buyers should beware, as this will end badly.
On Wednesday, analysts at Bank of America (BAC) downgraded shares of Carvana (CVNA), the used car reseller. The recommendation did not go well. Shares rallied 24% in frantic short covering.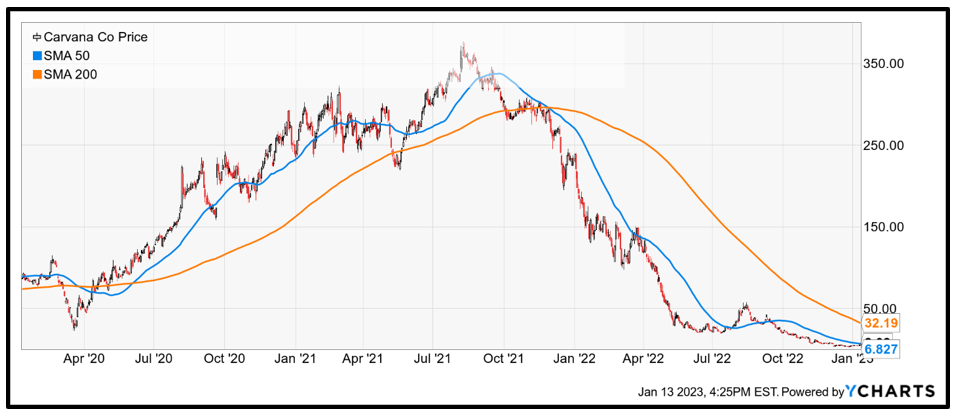 Three-year chart of Carvana.
Click here
to see full-sized image.
Investors should take this opportunity to sell Carvana shares and two other short squeeze favorites.
You may remember Carvana from the pandemic.
The Tempe, Arizona-based company operates a used car network. That business grew astronomically in 2021 for all the wrong reasons.
But Carvana was a gimmick, a shiny object that caught the attention of legions of novice investors looking to make a quick buck in the soaring stock market.
Executives created plenty of spectacle. They spent lavishly to build glitzy vehicle reconditioning centers and glass car vending machines that wowed investors. There was a Super Bowl advertisement and a $2.2 billion offer to buy Adesa, a real-world car auction business.
Related Post: A Big Deal for the Semi Sector
Shares soared in 2020 by 1,000% from the low in March to the December high at $294. The stock peaked 8 months later at $376.83 amid a flurry of analyst "Buy" recommendations and corporate finance news. The future seemed bright.
Unfortunately, executives at Carvana were less adept at making money. The company had only one profitable quarter in its ten-year history. The used car retailer posted a profit of $22 million in Q2 of 2021. Net losses in the following three quarters were $781 million.
Losses, and the prospect of being unable to service debt, is a large part of the reason why Bank of America (BAC) analysts are so bearish. They feel investors are drastically underestimating the challenges ahead. Bankruptcy is possible.
The stock is rising because smaller investors believe they have hacked the system.
During the past four days, from the low to high, shares of Carvana, AMC Entertainment (AMC) and Bed, Bath and Beyond (BBBY) all staged impressive rallies, rising 90%, 41% and 296%, respectively. This is despite the …
Strong Likelihood of Future Insolvency
Traders chatting online on message boards are looking past the fundamentals and are focusing on using their collective might to inflict maximum pain on professional short sellers. This is largely a repeat of the GameStop (GME) saga in 2021 that caused at least one hedge fund to fold.
GameStop shares did eventually collapse, although the fundamentals of that business are nowhere near as dim as Carvana, AMC and Bed, Bath and Beyond.
Related Post: Why Tesla Shares Have Swerved Off the Road
Novice traders are playing a game of Russian roulette, betting their ignorance of corporate finance can outlast the patience and pocketbooks of professional bears.
I'm not necessarily taking the side of pros. Short-selling is a tough, yet necessary part of the financial services industry. Short sellers remove market excesses, creating order.
Pros must first borrow the shares from a broker, sell that stock into the open market and hope that the share price continues to decline. The profit occurs when the shares can be repurchased and returned to the rightful owner.
Unfortunately for short sellers, that process leaves them at the mercy of investors who choose not to make their shares available.
That's where the short-squeeze message board traders enter the fray. They are creating synthetic shares by buying call options and, in some cases, buying the stock outright.
The problem with this strategy is that the target companies are candidates for bankruptcy. In that case, shareholders would get nothing.
Serious investors should not get sucked into this game. In the end, companies that are unable to service debt will likely go bankrupt. Their shares will likely get delisted.
There is no sure route to easy stock market success. Trading is not supposed to be easy, or something that can be picked up on an internet message board. All of this is common sense, yet the belief that the system can be hacked, or that small guys can beat the big guys is an intoxicating story.
The past year should have taught investors this is not so.
All the best,
Jon D. Markman
P.S. If you enjoyed this article and want more specific and prudent investing recommendations from me, consider checking out my trading service, The Power Elite. Members of that service are currently sitting on open gains of 140%, 133% and 109%!