A Big Deal for the Semi Sector
Shares of semiconductor firms since the October lows have quietly led the financial markets higher. Buckle up, the best is yet to come.
The first week of January, executives at Taiwan Semiconductor Manufacturing (TSM) announced that mass production of the next-generation 3-nanometer chips will begin at its Taiwan campus.
These chips offer much improved performance, while using 35% less energy. And this evolution is …
A Big Deal for the Semiconductor Sector
Investors should consider buying shares of Broadcom (AVGO). Let me explain ...
Semiconductors are getting a bad rap. They are being lumped together as one big mess. Some analysts even argue that there is a glut of chips and that the sector should be avoided as consumer electronics firms work through the bubble in demand caused by the pandemic.
Related Post: Chip Glut Separates Future Winners & Losers
The foundation of this argument is based on a half-truth.
It is true that the pandemic caused supply chain strains. Enterprises, students and many consumers bought new computers, smartphones, desktop monitors, webcams and even fancy mice with the remote-work boom. All these gizmos used chips that were already in short supply. So, the companies that make the gear ordered even more chips.
When the economy reopened and interest rates began to rise, demand for personal computers and smartphones slowed. Then, starting in October 2022, computer companies like Dell Technologies (DELL) and HP (HPQ), as well as chipmakers like Micron (MU), Intel (INTC), Advanced Micro Devices (AMD) and Nvidia (NVDA), began to announce rising inventories.
The iShares Semiconductor ETF (SOXX) holds shares of a broad mix of chip businesses ranging from fabricators and equipment firms to specialty processor designers. SOXX traded in the middle of October at $287, down 47% from the exchange-traded fund's record high in January.
However, led by shares of equipment and specialty firms, the ETF rebounded sharply to $400 in December and now trades at $363. It's critically important to realize that …
The Semiconductor Sector Isn't a Monolith
Bearish analysts and investors unwisely see the sector as it was in the 1990s, mostly dependent on the PC business and its peripherals. The chip sector today is much more broadly based. Semiconductors are key components in everything from toasters and washing machines to light bulbs.
Related Post: Invest in the Face of Fear
This evolution of the chip sector is about miniaturization and connectivity.
One of Apple's (AAPL) new chips contains 114 billion transistors. Intel's first Pentium processor made in 1993 contained only 3.1 million transistors, according to a note from Baillie Gifford, a U.K. asset manager.
Newer, denser chips have made possible all sorts of things that seemed like science fiction only a few decades ago. Smartphones, super computers in the cloud and software applications that use artificial intelligence to constantly evolve have changed the course of civilization. The common denominators are more powerful chips and faster communication networks.
Broadcom: a Connectivity Company
The company, based in San Jose, California, is at the center of the semiconductor world because executives at the firm in the early 2000s wisely became serial acquirers of foundational digital and analog semiconductor intellectual property. The company review in September listed its active patent portfolio at more than 19,000. This important IP holds captive Apple, Samsung (SSNLF), HP, Dell, AT&T (T), Cisco Systems (CSCO) and many other communication giants. Without Broadcom gear, connectivity is impossible.
That's why Broadcom is the big winner in the ongoing buildout of TSM's new, cutting-edge chips. Technological advancement is not slowing, regardless of the state of the global economy. Next-generation microprocessors are a big part of the solution to upcoming challenges like AI and connecting new device categories to disparate networks.
Investors have noticed.
The stock traded in October at $420. At the current share price of $588.43, Broadcom trades at 13.5x forward earnings and 7x sales. These metrics may seem dear, but investors should be mindful of the business case for Broadcom.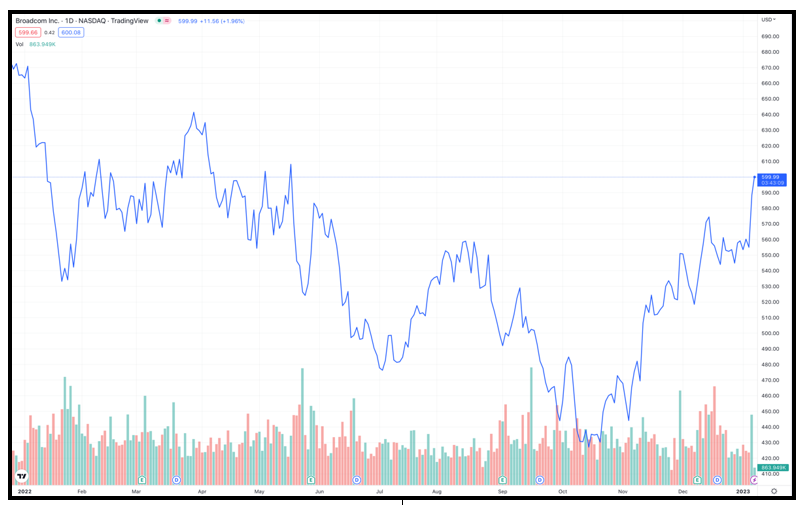 One-year price chart for AVGO.
Click here
to view full-sized image.
Investors should consider purchasing Broadcom on pullbacks. As always, conduct your own due diligence before entering any trade.
Best wishes,
Jon D. Markman
P.S. Earlier today, Financial News Anchor Kenny Polcari shared for the first time three specific, undervalued investments viewers can use to ride the Made-in-USA Superboom. Click here to get access to those investments absolutely free, as well as two investment MULTIPLIERS with a history of increasing investor gains fourfold. Find out more here.