Invest in the Face of Fear
Stocks are falling again, and the pundits are pessimistic, warning that the worst is yet to come.
Investors should be wary. If you want to make real money in the stock market, you're better off ignoring fearmongers, setting realistic goals and building an investment portfolio for the long term.
Here are five reasons why investing in the face of fear works.

1. Wall Street strategists and analysts are not your friends.

Sadly, they are part of a larger, well-oiled machine designed to encourage transactions. Their goal is to pump up enthusiasm in frothy stock market tops and break spirits at bottoms so they can move on to the next transaction.
Investment banking fees and egregious self-promotion are at the root of their so-called analysis, not your welfare.
Related Post: More Pain for This Bank Stock After 85% Loss
I'm not exaggerating. Pick any stock that has blown up, then google for analyst commentary as the share price reached its zenith.
What you will find is the analysts were wildly bullish at the top, projecting much higher share prices, then overwhelmingly bearish at the bottom. Keep in mind, the pretense of professional stock analysis is the ability to evaluate future value.
I wrote a report in December chronicling the spectacular rise and messy fall of Carvana (CVNA), a company that markets used cars with real-world vending machines.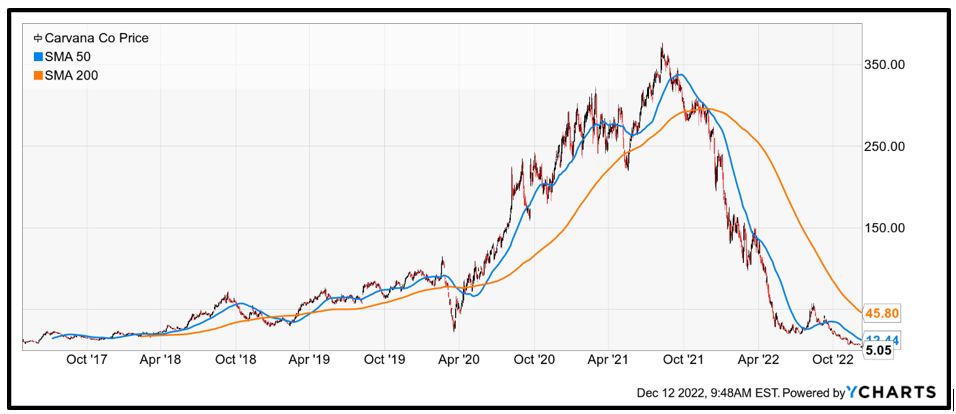 CVNA price chart.
Click here
to view full-sized image.
The price chart above gives you the full picture of a business model built solely on glitzy showmanship rather than a solid, sustainable foundation. A concept that may have been practical during a pandemic, but that couldn't possibly maintain its success post-pandemic.
2. The media is part of the machine.
Don't be fooled by claims of objectivity. The financial press is a valued part of the machine. Television producers and newspaper editors understand that the best way to drive ratings, advertising clicks and page views is to pedal extreme viewpoints. The outcome is mob-mentality journalism that supersedes common sense.
Remember all of the breathless stories about crypto millionaires, or the promise of day trading shares of special purpose acquisition companies? The hyperventilating now seems silly.
Unsurprisingly, most digital coins and SPACs turned out to be duds. It's a good thing there is also a strong market for new stories about the crypto and stock market crash.
3. Professional investing isn't what you think it is.
As surely as night follows day, certain professional money managers regain their voice when the stock market performs poorly. Most believe investing is no more than mathematics.
In their view, the worth of shares is based on fundamental financial metrics like intrinsic book value and price-to-earnings ratios.
This is demonstrably false, yet that is not the point. The problem with most actively traded pro portfolios is they only perform better than the unmanaged S&P 500 when the benchmark index is trending lower. Unfortunately for these investors and their clients, the long-term trend of the benchmark is higher.
An extensive 15-year study in 2020 from S&P Global found that 88.4% of managers underperformed the benchmark.
4. Don't be afraid to buy high-quality growth stocks when they go on sale, as it rarely happens.
The shares of some companies are simply better investments than others. Their executive teams are more focused and innovative. Their core businesses are growing faster with stronger competitive advantages.
Oddly, investors often balk at the opportunity to buy into these businesses when the share price falls. It's a big mistake, although it's a tough ask against the steady drumbeat of negativity that accompanies falling stock prices.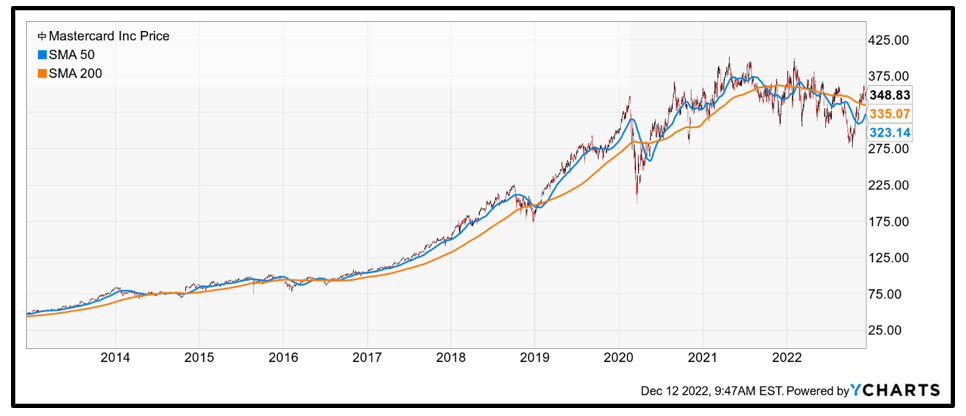 MA price chart.
Click here
to view full-sized image.
Mastercard (MA) operates one of only a handful of global credit card transaction processors. At the current share price of $348.83, the stock is up 8,099% since its initial public offering in 2006.
More importantly, shares declined at least 30% from the high in 2010, 2014 and 2020. Mastercard stock was down 60% in 2008, only two years after its IPO.

The business did not change. The weaker price was a buying opportunity.
5. Think of investing as buying a share of a business, not a digital certificate that can be easily bought and sold.
Too many investors are worried about factors that should not be their concern. If they owned a bakery, they would not sell the business because the global economy was contracting. The normal course of action would be to adapt.

Investors should devise strategies to invest in great businesses, then let the executives of those firms manage through the unfavorable macroeconomic climate. It's the proven way to build wealth.
Related Post: 2 Stocks That Are Deglobalization Winners
From Elon Musk and Jeff Bezos to Bill Gates and Warren Buffet, most of the world's richest people built their fortunes by holding shares of great businesses for the long term.
They didn't flip in and out based on the economy or the musings of vocal opinions in the analyst community, the media or among professional portfolio managers.
These sources have no history of accuracy, let alone building generational wealth.
Investing long term is not easy. It's not supposed to be. Good investing involves planning and fortitude to buy when everyone is saying sell. Don't be afraid to buy. Invest in the face of fear and embrace it.
All the best,
Jon D. Markman
P.S. If you enjoyed this issue, consider checking out Disruptors and Dominators to read about what companies Editor Tony Sagami thinks have the best chance to boost your portfolio. Members of his service are currently sitting on open gains of 39%, 27% and 15%!