More Pain for This Bank Stock After 85% Loss
A San Francisco bank blurred the line between regulated bank lending and crypto. Now lawmakers want clarification, and it is going to be really bad news for shareholders.
A bipartisan group of Washington senators on Tuesday requested a meeting with executives at Silvergate Bank. The lawmakers want to understand the banking relationship with FTX, the failed crypto exchange.
Silvergate (SI) shareholders should buckle up, this ride is going to get bumpy.
The irony is the company has been through worse. Founded in 1988, Silvergate had only 40 employees and $300 million in assets in 2008 when the financial crisis began. The bank was a then-sleepy San Diego firm with four branches and bankers that specialized in industrial loans.
The bank's leaders deftly dodged the mortgage crisis, then thrived as other lenders floundered. Then, in 2013, bank executives saw an opportunity in digital assets.
Related Post: Why UK Credit Crisis Should Worry You
CEO Alan Lane personally invested in Bitcoin (BTC). He felt Silvergate could build a lucrative business serving institutional clients that might want to do the same. Within four years, assets swelled $1.9 billion, according to a CNBC report.
The firm launched the Silvergate Exchange Network in 2017, a real-time payments system for cryptocurrency exchanges, institutions and hedge fund clients. SEN was essentially a 24/7, self-serve platform for clients to quickly exchange U.S. dollars and euros for crypto.
The rub, however, is Silvergate Bank is a Federal Reserve member bank. Customer assets are insured by the Federal Deposit Insurance Corporation. FDIC-insured banks have a duty to monitor client accounts for suspicious activities, including fraud, money laundering and tax evasion.
Until a few weeks ago, the Silvergate website featured a testimonial from Sam Bankman-Fried, the now disgraced founder of FTX, "Life as a crypto firm can be divided up into before Silvergate, and after Silvergate."
Now, a letter written by Democratic Sen. Elizabeth Warren of Massachusetts and cosigned by Republican Sens. John Kennedy of Louisiana and Roger Marshall of Kansas has been sent to Silvergate. The lawmakers want to know how Silvergate became so integral to the crypto ecosystem and what executives did to fulfill their duty of due diligence.
That is a tough ask of Silvergate executives. It's a bigger problem for shareholders.
The Silvergate website notes that SEN has accumulated 1,300 digital currency clients and $12 billion in assets. Since 2017, SEN has facilitated $1 trillion in transfers between dollars, euros and crypto.
Related Post: 2 Stocks That Are Deglobalization Winners
Even worse, NBC News reported last week that SEN was used to transfer $10 billion from FTX to Alameda Research, a hedge fund controlled by SBF. And the FTX bankruptcy filing shows that Alameda held 20 different accounts at Silvergate. A lawsuit filed by BlockFi against SBF alleges that these accounts were used to defraud FTX investors.
Washington politicos will not let this go, especially when the group composition is bipartisan. Blaming the police for the crime is political nirvana.
Silvergate stock is down 85% in 2022. Morgan Stanley (MS) downgraded the stock from "equal weight" to "underweight" and set a target price of $24. That's optimistic.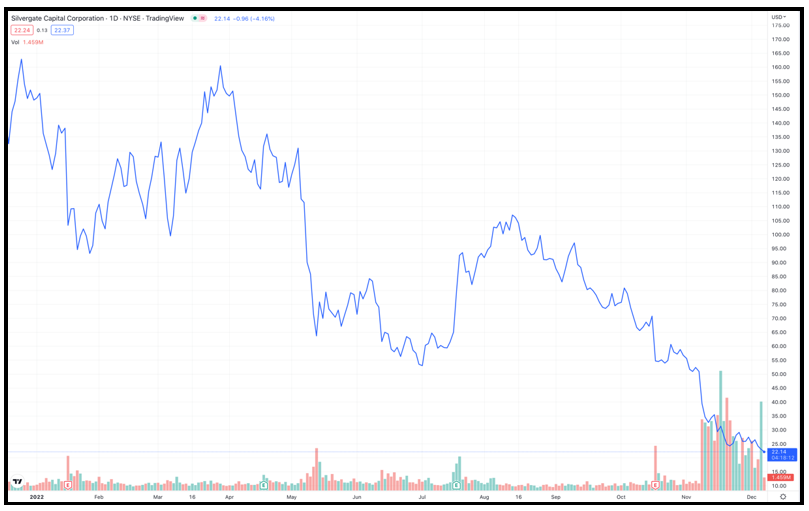 Year-to-date chart for SI.
Click here
to view full-sized image.
At $23.10, Silvergate shares trade at 5.5x forward earnings and 2.8x sales. There is no current dividend. The entire business model is now at risk. Shares could easily trade back to $16.50, the breakout from the 2020 consolidation.
Aggressive investors can take new short positions into a rally toward $30. Be sure to conduct your own due diligence beforehand.
All the best,
Jon D. Markman
P.S. If you're looking for similar plays in that space, consider joining my friend and colleague Tony Sagami's Disruptors & Dominators. Members are currently enjoying open gains of around 40%, 32% and 15%!