Microsoft Reaction Shocks the Street
Something amazing is happening with tech stocks. They are being downgraded while reporting lousy financial results, and they are still going up.
Microsoft (MSFT) was front and center of the earnings action on Wednesday after executives at the Redmond, Washington-based software company reported mixed financial results for Q2, but guided analyst forecasts lower for the rest of the year.
After collapsing at the open, Microsoft shares slowly rallied back to a near-unchanged level at the close.
The strength is peculiar because the forecast was so much weaker and more detailed than expectations. CEO Satya Nadella told analysts that enterprise customers are curtailing new workflows as they work through global economic weakness.
This enterprise spending collapse fits neatly into the bearish narrative that investors are way too optimistic about for 2023. However, after falling to $230.90 at the open, Microsoft shares closed at $240.61, only 0.6% lower.
Investors suddenly have an appetite for all things technology.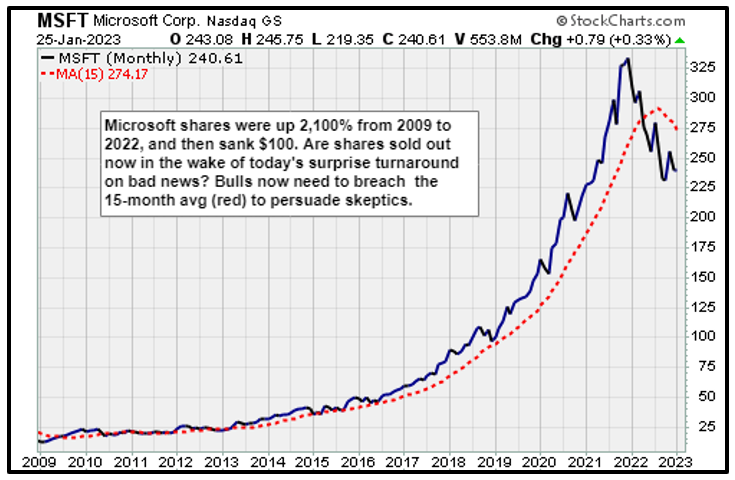 14-year chart of Microsoft.
Click here
to see full-sized image.
That is not how this was supposed to play out. Analysts began January by downgrading Amazon.com (AMZN), Alphabet (GOOGL), Apple (AAPL), Salesforce (CRM), Microsoft and Tesla (TSLA). Since then, shares are up 15.7%, 7.9%, 9.2%, 0.3% and 17.3%, respectively.
And strength for semiconductor issues, where the fundamental outlook is stronger, has been even brisker.
Related Post: How to Profitably Play the Swift Rise of Corporate Hacking
Shares of ASML Holding (ASML), the Dutch semiconductor manufacturing equipment giant, opened $15 lower before closing $11.50 higher at $681.53. It was the highest close since March 2022.
It's worth noting that business at ASML is booming despite ongoing requests by the U.S. Department of Commerce for ASML to stop selling its high-end lithography machines in China.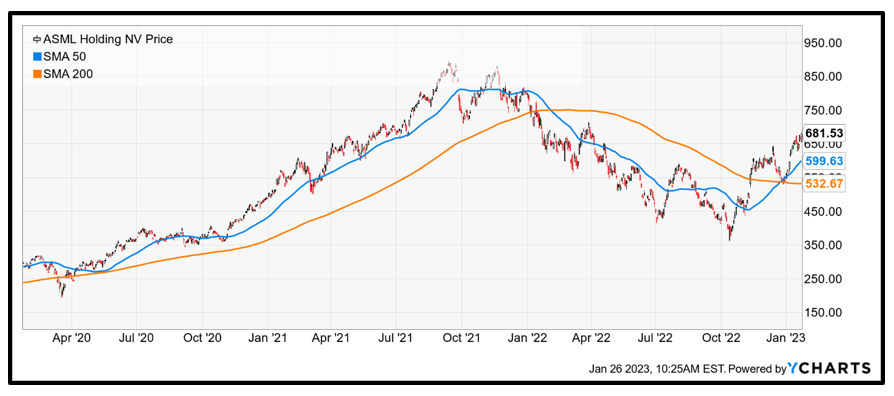 Three-year chart of ASML.
Click here
to see full-sized image.
Q3 financials reported on Wednesday showed revenues climbing to $5.7 billion, up 10.3% year over year. Earnings per share beat the FactSet analyst consensus estimates by 23.9%. CEO Peter Wennink said 2023 sales will be up 25%. Indeed, ASML shares in 2023 are up 24.7%.
It's difficult to know how much longer the current rally will last. February could bring new trouble.
However, professional money is clearly moving away from defensive stock groups, such as consumer staples, and back into Big Tech once again. This is a risk-on trade, and it is bullish.
Bears will argue the advance is a classic bear market rally, with big resistance for the Nasdaq-100 Index at 12,022, its 200-day moving average. That is only 1.6% above current levels. Bears say expect stocks, especially tech stocks, to get squashed there.
The strength for Microsoft seems to say differently, though. Some investors are clearly looking beyond the weak guidance for 2023.
Keith Weiss, an analyst at Morgan Stanley (MS), said in a note to clients that the secular growth trends at Microsoft remain strong. Its cloud business exceeded expectation in December.
He also points to the expectation of low single digits operating expense growth in the June quarter. Reduced spending coupled with layoffs should yield better profit margins.
Related Post: Why Tesla Shares Will Recover
Q2 results at Microsoft showed revenues rising 2% to $52.7 billion. Profits came in at $16.4 billion, down 12%, as margins slipped to 35% for a decline of 22.6%.
The bright spot was Microsoft Cloud revenue, up 29% to $27.1 billion, and Productivity, up 13% to $17 billion. Revenue from Personal Computing sunk 19% to $14.2 billion.
It's always valuable to watch for stocks that perform the opposite of expectations.
I'll never forget the day the old Merrill Lynch rose sharply in value after a horrendous earnings report in Q1 of 2003. That marked the end to that era's bear market.
Likewise, strange as it may seem, Microsoft and other tech shares are riding a momentum wave that could carry them much higher in the months and year to come.
All the best,
Jon D. Markman
P.S. If you enjoyed this issue and haven't yet joined my trading service, Weiss Technology Portfolio, now is the perfect time to do so. Members of this service are currently sitting on triple-digit open gains of 292%, 272% and 197%!