Microsoft's on Cloud 9 After Earnings
The biggest tech company often gets overlooked, and business is Booming with a capital B. And no, it's not a FAANG, of which most have lost their bite.
On Tuesday, Microsoft (MSFT) reported surprisingly strong financial results on the continued growth in cloud computing and its Office 365 corporate subscription revenue.
The software giant based in Redmond, Washington, has a stranglehold on business customers.
Most of Big Tech is under attack from politicians, regulators and smaller, nimbler tech companies.
If you're a bellwether tech investor, you may be looking for alternative avenues for profits in 2022. One strong way is with my colleague Mike Larson's Weekend Windfalls. He targets weekly payouts of $1,000 and has a win rate of 99% on recommended trades. For more information on this cutting-edge strategy, click here now.
Meta Platforms (FB), Amazon.com (AMZN), Alphabet (GOOGL), Apple (AAPL) and even Netflix (NFLX) can't seem to catch a break. Some constituency is always complaining that the platforms are too big, too anticompetitive.
Oddly, none of those slings and arrows seem to pierce Microsoft. The company goes about its business, getting bigger and more dominant, quarter after quarter.
Related Post: Put GM in Park
The heart of the empire is Microsoft's two corporate-facing cloud businesses.
The first is Azure, a computing platform that allows companies to manage workflows, store data and run the complex digital software suites that have become so important to growth strategies. Sales at Azure ballooned to $19 billion, up 26% year over year.
Office 365, the cloud-based, subscription version of the popular Microsoft Office productivity suite, is the other. That segment had sales of $15.8 billion, up 17% versus a year ago.

The Office 365 suite
While the cloud is raining profits, its traditional personal computing business should not be overlooked. The old-school Windows operating system, Surface computers, Xbox and the advertising businesses had sales of $14.5 billion — up a very nice 11% from a year ago.
The complete Microsoft package was good for first-quarter revenues of $49.4 billion, up 18%. Profits rose 8% to $16.7 billion. Microsoft shares traded 6% higher early Wednesday after the results.
The annualized sales rate at Microsoft is now nearly $200 billion, with about one-third in profits. And there's barely been a peep about uncompetitive practices or the need for greater regulation.
CEO Satya Nadella announced last August that Office 365 subscription prices would rise across the board. Clearly, the demand is sky-high, and it's not very price sensitive. That was excellent news.
The secret for its success? Clientele.
It makes sense for chief financial officers (CFOs) to run their productivity software in the cloud. And it doesn't hurt that Word, Excel and PowerPoint have become the industry standards.
Bundling productivity licenses with fees for Azure corporate cloud services is a no-brainer. It's cheaper. Plus, getting everything from one vendor is easier than chasing a bunch of competing services elsewhere.
Although there's a ton to be excited about, it has been a bit of a rough ride in 2022 for Microsoft shares.
Related Post: Level Up With Sony
Year to date, MSFT shares are down around 15% as of writing, putting it well below all the key moving averages. The business is clearly strong and growing rapidly, yet that does not always assure higher share prices.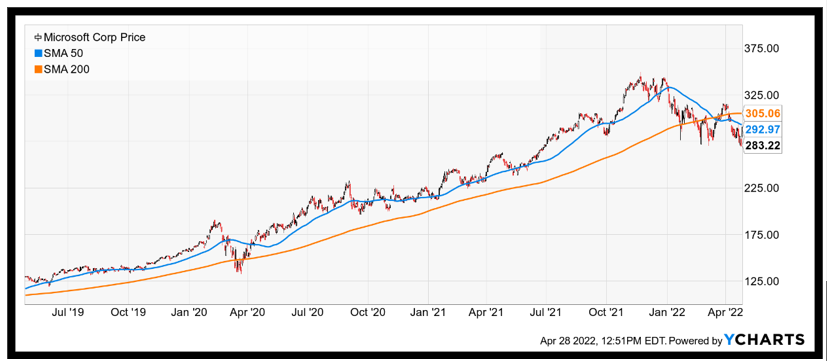 Investors are currently worried about higher interest rates and what impact increased borrowing costs will have on future corporate profitability. This has been especially pronounced in the tech sector where many companies are not yet profitable.
Earnings power is not a concern at Microsoft. The company has demonstrated amazing growth during the past two decades. The business is quietly getting bigger without much scrutiny. That's a good thing.
At a price of $286.04, Microsoft trades at 25 times forward earnings and 11.4 times sales. The company has profit margins of 38.5%.
Given the state of the current stock market, investors should consider buying the shares only after Microsoft stock moves above the key moving averages on a closing basis.
Currently, that would mean waiting for a rally above $295. As always, remember to do your own due diligence.
Best wishes,
Jon D. Markman