On Tuesday, Honda Motor (HMC) and General Motors (GM) executives announced a plan to make a sub-$30,000 electric vehicle (EV) starting in 2027.
They expected a positive response … but they received something far from that, and deservedly so.
What the legacy automakers need to realize is that the EV explosion is in its infancy. Although the uptick in ownership is growing fast in Europe and China, the important American and Japanese markets have yet to embrace electric cars and trucks.
EVs currently comprise a puny 4% of the total market in those key markets, according to research from the International Energy Agency.

A large part of the sluggish adoption rate can be attributed to vested interests in Detroit and Tokyo.
Ford (F), Stellantis (STLA), GM, Toyota (TM) and Honda still make a lot of money peddling internal combustion engines (ICE).
Well, at least that used to be true … most of the automotive industry has been in a deep funk since the pandemic.
With one exception, all the major automakers cut orders in 2020 for key semiconductors.
Executives assumed sales would slow because so many countries chose to lock down their economies. That fateful decision created the current semiconductor shortage.
Chip contractors simply replaced automotive orders with demand from consumer electronic companies.
Related Post: Pop a Split With Tesla
This all stands true … except for the EV king, Tesla (TSLA), which did not cut chip orders. Its popular EVs were presold.
Legacy automakers desperately want to duplicate Tesla's ultra-successful EV business model. It removes so much risk. However, getting there is going to be a struggle.
Parts modularity is a big deal in the legacy world. Wiring harnesses, brake assemblies and other auto parts are interchangeable across brands. Even small disruptions in the supply chain can be catastrophic for the entire sector. The transition to EVs will exacerbate those potential problems.
And if you needed any more proof, Honda and GM want to make a low-cost EV ... yet they can't even begin production until 2027. Yes, five whole years from now.
The time frame is especially worrisome given the two companies have a history together, the project will use battery technology developed in 2020 and the new vehicles will be manufactured in existing GM facilities.
The EV will be known as the "Cruise Origin," and it's very quirky.
The promotional website notes Origin will have no steering wheel, no pedals for braking or acceleration and a bus-like format where two sets of passengers will sit facing each other.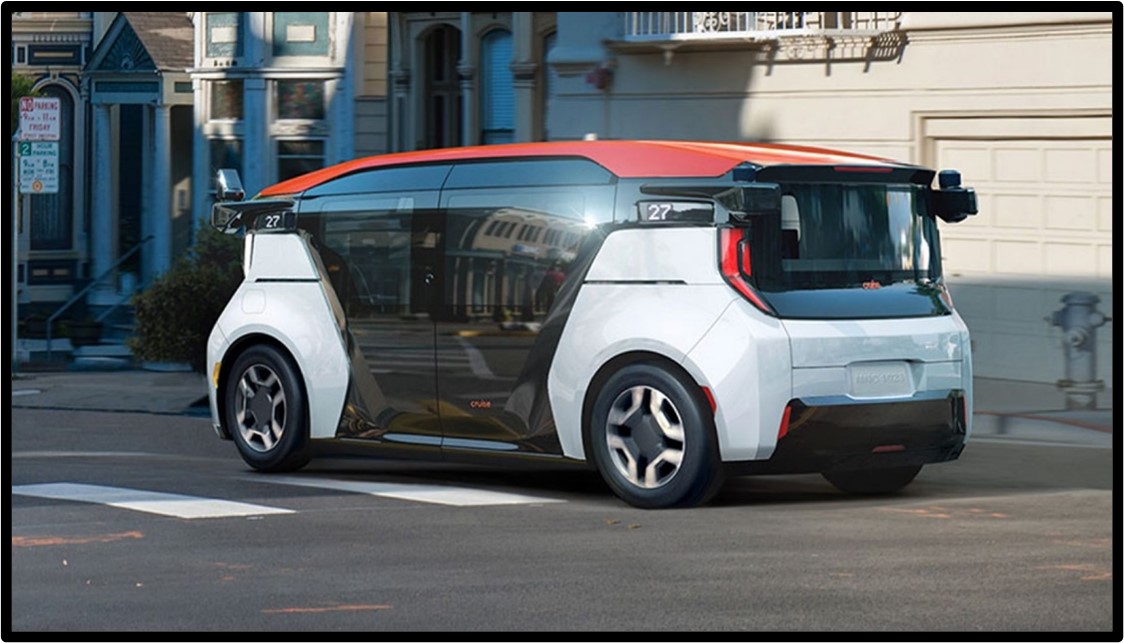 The prototype was supposed to showcase what was possible with technologies developed by Cruise Automation, an autonomous vehicle startup.
The 2027 collaboration is not expected to be autonomous, yet it will be powered by GM's Ultium battery platform and built in its North American factories, according to a joint press release. With so many of the necessary pieces in place, the production holdup is inexcusable.
Tesla is the global EV leader, and the firm is moving at breakneck pace. Right now, I don't see any competition to its dominance.
The company, based in Austin, Texas, started EV production in 2010 in a refurbished factory in Fremont, California, that was previously owned by Toyota.
A new state-of-the-art facility was completed in 2018 in Shanghai, China. The company opened a duplicate facility last month near Berlin, Germany. And an even larger Gigafactory is set to open this week in Austin. Together, these factories have the capability to manufacture 2 million vehicles right now.
Admittedly, it's early in the transition from ICE vehicles to fully electric. There is time for legacy automakers to get into the game with compelling products.
Related Post: Welcome to the Omniverse
Unfortunately, getting to the market late is not going to help GM. Long delays coupled with increased spending will put pressure on shares, leading to higher costs for additional capital.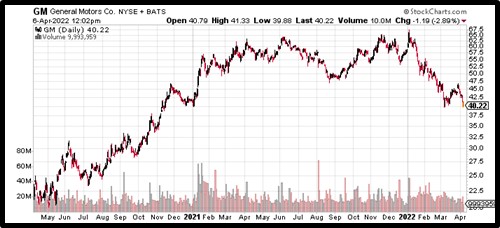 At the current price of $41.42, GM shares trade at 6 times forward earnings and 0.5 times sales. The market capitalization is $63.8 billion. While this may seem like a bargain, it's really a trap. Sales and profitability are declining at an accelerating rate.
According to the fourth-quarter financial report in February, quarter-over-quarter sales fell 10.5%. During the same time, earnings slipped 40.3%.
Remember to always do your own due diligence, but savvy investors should continue to avoid GM shares.
Another thing savvy investors should consider? Watching the emergency Zoom call founder Dr. Martin Weiss had with cycles expert Sean Brodrick.
In it, the two discuss inflation, soaring gas prices, mind-boggling government debt and war in Ukraine … and how those factors will impact your wealth now and into the future.
Click here now to watch the 10-minute video.
Best wishes,
Jon D. Markman