It's called the omniverse, and it's bigger than the metaverse and internet combined.
On March 22, Nvidia (NVDA) executives will be on hand for GTC, its annual developer conference.
The centerpiece of that important event is the Nvidia Omniverse, a two-year old digital simulation platform.
This represents a huge opportunity because the ramifications will be huge.
NVDA shares are up 441% since March 2020, but it looks like there's a lot more to come.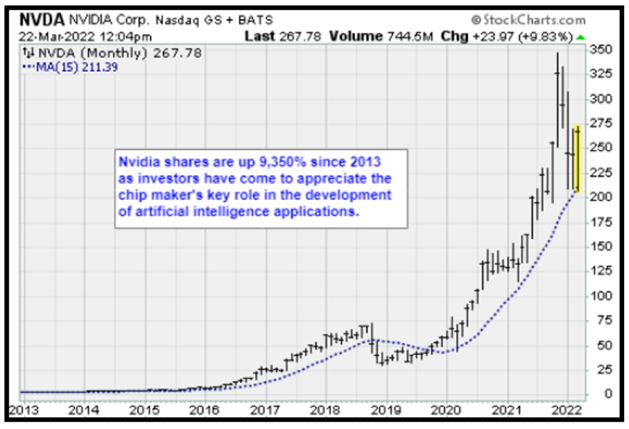 It's difficult to keep all the "verses" straight. The metaverse is an online world where people can meet, play games and eventually work, according to Mark Zuckerberg, the chief executive at Meta Platforms (FB).
He says that the metaverse is going to be huge. And he's right.
It will be what comes after Facebook, with more opportunity for monetization.
Unfortunately, the metaverse is mostly misunderstood.
It's been confused as a combination of Fortnite, Roblox (RBLX) and Minecraft, except for adults.
In that context, the scale of the virtual world shrinks to tech-savvy adults with silly digital avatars playing online games.
Related Post: The Great Resignation Is a Great Opportunity
Nvidia CEO Jen-Hsun "Jensen" Huang will benefit incredibly from the introduction of the omniverse because he's in full control over the narrative around it … and I trust his lead.
Think of it as the most scalable 3D simulation and collaborative design platform ever imagined.
Inside the omniverse … engineers, designers and scientists will build digital twins of real-world places, robots, factories, buildings, warehouses, cities, cars and so much more.
They'll be able to collect and train data from these virtual environments and objects, then use powerful artificial intelligence (AI) software to reimagine the possibilities.
The platform is built on Pixar's Universal Scene Description and Nvidia RTX architecture. It makes use of rich graphics and a mind-boggling amount of cloud-based computer processing.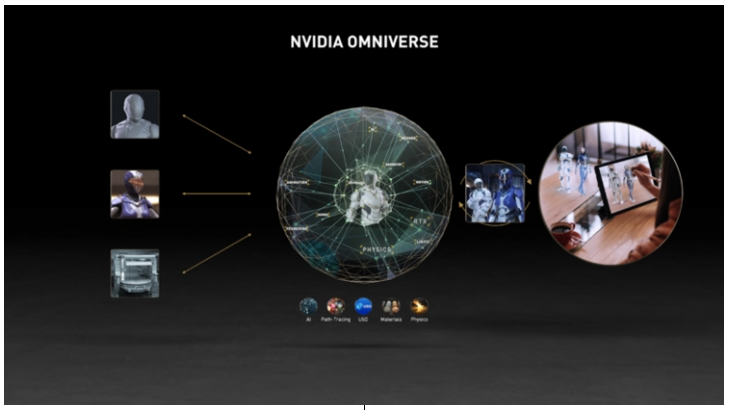 Some companies are using the platform to solve real-world design and modeling problems that used to be impossible.
Siemens (SIEGY) designed a digital twin of its steam turbine systems used in power generation. These systems have been plagued with corrosion issues and require extensive planned maintenance. But …
By using the omniverse, Siemens engineers were able to reduce downtime by 70%, potentially saving $2 billion per year.
The carmaker BMW (BMWYY) is using the omniverse to model three new factories comprising 6 million square meters (2.32 square miles).
The simulation is so extreme and data rich that it models humans, automation systems and all the 5,000+ parts used to build vehicles. Everything is represented in real time as the digital factory cranks out one new vehicle every minute.
The business case for the omniverse is obvious: Simulation on this scale eliminates risk. It gives companies the ability to work out the kinks in the virtual world, saving a LOT of money.
The platform is also a great way for Jensen Huang to showcase the strides Nvidia has made in AI.
Related Post: Reality's Video Game Victor
The larger story, though, is the dynamism of Nvidia.
The company began life as a maker of high-end graphics hardware for personal computers … and later game consoles. Nearly three decades later, the company is a vertically integrated AI business operating at scale.
It makes graphic processing unit (GPU) hardware for data centers, supercomputers, workstations and desktops. Its software is the base code for AI development.
Omniverse is the first big step toward building an AI operating system for enterprise customers.
It's too early to know how big that business might become … yet given the early adoption by BMW, Siemens and others, it's safe to assume commerce will be considerable.
NVDA shares are currently trading around $267.95; the stock trades at 39.3 times forward earnings. While that metric may seem daunting, it's worth noting that the operating margins were 65.2% last year.
Savvy investors should consider buying shares into weakness. Remember to always do your own due diligence.
Another thing investors should consider? My colleague Sean Brodrick's co-presentation with Dr. Martin Weiss.
Inflation, war, crushing government debt …
They are all symptoms of a much larger and more terrible event unfolding now through 2024.
Unstoppable forces of history, markets and human psychology have converged into a supercycle that will have huge implications. Few will emerge unscathed, and precious little time remains to prepare and protect YOUR wealth.
To learn more about this time-sensitive opportunity, click here now.
Best wishes,
Jon D. Markman