The Great Resignation Is a Great Opportunity
They're calling it the Great Resignation, and it's dramatically changing the entire landscape of the American workforce.
An unprecedented number of Americans are leaving their jobs, choosing lifestyle over white collars.
The main driver for this revolutionary societal shift? According to a new report from Gartner (IT), it's mainly due to the pandemic.
Analysts found that remote working setups put in place for the past two years gave employees more time to access what's important in life.
No commuting, more time for family and leisurely activities while becoming more productive has given workers a newfound sense of freedom.
And as a result, the search for talented workers has never been fiercer.
The reality is that the world has changed.
Even as parts of the country and globe reopen, it's clear the pre-pandemic workplace is not coming back.
Two years of Zoom (ZM) video conferences, Slack/Meet and email has fundamentally changed the way corporations do business.
Many have found the hybrid model — where employees conduct most business remotely — is far more productive.
Eliminating a lot of business travel, and employees working 12-hour days, will have that effect.
The unintended consequence is remote employees are fatigued.
The problem is especially acute in finance with firms offering increased pay packages to keep staff.
Executives at Citigroup (C) shocked analysts in early February when they acknowledged paying employees $3 billion more in 2021 than during the previous year.
JPMorgan Chase (JPM) upped compensation to investment bankers and traders by 13%.
Gartner finds that it is not all about money, though.
The pandemic has taught workers that they have options.
Some of this is about a better quality of life. Not all hybrid jobs are created equally. Many firms offer more flexible schedules. Getting the kids off to school can be a real benefit.
Demands for increased flexibility and mass burnout are two big trends Anthony C. Klotz, a business professor at Texas A&M University, wrote about during the pandemic.
Related Post: An Oracle Opportunity
He correctly predicted the Great Resignation as workers were asked to return to the workplace.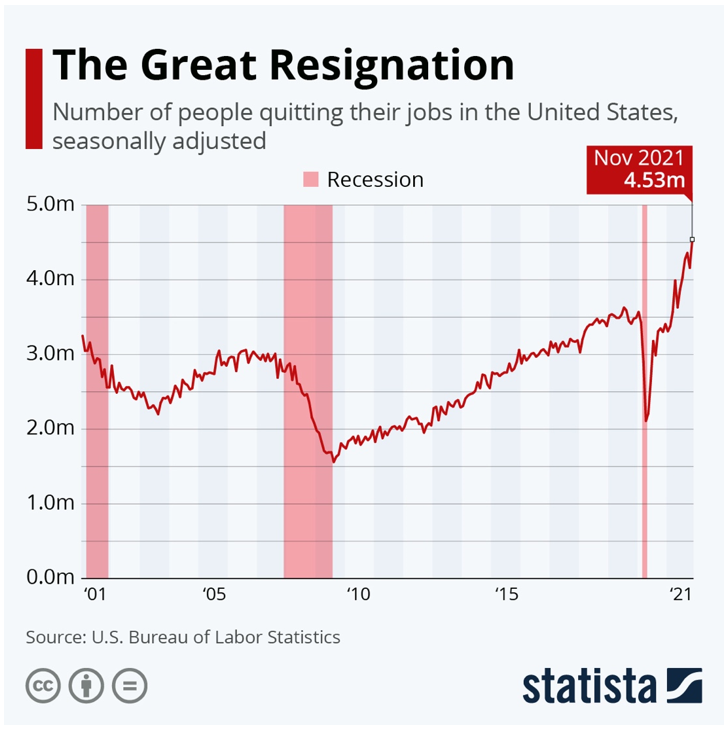 The Bureau of Labor Statistics (BLS) reported last November that a record 4.5 million people walked off their job.
In March 2021, a Microsoft (MSFT) survey of 30,000 employees across 31 countries found that 41% of respondents were considering quitting their jobs.
Employers are still hitting the panic button.
The tightness of the employment market — coupled with rising inflation — means that recruitment is more difficult than ever.
Gartner analysts note that half of the new hire candidates have at least two offers.
The time to fill new positions has increased by 18%. And researchers have been telling clients to expect a turnover rate 50% to 75% higher than what they are accustomed to.
So … How Can Investors Play This Trend?
The direct beneficiaries of these trends are employment agencies.
These cyclical firms earn fees for helping enterprises fill open positions … and one winner in the industry that's benefitting massively is Heidrick & Struggles International (HSII).
The company provides executive search and consulting services to businesses in the Americas, Europe and Asia-Pacific.
Related Post: The Winner of Connected Cars Is Here
Like many staffing businesses, the Chicago-based firm faced lean times during the pandemic.
Sales fell from $725 million in 2019 to only $630 million through 2020.
But it's not stopping there: The company is on track to generate $883 million in fiscal 2021, according to documents filed with the Securities and Exchange Commission (SEC).
Heidrick serves 70% of the Fortune 1000, with clients in most major sectors, including financial services, private equity, venture capital, consumer, technology and health care. And demand for its services has been off the charts.
The company reported in October that third-quarter sales jumped to a record $263 million, an increase of 83%.
It was the third consecutive quarterly record. Executives guided analyst estimates higher for the fourth quarter, too.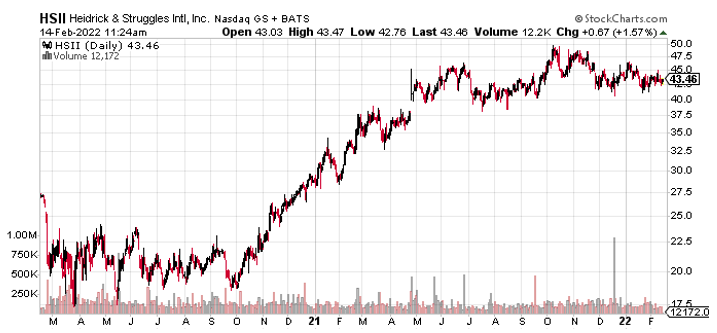 At a price of 42.79, shares trade at only 13.9 times forward earnings and 0.9 times sales.
Heidrick ended the third quarter with a record $348 million of net cash on hand. These are extremely reasonable financial metrics, and the company is in a strong financial position.
Given the upside potential of a tight executive search marketplace, savvy investors should consider buying shares into further weakness.
Remember to always do your own due diligence.
Best wishes,
Jon D. Markman