Netflix Announces Projected Ad-supported Subscription Revenue
Television is about to change, and investors should get ready.
Executives at Netflix (NFLX) recently announced that its new ad-supported tier would make about the same revenue per user as current subscription plans. Digital ads should ignite growth.
Long-term investors should consider purchasing shares into weakness.
Netflix is a polarizing business. From the beginning in 1997, bears have bet big against the Los Gatos, California-based company. Wired reported in 2002 that a whopping 40% of its shares were sold short by skeptics.
Bears lambasted the shape-shifting ambitions of its founders, the transition to lavish content budgets and now the shift to ads. The media giant is an accident waiting to happen, bears say.
In fairness, shares did get a big reset.
Related Post: Why UK Credit Crisis Should Worry You
Netflix stock crested in Nov. 2021 at $700. Today, shares trade for only $289.57 and that is way up from the low in May when they could have been bought for $162.
However, even with the weakness from a year ago, Netflix founders Reed Hastings and Marc Randolph have made patient investors extremely rich. Since its initial public offering in 2002, Netflix shares are up 24,490%. That is not a typo.
Growth has come through constant change.
The company famously began in 1997 as a mail order DVD rental business. Subscribers paid $15.95 per month and got four DVDs mailed to them each month. Subscribers could then return watched movies in the accompanying postage-paid envelope, and Netflix would mail another film free of charge.
Although the library began with only 900 titles, the genius of the no-hassle business plan was a wake-up call for Blockbuster, then the video rental industry leader.
Netflix streaming video, launched in 2007, ultimately killed Blockbuster.
In 2007, the idea of streaming movies seemed silly. Most people didn't have unlimited data plans for internet, let alone blazing-fast connections. Hastings, a computer scientist, had to figure out how to compress the digital streams so they were both small enough to slip through connection bottlenecks while not blowing up custom internet plans with huge data download fees.
Then everything had to work with operating systems as diverse as PCs and the original Roku (ROKU) player, to Xbox game consoles.
Related Post: Put This Stock on Your Radar
The decision to make the service device agnostic was a master stroke. On-demand video streamed to any screen changed the way people consume media. Wired magazine declared in 2009: "Sorry Cable, You're history."
The editors at Wired were too pessimistic, although it has been 12 long years for the pay TV business. Subscriptions and customer satisfaction have steadily declined as video on-demand streaming services like Netflix became ubiquitous.
Approximately 85% of U.S. households in 2021 had VOD subscriptions, up 2% year over year, according to a research note from Kantar. And about two-thirds of domestic households have a Netflix account.
The next chapter of the Netflix growth strategy is beginning.
The company announced on YouTube last week that its new ad-supported tier will offer access to 90% of its huge video library for only $6.99 per month.
Like the basic $9.99 paid subscription, members will get 720p high-definition resolution, the ability to watch on laptops, TVs, smartphones, tablets and the same easy cancelation policy. More importantly, the lower price point for the ad-tier will be completely offset by ad revenue.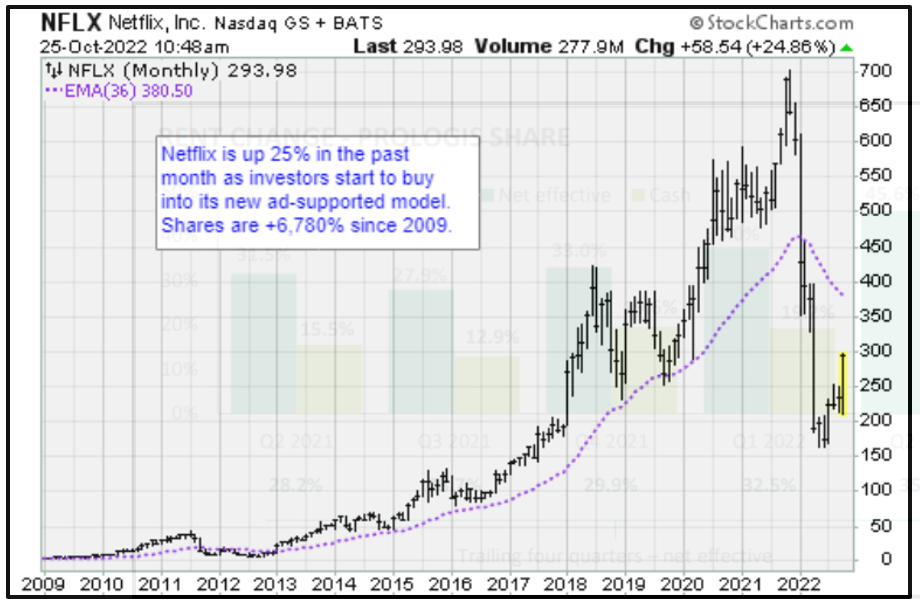 NFLX monthly chart.
Click here
to view full-sized image.
Investors are probably way too pessimistic about Netflix and ad rates.
Earlier in October, Netflix executives in the U.K. agreed to take part in independent network ratings surveys. Industry insiders speculate that Netflix wouldn't submit to viewership measuring unless the results are expected to be favorable, according to a report in The Guardian.
Bears believe Netflix is a slow-growing business in an intensely competitive streaming media sector. However, they are missing the bigger trend. Media consumption is rapidly moving to on-demand, and with its 223 million global paid subscribers, Netflix is by far the biggest player.
The ad-supported tier is likely to restore robust subscription growth, especially in lower-income markets around the world.
Shares are breaking out of a big, long-term base. Investors should consider buying shares into any near-term weakness. Expect an initial rally toward $334, a gain of 15% from current levels.
All the best,
Jon D. Markman
P.S. This month, Weiss Ratings Members will get first dibs on something normally reserved for the likes of angel investors like Mark Cuban: The chance to invest in a red-hot PRIVATE company before it's listed on stock exchanges. Click here for access.