How to Spot a Digital Transformation Winner
It's one thing when a company brings new tech to the market in order to stand out. It's another when a company must adapt from older, outdated strategies to survive.
What has taken place in the past decade, with rapid advancement during this past year due to the pandemic, is nothing short of remarkable.
We've seen a tidal wave of digital transformation as businesses all over the globe are being forced to adapt.
Take, for example, Chipotle, a company I recently wrote about because of their exemplary transition to a digital player.
They were getting beat in the digital transformation race by fierce competitors like Starbucks and McDonalds.
Related Post: The Digital Transformation Isn't Going Anywhere
After adapting by investing heavily in digital sales and introducing "Chipoltlanes," they have seen profit margins and revenues soar.
But digital transformation isn't as easy as companies like Chipotle make it seem.
In a recent Harvard Business Review, we see a much grimmer reality.
In many companies, we find a growing divide between teams with ready access to automation and AI tools and teams without," the study's authors, a team led by Ramnath Venkataraman of Accenture, state. "The latter find themselves behind the eight ball both in terms of productivity and AI skill development.
Other roadblocks include lack of experience leading digital initiatives, employee pushback, organizational structure issues, limited budgets and a lack of a digitalization strategy.
It's important to note that there are usually four digital transformation failures for every winner.
So, what are the winners doing?
Well, it starts with communication from the executive level down. Clarity, accountability and agility from the top down are all vital.
Major transformations always start with a clear picture of where they're going … and how managers are planning to get there.
As an investor, some positive signs you should be looking for in a company are …
Strong developmental processes
Quantifiable customer data and application of customer insights
A readiness to invent new business models in the digital realm.
One company that comes to mind is Walmart Inc. (NYSE: WMT). They adapted and are now chipping away at Amazon.com, Inc.'s (Nasdaq: AMZN) e-commerce dominance.
Related Post: Profiting During Pandemonium
Their new Walmart Pickup service is a direct challenge to the current e-commerce king. Customers shop and pick out what they want online, then pick up everything at their local store without ever having to leave their car.
Who needs two-day shipping when you can get your purchases same day?
Walmart has also been looking to expand their offerings. It's been purchasing well-known, medium-sized e-commerce companies like Jet.com, Bonobos, ShoeBuy, Moosejaw and Modcloth to bolster its online offerings.
By the looks of it, it seems like their new strategies are paying off.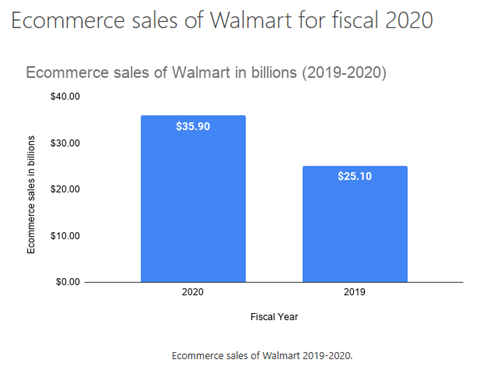 None of this happened overnight. Walmart has been ambitiously pursuing a digital strategy for years.
Avoiding losers is just as important as picking winners, though. You should be wary of companies struggling with the transition. Roadblocks to look out for include lack of experience leading digital initiatives, employee pushback, organizational structure issues, limited budgets and a lack of a digitalization strategy, just to name a few.
The digital transformation is an inevitability. Companies that can't keep up will fall behind. But companies that lead the way will emerge stronger … and more profitable.
Investors should look to these signs to determine if an investment will ride the transformation or be a digital disappointment.
Best wishes,
Jon D. Markman