Profiting During Pandemonium
Investors are always worried about something … and presidential elections are especially high on that list.
Last week, I sat down last week with Weiss Ratings Financial Anchor Jessica Borg to discuss the election, the outlook for markets and what stocks investors should be buying as we head into 2021.
Here are several of the questions she asked:
Question: How would you describe this election period, as it relates to the market? Is this period as chaotic and volatile as some would say?
Frankly, there hasn't been much volatility at all. Stocks have been basically rising since March 23, the day the Federal Reserve announced that it was going all-in to provide liquidity to ease the COVID-19 crisis by providing unprecedented liquidity to the bond market. That was a turning point for investors and speculators. It removed risk in the near term.
All the stock market volatility in 2020 occurred during February and March, prior to that event. It has been a mostly steady trek higher since because investors have been focused on the central theme that help is coming, whether it comes from the Fed, pharmaceutical companies working on vaccine for COVID-19, or Washington lawmakers pumping stimulus into the economy.
I call it "F.V.S." It stands for the Fed, vaccines and stimulus.
Stocks have only been weak when one of these helpers have appeared to be in doubt. Even then, the actual market decline has been limited in both size and longevity.
Question: What are some influencing factors?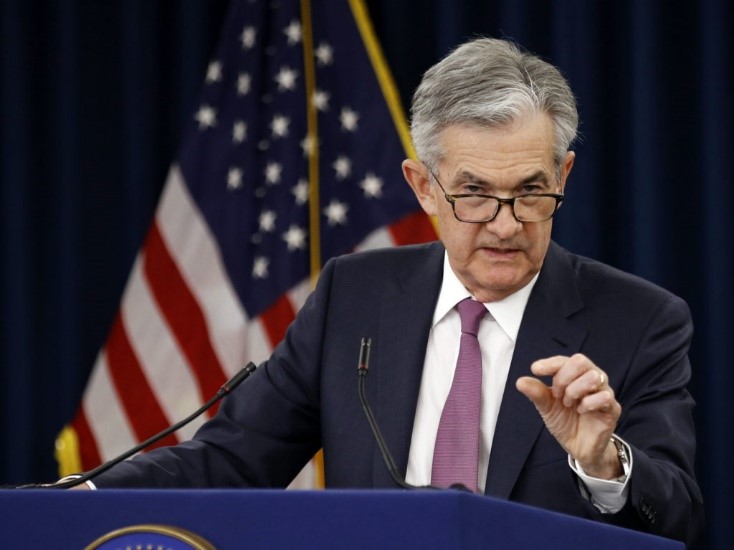 Fed Chairman Jerome Powell Source: Northwest Public Broadcasting
The only thing that could upset the current trend would be the idea that one of these economic helpers is in peril. The problem for bears is that the helpers are all likely to occur.
For example, in September, Fed Chair Jerome Powell announced the Fed's plans to leave short-term interest near zero until at least 2023, according to a report in the New York Times. This is unprecedented. The Fed has never telegraphed its intentions with monetary policies, let alone pledging to leave rates unchanged for three years, regardless of economic activity.
In May, Marketwatch reported that 23 pharmaceutical companies are working toward a vaccine, with nine firms slated for 2021 production. The National Institutes of Health, the United States government agency responsible for biomedical and public health research, noted in September that four companies have entered the final phase of human testing. Under Operation Warp Speed, a program to speed up the approval process, these new drugs are expected to scale production in the first half of 2021. Analysts anticipate the economy will begin to return to normal following the release of a vaccine.
Finally, investors know that more stimulus from Washington is coming, it's only a matter of when. While a compromised deal ahead of the November election might be in the $1.8 trillion range, Democrats have suggested that an infrastructure package could reach $3.2 trillion in the early part of a President Biden administration.
Related post: Gates Places Bets on COVID-19 Vaccine
Keep in mind, Washington lawmakers have already doled out a lot of stimulus. The $2.2 trillion Coronavirus Aid, Relief and Economic Security (CARES) Act rolled out in May. A month later, Congress added another $320 billion to the Paycheck Protection Program (PPP), a part of the original CARES Act that provided forgivable, no-interest loans to small businesses in need.
The combination of the Fed, vaccines and stimulus is putting investors in an enviable position. There is so much positive news coming, it's hard to see what drives stock prices lower in the near term.
This accounts for the relentless buying in the face of truly terrible data for employment, manufacturing and trade.
Question: What companies/stocks/sectors are immune right now? What are you bullish on these days?
There are some bigger investment trends that have been accelerated by the COVID-19 pandemic. The most important of these is digital transformation, the idea that companies can build new business models by digitizing key parts of their operations.
For most businesses, the easiest (and best return on investment) is digitizing customer relationship management. If businesses gain better insights into why customers buy their products, what irks them and how they can be better served, it's easier to build loyalty and grow sales.
Other big trends, also related to digital transformation, are artificial intelligence, the internet of things and faster networks, like 5G and WiFi.
As these giant trends evolve, many of the companies that facilitate the transition stand to earn billions. Others that are far along in their digital journeys will trounce competitors
The best untold story is about platforms. Because getting digital transformation to scale involves companies with legitimate platforms and picking winners is easier than ever before.
For example, we know Salesforce.com, Inc. (NYSE: CRM, Rated "B-") is currently winning CRM and should do even better in the future. Facilitators such as Accenture plc (NYSE: ACN, Rated "B") will win the race to bring transformative digital strategies to larger enterprises, and that Booz Allen Hamilton Holding Corp. (NYSE: BAH, Rated "A-") is winning contest to do the same for government agencies.
And we know that big retailers like The Home Depot, Inc. (NYSE: HD, Rated "B"), that were early in CRM and other digital strategies, have a powerful advantage over competitors.
Question: What are some smart investment strategies?
One strategy is to steer clear of me-too businesses. This means avoiding so-called digital transformation blue chips like IBM Corp. (NYSE: IBM, Rated "C"), Cisco Systems, Inc. (Nasdaq: CSCO, Rated "C+") and even Oracle Corp. (NYSE: ORCL, Rated "B-"). While these shares may seem cheap relative to tech high-fliers, in reality, they are extremely expensive. Legacy businesses are rapidly losing mind and market share, and that trend will continue as their customers rethink what is possible with lighter, more open and agile digital infrastructure.
And the best strategy, always, is to find well-managed businesses with durable competitive advantages that can be improved with technology. Buy their shares when they are mispriced by investors.
For example, Costco Wholesale Corp. (Nasdaq: COST, Rated "B+") was a steal when investors knocked its shares lower following the news that Amazon.com, Inc. (Nasdaq: AMZN, Rated "B") was buying the grocery chain Whole Foods.
The Costco story is about great management, the potential to expand aggressively overseas and its digital potential. Despite all of its success, Costco still has only 785 stores globally. That number could easily be five times. The warehouse chain could also still become a major e-commerce player.
eMarketer, an online analytics firm, notes that Costco accounted for only 1.4% of online sales in the United States.
Question: How is the back-and-forth and failure to pass a second stimulus bill playing out in the market?
The stimulus is coming, it's merely a matter of when. Regardless, it's unlikely President Trump will allow the lack of a deal to become the prevailing narrative. He will promise a package, likely or not, all the way into the election because he understands stimulus is one of the "help is on the way" market drivers.
This is bullish for stocks. In the near term, it means investors can buy all dips.
Related post: Breaking Up Big Tech Will Be Sweet Sorrow
Question: You've written that you believe investors are already looking beyond the election. How so?
The betting odds have favored Biden to win since June. At last count, just three weeks out, the Democrat is a two-to-one favorite.
Last week, Bloomberg reported that Citigroup Inc. (NYSE: C, Rated "C-") and JPMorgan Chase & Co. (NYSE: JPM, Rated "C") put out research reports that argued a Biden victory would be positive for stocks. Shares of clean energy firms have been especially strong.
If investors are fearing a Biden victory, they are not letting on by fleeing the stock market.
The other side of the coin is a Trump win. Things would be more of the same. Stocks have been relatively firm since he was elected in 2016, though nothing special from a historical perspective.
Putting politics aside, investors worrying about the election outcome are focused on the wrong things. Stocks are going up regardless who prevails in November because the underlying narrative is help is on the way: from the Fed, a vaccine and another round of stimulus.
Question: You've said between November to February could be a time to "restore stability, civility, and growth." Why? What does that look like?
The period between the election and the inauguration has the potential to be especially dangerous if the election is close. A defeated President Trump could choose to burn everything down, meaning he could engage in a protracted legal fight, attempting to deny mail-in votes he suspects may not go his way.
That uncertainty would be bad for the markets.
If President Trump wins, or he loses and the election is not close, I suspect a period of stability, civility and ultimately growth will return as investors look forward to aggressive stimulus spending.
The bottom line is investors should be optimistic.
If you're interested in watching the full conversation, click here.
Best wishes,
Jon D. Markman