The Fantasy Sports Stock Winner Is ...
Sports betting is becoming a big part of popular culture.
That's true even if you're not a fan of "sportsball" or the practice of betting on winning teams and players.
These days, it's impossible to turn on your TV or some other streaming site or service and not hear commentators rattling on about point spreads and betting odds.
At the same time, technological innovation and digital transformation are shaking up the sports betting/iGaming industry.
So listen up, sports fans ...
This is a huge secular tailwind that's taking shape. And the early winners of this megatrend are emerging.
That includes what appears to be the most attractive business in the sector.
One of those winners that has an early shot at the crown is DraftKings (Nasdaq: DKNG).
In September, executives at DraftKings announced they were making a surprise $20 billion offer for Entain, a British sports betting giant. The strange part was that Entain currently has a joint venture with MGM Resorts (NYSE: MGM) … a DraftKings rival.
Related Post: Place a Bet on This iGaming Newcomer
Confusion surrounding the bid sent DraftKings shares into a tailspin. The stock collapsed from $63.67 on Sept. 9, to the current level of $47.50.
• The weakness is unwarranted. DraftKings scrapped the takeover. It does not need Entain to succeed in iGaming.
Demand for iGaming is surging as technological advancements and political expediency collide. For the first time, it's possible to run a sports book completely in the cloud.
Pushing real-time gambling data to smartphones changes the gaming landscape. And revenue-hungry politicians see tax revenues from online sports betting as the answer to their pandemic-ravaged budgets.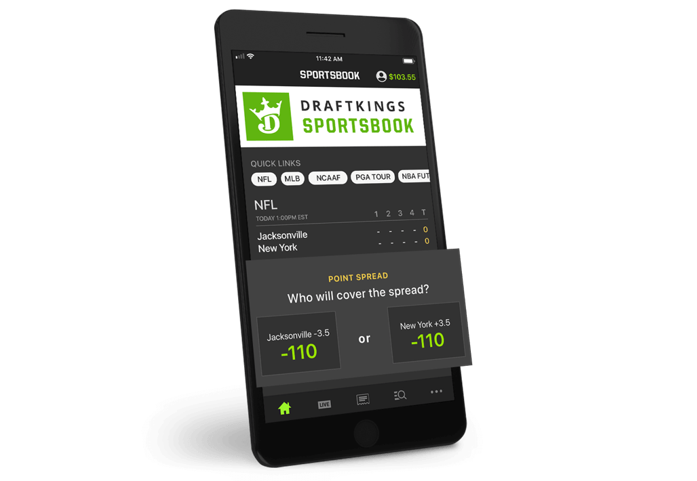 DraftKings Sportsbook being used on a mobile device. Source: DraftKings
Sports betting is currently legal in 24 states, with New York coming online soon. Betting legislation is pending in five more states, with even more likely to be folded in during 2022 and 2023.
• It's not only states pushing for legalization … many pro teams are already campaigning, too.
In Georgia, team officials from the 2021 National League champion Atlanta Braves from MLB, the NFL's Falcons and the NBA's Hawks have petitioned state lawmakers to legalize sports betting. Pro sports executives expect to collect billions from licensing fees.
A 2018 study from the American Gaming Association (AGA) pegged those fees at $4.9 billion.
That was before today's popularity of smartphone apps!
The transition to smartphones suits DraftKings especially well.
It might seem like the Boston-based company faces an uphill battle trying to beat established gambling organizations online, yet that's not entirely true.
• The upstart has better onboarding for new users and superior cloud-based technology.
The company acquired SB Tech in 2019 for $3.3 billion. The British software developer was known for its cutting-edge risk management and odds-making tools. DraftKings developers brought expertise in algorithms that enable non-standard, in-game bets.
It was a marriage made in heaven.
Entain and MGM Resorts International currently have a joint venture called BetMGM.
The project is growing quickly, with 23% iGaming market share in the United States, according to David Katz, an analyst at Jefferies.
Related Post: Look to Bet on 2 App Makers As Legal Gambling Sweeps U.S.
In January, MGM made an offer to buy out Entain's interest in BetMGM; however, that transaction is being held up by United Kingdom regulatory restrictions. Katz argues MGM could make another bid for BetMGM in the future.
Executives are still working through the August acquisition of Golden Nugget Online. That $1.6 billion transaction was a big bite for DraftKings. Swallowing Entain — and its $20 billion price tag — is going to be difficult, especially if MGM makes a counter-offer.
• This week, it was announced that DraftKings scrapped the Entain idea. And that's smart because it doesn't need it.
The betting landscape is changing in its favor … and it's well positioned to win.
Morgan Stanley (NYSE: MS) expects that over 75% of sports betting revenue in the U.S. will be placed online by 2025. The game, so to speak, has moved online, and there will be plenty of opportunity for all players to thrive.
At the time of writing, DKNG shares were trading at $47.57.
Savvy investors should use near-term weakness as a potential buying opportunity.
Best wishes,
Jon D. Markman