The Trade Desk Enables New Generation of TV
Media executives are concerned that the days of easy money are over. The surprising beneficiary is The Trade Desk, Inc. (Nasdaq: TTD, Rated "C") — a digital ad platform most investors still don't seem to know about.
According to a CNBC report on Saturday, media insiders expect the pay TV sector will lose 25 million more subscribers by 2025, prompting a shift in the way shows are produced, distributed and monetized.
On-demand programming is transforming the small screen … and advertising, as well.
Investors should have seen this coming. For too long, pay TV has been about force-feeding consumers bad choices. Cable bundles obligated customers to pay for channels they didn't want, so greedy media company managers rushed to produce a steady diet of mediocre reality, music and low-budget special interest channels.
It was a win-win situation for the media companies, as they got paid regardless if people watched or not.
Media insiders used to call cable bundling the golden goose. The label is ironic given their greed and laziness killed that business model.
Naturally, Jeff Bewkes, the former chief executive at Time Warner, tells a different story. The business used to consist of re-running episodes of "Seinfeld", "Friends" and other cancelled popular TV series. Between the money coming in from the cable operators and ads running against the old shows, business was great.
In 2015, that changed when Hulu, an affiliate of The Walt Disney Co. (NYSE: DIS, Rated "C-"), acquired the "Seinfeld" streaming rights. Its streaming video on demand business model meant fans didn't have to TiVo episodes or rush through dinner to watch. As other popular shows moved to SVOD services, Warner viewership declined. Lower ad sales followed.
In fairness, streamers like Hulu, Netflix, Inc. (Nasdaq: NFLX, Rated "C+") and Amazon Prime are not solely responsible for the decline of pay TV. High prices and poor customer service at the major cable TV providers — plus tired business models at the networks — played a bigger role.
It turns out that taking customers for granted and not even thinking about new ways to deliver media content in a digital era is a losing strategy.
As such, investors should not be surprised that media executives missed the obvious signs, of which there were many. After all, they're an unimaginative lot.
Related post: Why Ads are the Future of Streaming Media
Even now, the response to weaker cable TV subscriptions, beyond denial, was to build a bunch of "me too" SVOD services.
Disney has been building out Disney+, its SVOD provider for more than a year. In July, Comcast Corp. (Nasdaq: CMCSA, Rated "B-") unveiled Peacock, a mostly ad-supported streaming service. AT&T Inc. (NYSE: T, Rated "C-") has HBO Go.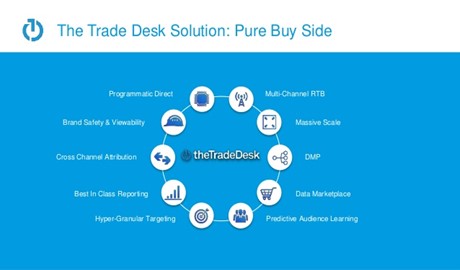 Lazy nomenclature and HBO Go aside, all these business will be augmented by some form of advertising sales.
But that's why The Trade Desk is already light years ahead.
The Trade Desk operates a cutting edge, programmatic digital ad placement platform. The technology is built to the same exacting tolerances as stock exchange infrastructure and has become a favorite among advertisers trying to buy digital ads in real-time across most internet properties not owned by Facebook, Inc. (Nasdaq: FB, Rated "B-") or Alphabet Inc. (Nasdaq: GOOGL, Rated "B-").
Because the Ventura, Calif.-based company owns no media, sales managers have been able to strike lucrative deals with major content providers like Disney and Amazon.com, Inc. (Nasdaq: AMZN, Rated "B-"), in addition to Chinese firms Alibaba Group Holding Limited (NYSE: BABA, Rated "B"), Baidu, Inc. (Nasdaq: BIDU, Rated "D+") and Tencent Music Entertainment Group (NYSE: TME, Rated "C").
Top ad buyers Nike, Inc. (NYSE: NKE, Rated "C"), The Procter & Gamble Co. (NYSE: PG, Rated "B") and The Unilever Group (NYSE: UN, Rated "B-"), have also been attracted to the platform, among others.
Related post: Despite a Stumble, Netflix Is Still Winning the Streaming Wars
There is a lot to like. Digital ads are more measurable than traditional scattershot spots around televised ball games and hit dramas. And they have the added advantage of being largely automated, with pricing determined in real-time by the latest digital auction tools.
By contrast, buying a digital impression around "Seinfeld" on Hulu could not be measurable or efficient.
eMarketer predicts that programmatic ad spending will reach $68.5 billion through the end of 2020, up 19.5%. Spending is expected to reach $79.8 billion by 2021.
TTD shares trade at 49 times sales and 155 times forward earnings, a rich valuation by the standard of traditional businesses. However, The Trade Desk has grown sales by at least 38% during each of the five years it has been a public company. Revenues reached $661 million in 2019.
And the success story of The Trade Desk story is only beginning. Based on market share gains, this stock could trade to $720 next year.
Shares are currently trading around $608.64.
Savvy investors should look to any weakness for a buying opportunity.
Best wishes,
Jon D. Markman