Big Investors Warm Up to Bitcoin, While Public Remains Indifferent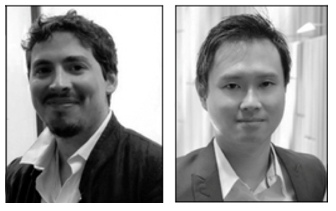 As Bitcoin (BTC, Tech/Adoption Grade "A-") marches above $15,000, we see a broad shift in market sentiment is starting to take place — especially among big-foot investors.
That's a big change. Just a couple years ago, sentiment was overwhelmingly bearish.
For example, Professor Nouriel Roubini declared (in Congressional testimony) Bitcoin was "the mother of all scams and bubbles." Referring to Bitcoin, JPMorgan Chase & Co. CEO Jamie Dimon said: "If you're stupid enough to buy it, you'll pay the price for it one day."
Fast forward to 2020, and suddenly they're singing a different tune.
Professor Roubini grudgingly concedes Bitcoin may be a good store of value after all. And JPMorgan analysts now say Bitcoin has "significant upside," as it competes with gold as an alternative reserve asset.
These are not isolated examples. Bloomberg 400 billionaire Stan Druckenmiller says he now owns both gold and Bitcoin, and expects Bitcoin to outperform gold.
Legendary investor Bill Miller just went on CNBC and said that every major bank, investment bank or high net-worth firm is going to eventually have some exposure to bitcoin.
On-chain data also confirms big investors are moving into Bitcoin.
For example, the number of Bitcoin wallet addresses that hold at least 100 BTC (worth a whopping $1,545,000 at current prices) recently surged to seven-month highs.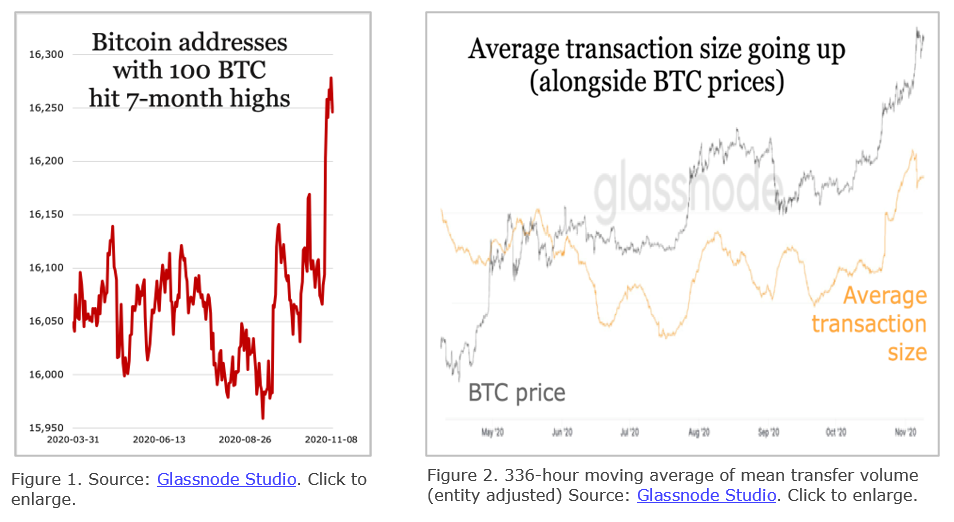 Likewise, the average size of transactions going in and out of Bitcoin wallet addresses has also hit six-month highs. Both are clear and compelling evidence of large investors investing increasingly large amounts.
This is very bullish indeed for Bitcoin going forward. Moreover, continuing lack of interest on the general public and mainstream retail investors indicates Bitcoin's bull move is still in its very early stages.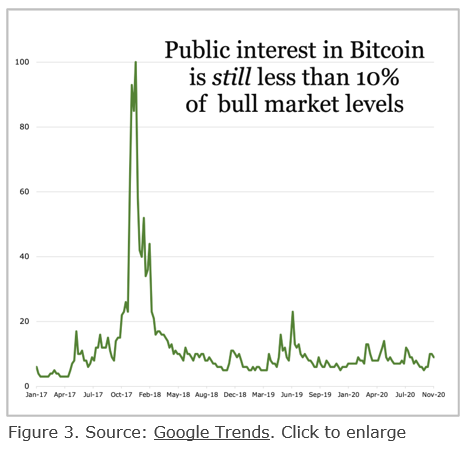 How do we know Bitcoin isn't even on the radar for ordinary folks outside of crypto?
Well, we look at how often people search for Bitcoin on Google in this chart to the right.
Notice the monster spike general public interest that occurred during the blow-off phase of the epic 2017-2018 bull market.
That was when Bitcoin went from $1,000 to $20,000.
Could we see Bitcoin make another 20-fold advance, this time starting from present levels?
Absolutely. It's just a matter of time
Best,
Juan and Bruce