Bitcoin Ascends to $50,000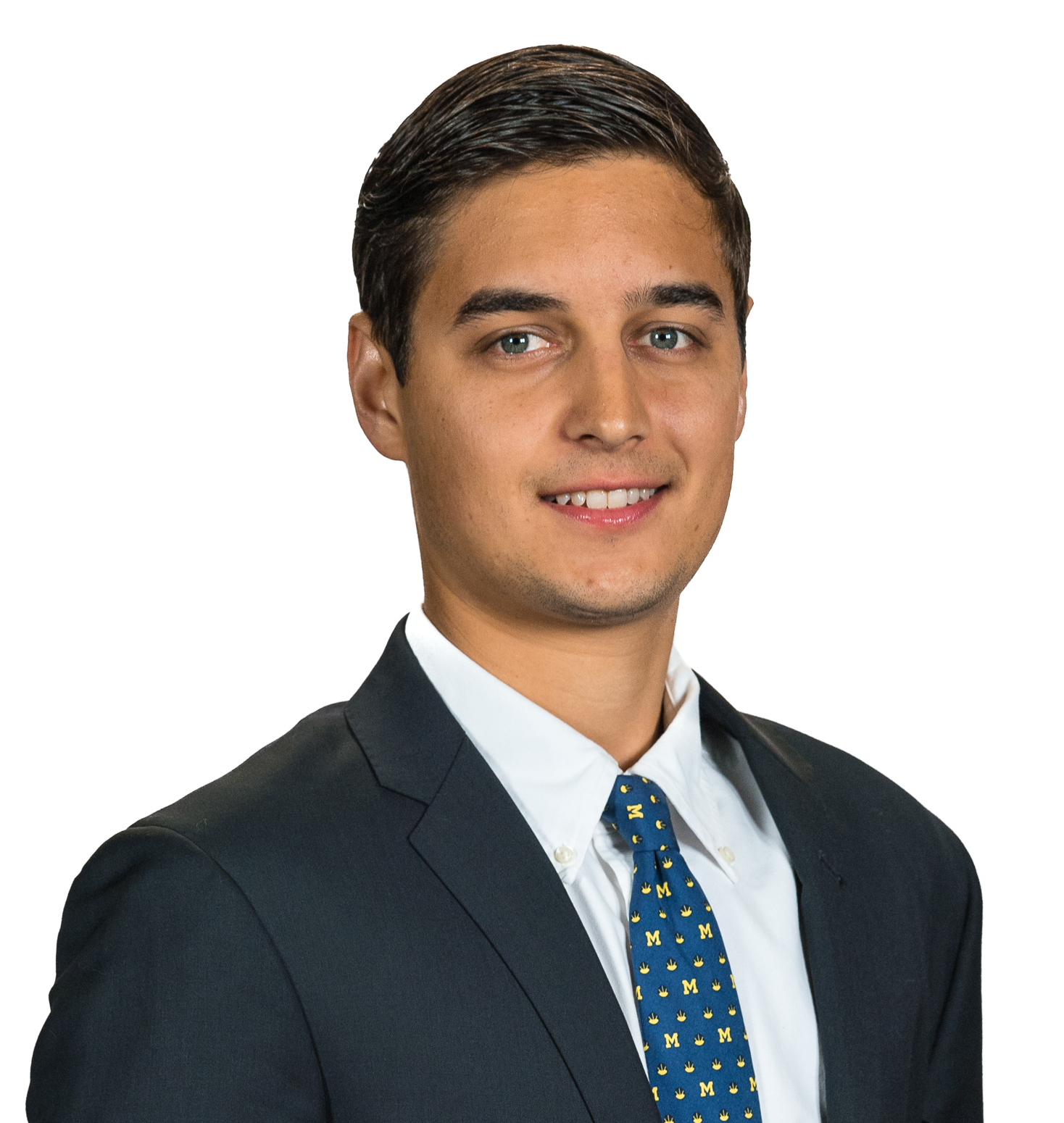 • Bitcoin (BTC, Tech/Adoption Grade "A-") broke above $50,000, albeit just momentarily, as it's now trading just short of the benchmark.

• Ethereum (ETH, Tech/Adoption Grade "A-") fell slightly today and is trading just south of the critical $1,800 level.

• Altcoins soared to new highs over a wild weekend but are returning to Earth today.
Just when everybody was starting to get excited about altcoin season, Bitcoin came back to life and broke through the psychologically significant $50,000 barrier. The King of Crypto has come back to reclaim its throne.
When Bitcoin breaks through these important resistance levels, all attention inevitably shifts back to the original cryptocurrency, regardless of how well altcoins are performing. And they've been performing very, very well lately.
Since BTC broke above $45,000, it's established that as a strong support level, having tested and held that level a few times. However, BTC is well above its 21-day moving average, despite the pullback after hitting $50,000. The bears are flexing their muscles now after briefly surrendering the $50,000 level. But, when we zoom out on the charts, it's clear the bulls are definitely in control of the larger market movement.
Here's BTC in U.S. dollar terms via Coinbase: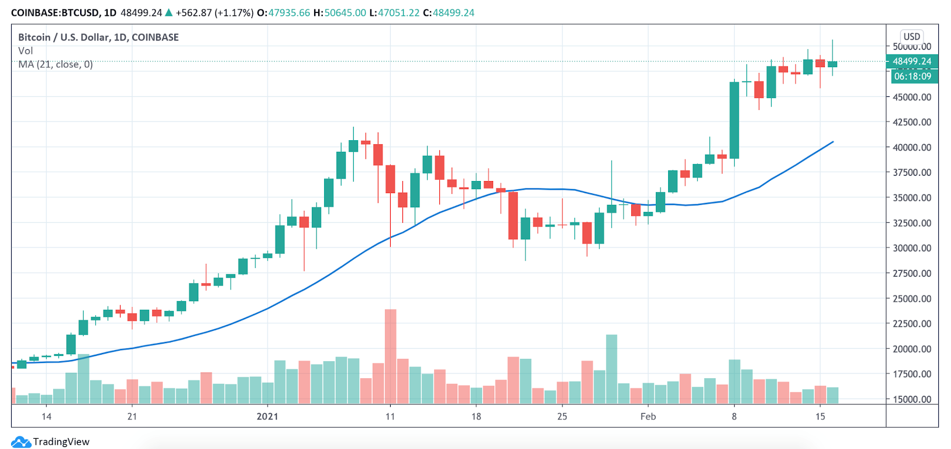 Ethereum broke above $1,800 over the weekend, but the bears have since pushed back and reclaimed that level once again, establishing $1,800 as strong resistance. The bulls will have to come out with heavy purchasing volume to break through and continue ETH's upward rise.
Here's ETH in U.S. dollar terms via Coinbase: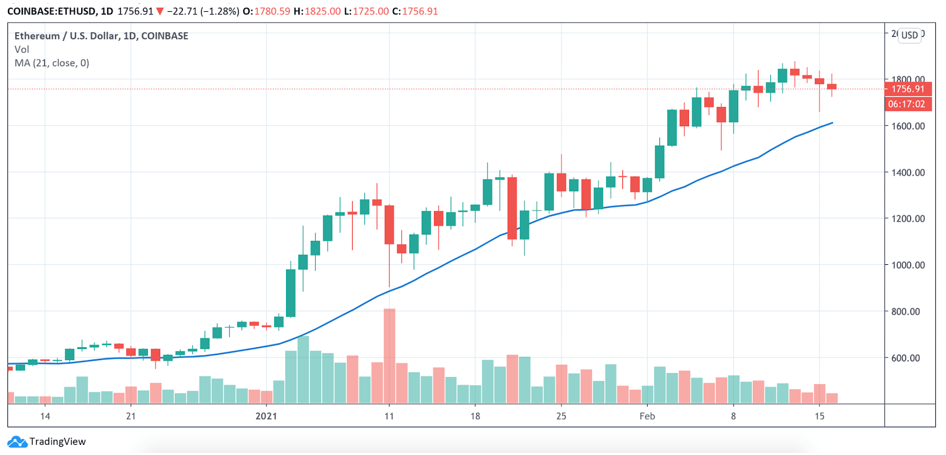 Litecoin (LTC Tech/Adoption Grade "B-") broke above its 21-day moving average at the beginning of February, rallying from about $140 all the way to more than $225 over the weekend. It has since retraced slightly but is still trading above $200, a level not seen since March 2018. LTC's all-time high is actually somewhere near $380 … showing that Litecoin still has quite a way to go before setting new highs.
Litecoin has always been seen as the silver to Bitcoin's gold. It's used as a sort of testing ground for tech developments that could hit the world's oldest blockchain, Bitcoin.
Litecoin is essentially a copy of Bitcoin, with the same structural bones and a few minor changes, such as the total supply and block times. Litecoin has recently launched a testnet for MimbleWimble, dubbed MWEB. This testnet is being used to test out new privacy and scalability tech, which, if successful, could eventually be deployed on the Bitcoin blockchain.
We'll monitor the progress of this testnet, as it could have major game-changing effects to the entire cryptocurrency landscape, potentially improving one of Bitcoin's biggest weaknesses, scalability. MWEB could also be a very bullish factor for the price of LTC.
Here's LTC in U.S. dollar terms via Coinbase: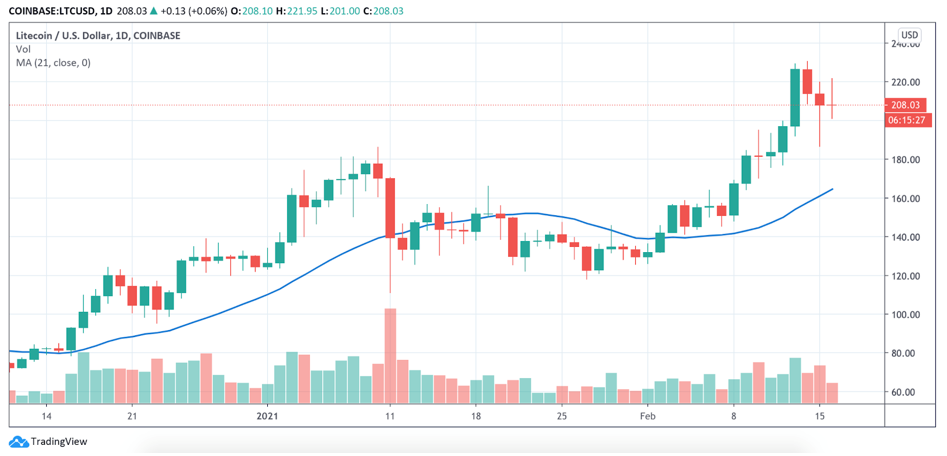 Notable News, Notes and Tweets
• Tyler Winklevoss celebrates Bitcoin breaking $50,000.

• Pomp once again speculates on a potential price appreciation for Bitcoin due to rising inflation in the U.S. dollar.

• The Block reports that financial services firm NYDIG, one of an increasing number of firms seeking to introduce Bitcoin to a larger audience, has filed to create a BTC-focused exchange-traded fund.
What's Next
All eyes are back on Bitcoin, as the King of Crypto looks to firmly establish itself above the hugely important $50,000 level.
So far this year, we've seen demand increase dramatically as more and more corporations seek BTC exposure, which has sparked a supply-side crisis for the No. 1 cryptocurrency. Bitcoin has a baked in decreasing supply, which, when paired with increasing demand, can only send the price higher, à la a Metcalfe's Law network effect.
We're likely still very early in the mainstream adoption curve, and it's not too late to join this movement. Stay tuned in for more updates on this ever-more exciting market.
Best,
Alex