Bitcoin Blasts Higher as Investors Await ETF Approval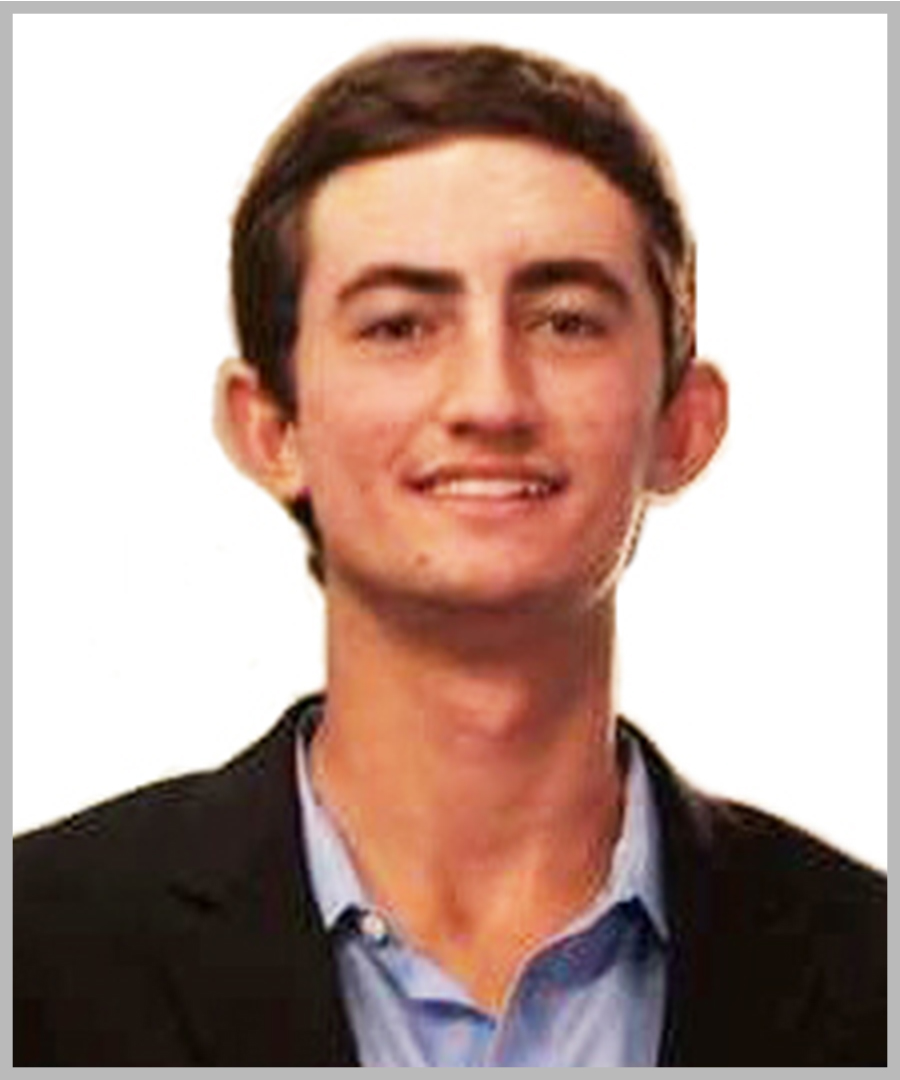 • Bitcoin (BTC, Tech/Adoption Grade "A-") is up 4% today so far, as it sets its sights on holding itself above the important $60,000 price level.

• Ethereum (ETH, Tech/Adoption Grade "A") is down about half of a percentage point, and it's trading near $3,800.

• Bitcoin's crypto market dominance increased two full percentage points to 45.9%, extending its rally for the third consecutive week.
Bitcoin is continuing its trend as the market leader, which is positive considering that significant altcoin outperformance is typically a sign of a late-stage rally. A Bloomberg article claiming that the Bitcoin futures exchange-traded fund (ETF) that's likely to get approved coincides with a nice jump in price late Thursday night — but final approval has not yet occurred at the time of this writing.
After its solid move today, Bitcoin must still maintain itself above the critical $60,000 mark. It tested the level last night after the story broke, but it was unable to overtake the milestone at that point before falling lower.
Over the past four weeks, the King of Crypto increased its market dominance by over four full percentage points. This bodes well for the broader market while we head into the second phase of this bull run. Bitcoin is trading much higher than its 21-day moving average, which could provide support at around $50,000 in a brief pullback.
Here's Bitcoin's price in U.S. dollars via Coinbase Global Inc. (NASDAQ: COIN):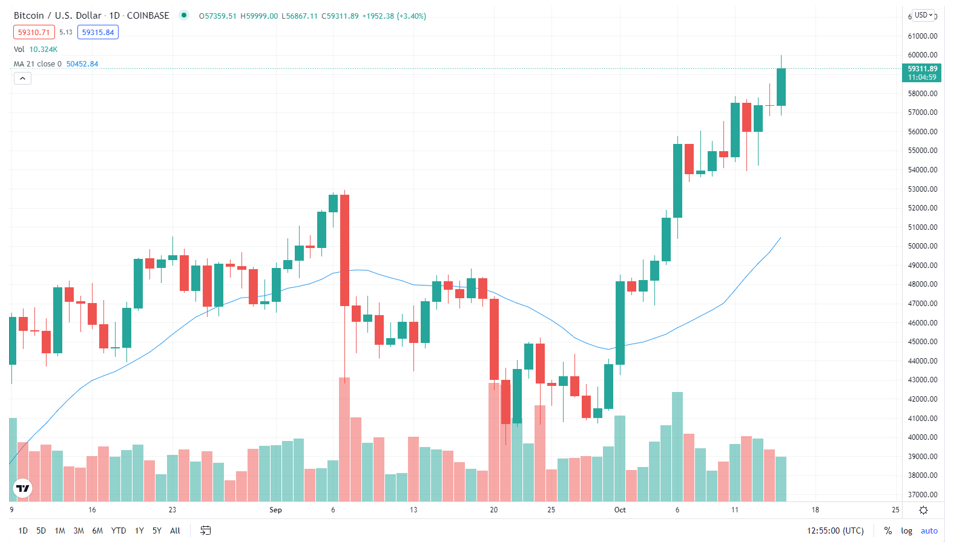 Ethereum has performed well recently, but it hasn't been able to keep up with the market leader. The second-largest cryptocurrency by market capitalization has not yet eclipsed its early-September highs, while Bitcoin has blasted through.
Ethereum will have its time, and it should come soon because a market rally usually follows the same principles. Bitcoin generally leads the way in the beginning before funds flow into large-cap cryptocurrencies like Ethereum, which then ultimately end up in smaller speculative projects.
So, $4,000 should be a major resistance level, but overtaking this level would be extremely bullish as it approaches its all-time high of about $4,400. ETH still carries positive momentum despite lagging behind Bitcoin, as it sits well above its 21-day moving average.
Here's Ethereum's price in U.S. dollars via Coinbase: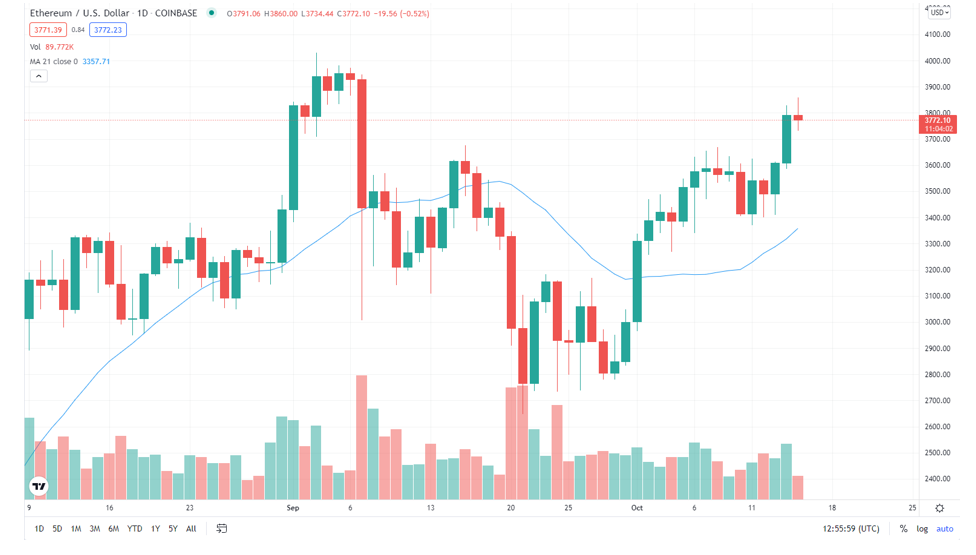 Index Roundup
Bitcoin pulled the broader market higher again this week, as all of the Weiss Indexes extended their recent gains. Bitcoin and the large-caps led the way, but the smallest and mid-sized cryptocurrencies still finished in the green.
The Weiss 50 Crypto Index (W50) increased 5.86%, as the broader market continues to push higher.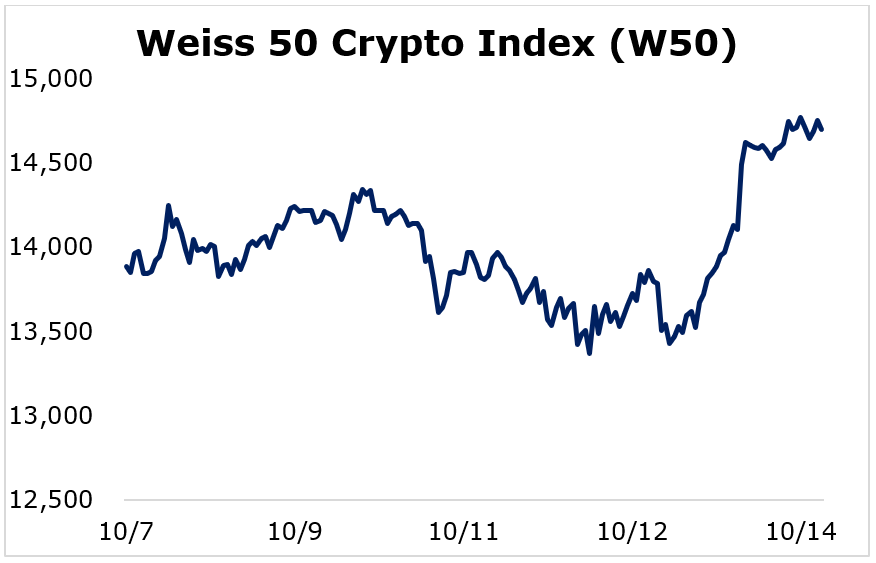 The Weiss 50 Ex-BTC Index (W50X) gained 3.60%, showing that Bitcoin outperformed most of the major altcoins again.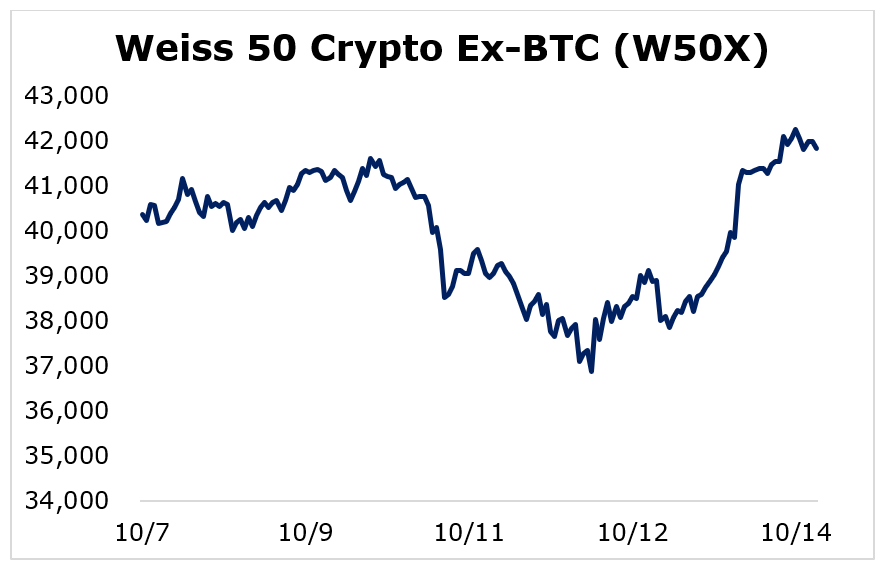 Breaking down this week's performance by market capitalization, we see that the large-caps held their place as the top gainers, followed by the small-caps and then the mid-caps.
The largest cryptocurrencies outperformed mainly due to Bitcoin's strength, as the Weiss Large-Cap Crypto Index (WLC) climbed 10.71%.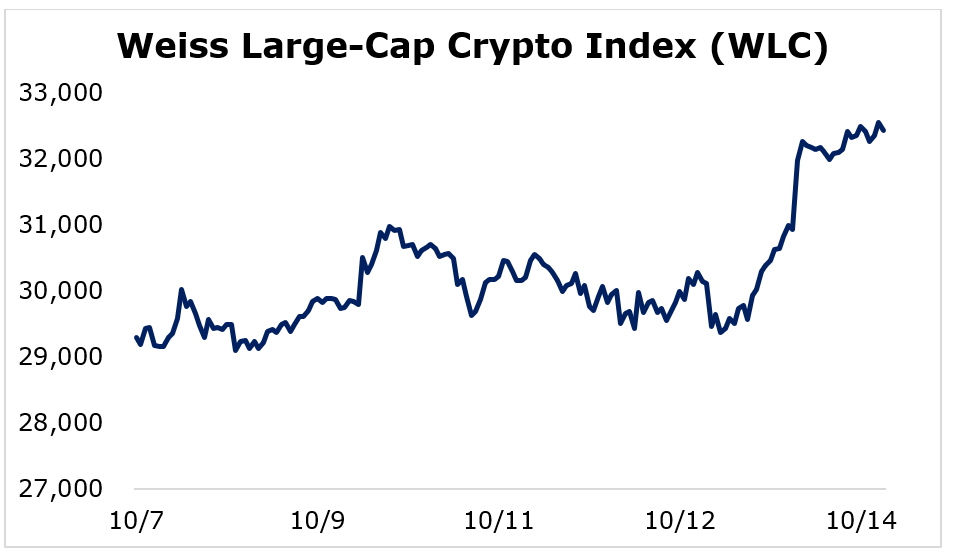 The mid-caps moved the least, but any gains are a positive sign. The Weiss Mid-Cap Crypto Index (WMC) rose 4.39%.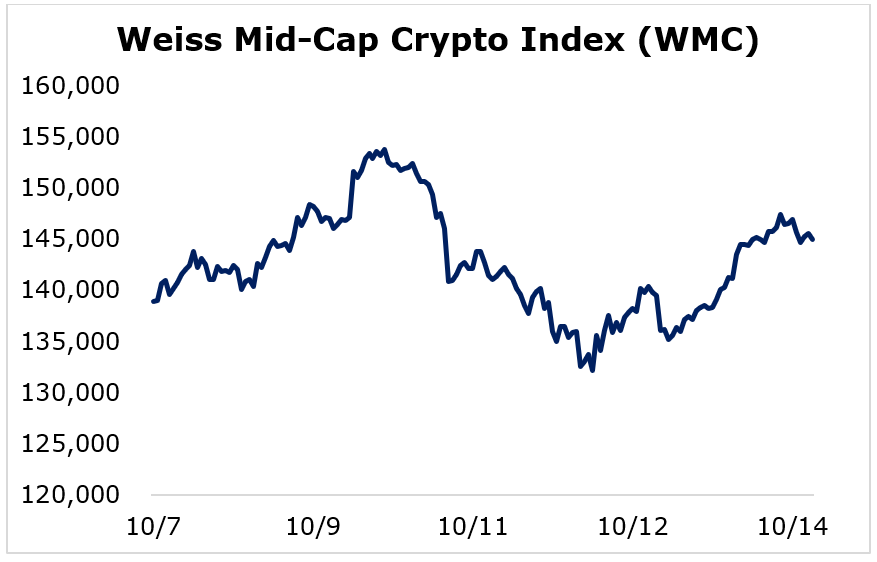 The small-caps logged a successful week of trading, as the Weiss Small-Cap Crypto Index (WSC) grew 6.65%.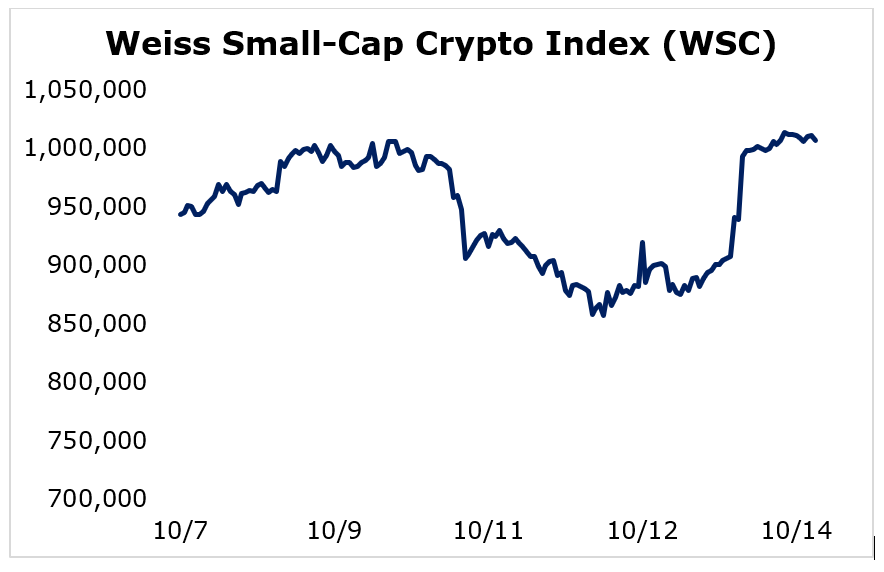 Another week of positive price action is a good sign, but it wouldn't be surprising to see a pullback occur given the market's recent strength. It's an excellent sign when Bitcoin is leading the charge, as it signals there is plenty of runway before sustained altcoin outperformance ends the bull cycle.
Notable News, Notes and Tweets
• Bitcoin ETFs could begin trading as soon as next week in traditional equity markets, pending the U.S. Securities and Exchange Commission's (SEC) approval.

• Pomp highlights the excellent timing of the potential Bitcoin ETF approval, with 85% of circulating supply staying put over the past 90 days.

• Michael Saylor emphasizes how the U.S. overtook China as the world's largest Bitcoin miner after the Chinese ban.
What's Next
The SEC recently approved an ETF for companies holding Bitcoin on their balance sheets, but it has yet to greenlight a pure-play fund with direct exposure. That could soon change, as the government agency will have its choice between 19 Bitcoin ETF filings.
Experts believe there is a strong chance that a futures ETF will begin trading next week, but investors may have to wait a bit longer for direct spot price exposure. Regardless, Bitcoin's price has appreciated significantly over the past several weeks as the story develops.
Bitcoin could experience a brief pullback post-launch in a "buy the rumor, sell the news" type of event, but any dips are likely to be short term considering the bullish crypto market cycle phase and constantly improving fundamentals. A Bitcoin ETF would provide an excellent way for institutions to pile in, which could lead to a price blastoff as the money flows in.
Best,
Sam