Sam Blumenfeld
|
Investment Analyst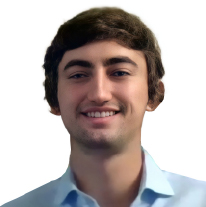 Sam Blumenfeld first joined the Weiss companies at the age of five — when he enrolled in the K-8 Weiss School, a much-cherished part of the Weiss Group founded by Martin and Elisabeth Weiss in 1989.
Sam subsequently returned to the Weiss Group twice — first as an intern to help support the Weiss Ratings models, and, most recently, as an investment analyst specializing in natural resources and cryptocurrencies. His prior equity research has also included reports for asset managers in the fields of biotech, healthcare, plus immuno- and gene-therapy companies.
He holds a bachelor's degree in business and finance from Babson College and is a contributing editor on Sean Brodrick's Wealth Wave, Wealth Megatrends, Supercycle Investor and Marijuana Millionaire letters.
Sam Blumenfeld's Products
Sam Blumenfeld's Articles