Bitcoin Bringing in #Uptober by Shattering Resistance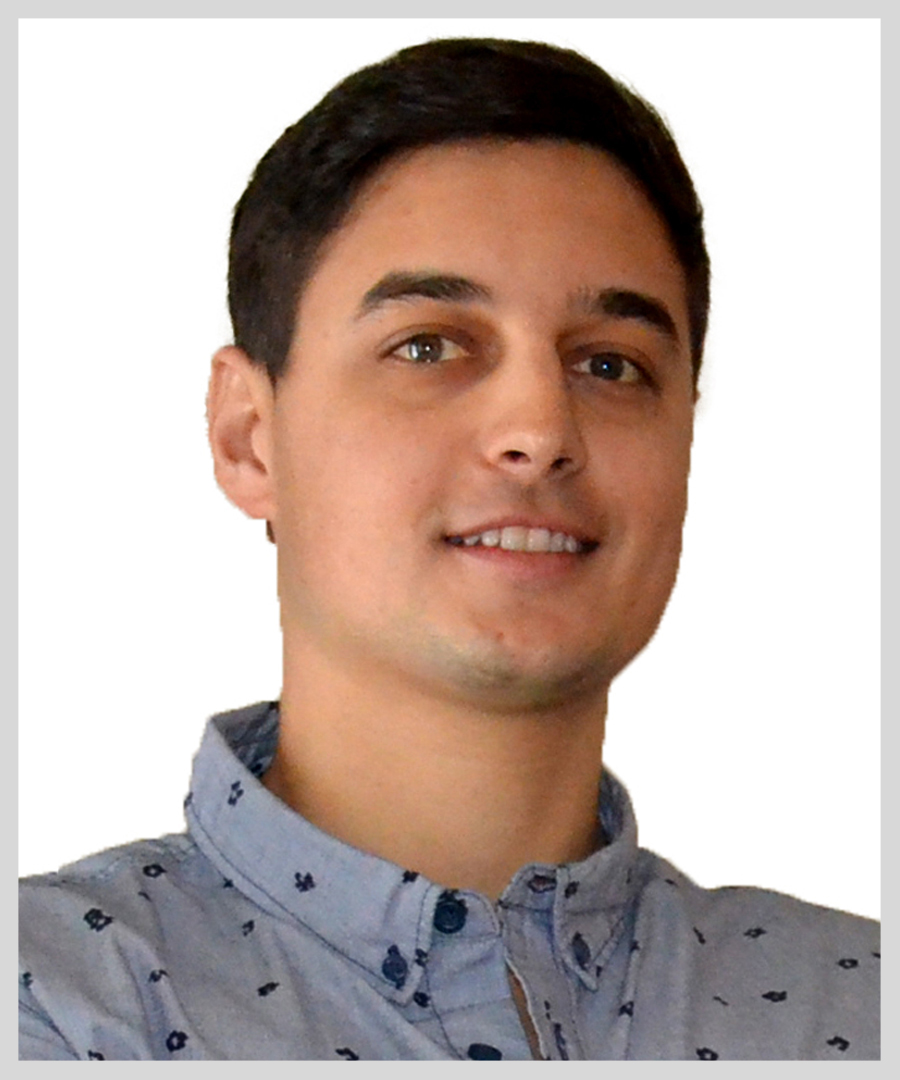 • Bitcoin (BTC, Tech/Adoption Grade "A-") has rallied in a major way over the last week and is now back above $1 trillion in market cap.

• Ethereum (ETH, Tech/Adoption Grade "A-") has broken above key resistance at $3,200 and is looking to follow Bitcoin higher.

• Chainlink (LINK) has held up surprisingly well over the last month.
October, or #Uptober, as it's called on Twitter (NYSE: TWTR), is running with the bulls so far.
After dropping all the way to $41,000 as September came to a close, Bitcoin has bounced back big time.
BTC has now posted a green candle in seven of the last eight days. And earlier today, it blasted through the last 80-day-cycle high of $52,700.
There is little previous volume between the current price and Bitcoin's all-time high near $64,000. But BTC will likely see some resistance between $55,000 and $58,000, as you can see in the image below: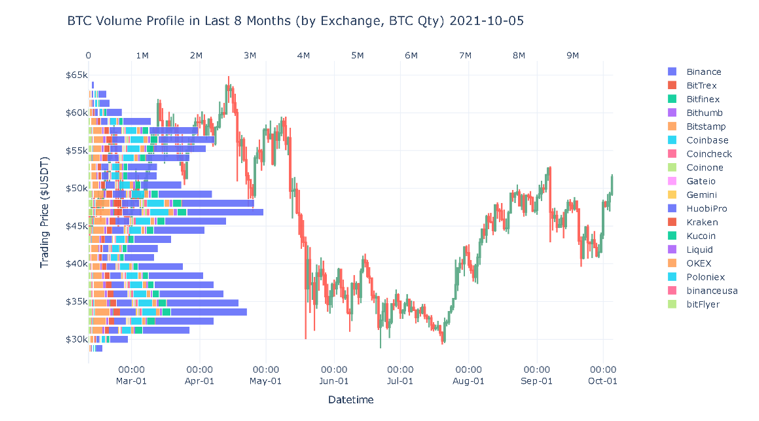 After those levels, though, the only other major resistance on the chart is the previous all-time high of $64,000, which will act as psychological resistance. Our belief is that if Bitcoin breaks $60,000, it will likely smash through its previous high.
Here's BTC in U.S. dollar terms via Coinbase Global (Nasdaq: COIN):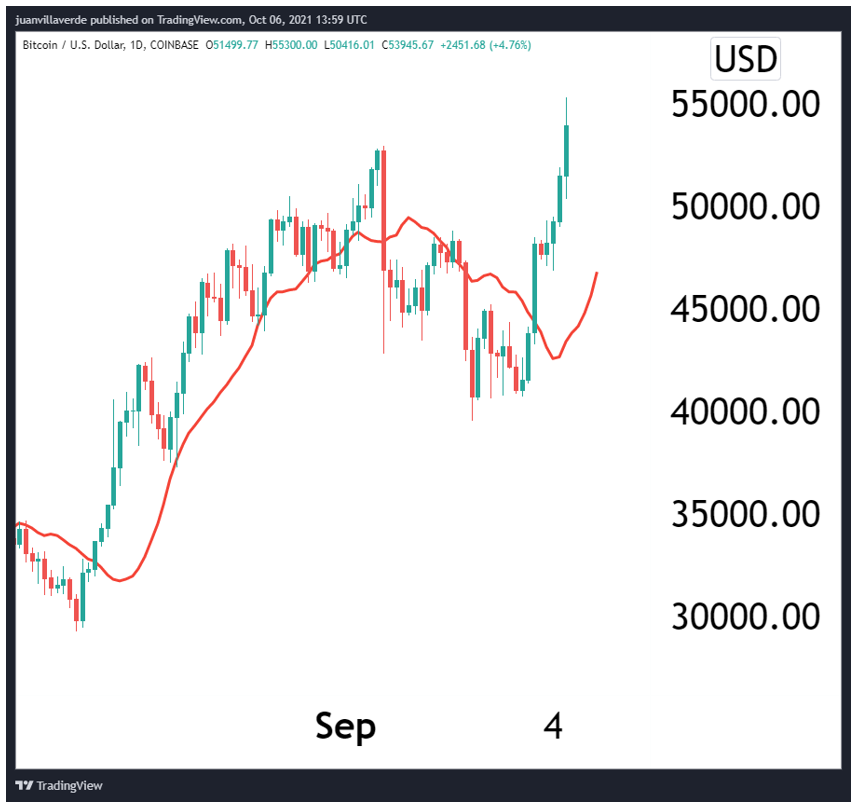 The fundamentals for Bitcoin are still strong, and we'll likely see even more institutional adoption of Bitcoin over the next few months. We could even see the SEC approve a Bitcoin exchange-traded fund (ETF), though it'll likely be for Bitcoin futures.
Those ETF decisions have been delayed from October to November and December. However, the case for a Bitcoin ETF is much stronger now than the last time the SEC had to make a decision.
It would seem Bitcoin has finally entered the second phase of this bull market. From here, things could go parabolic.
Exciting times lie ahead ... and not just for Bitcoin.
Ethereum has cleared some major hurdles over the last week as well, reclaiming $3,000 as support and jumping back above resistance at $3,200. Today, ETH is attempting to clear the resistance between $3,400 - $3,600. If it can, a run to its previous all-time high near $4,300 is on the table.
Here's ETH in U.S. dollar terms via Coinbase: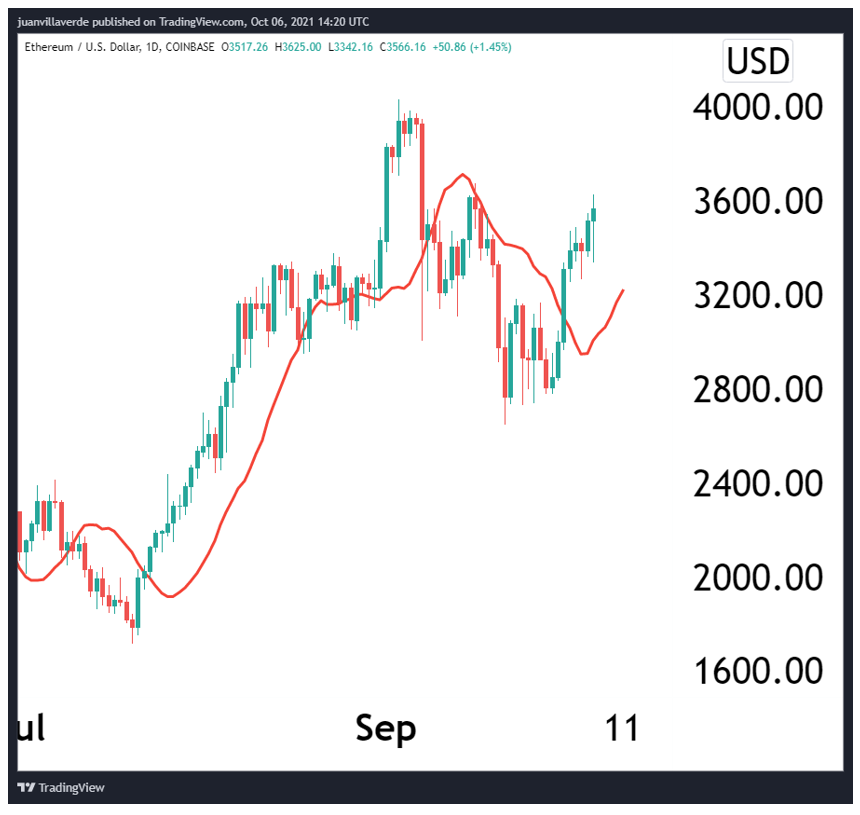 As you know by now, when ETH breaks out, other blue-chip altcoins are usually not far behind.
Chainlink is most definitely a blue-chip altcoin at this point and it has shed some weakness recently. LINK is now sitting just below a resistance channel between $28 - $30. It'll need to move above that level with confidence before it can climb to new highs.
Here's LINK in U.S. dollar terms via Coinbase: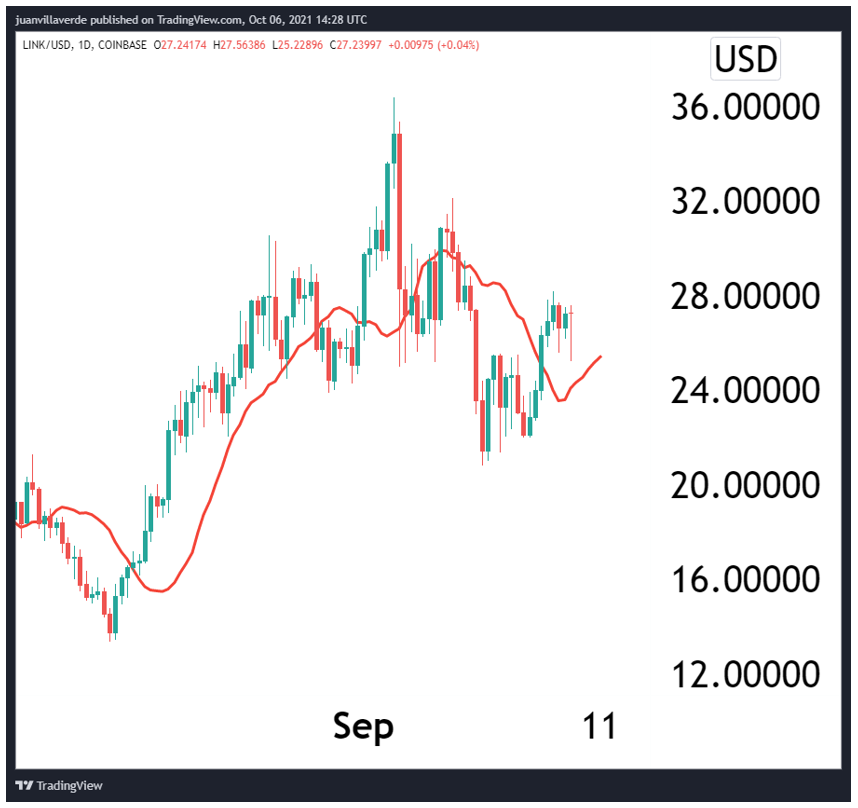 Still, LINK hasn't started its big move just yet. It's lagging both Bitcoin and Ethereum along with other prominent altcoins.
BTC and ETH always lead the market during these types of breakouts. However, investors eventually reshuffle their money into large-cap altcoins before long.
Its performance in past bull runs leaves plenty of reason to believe that LINK's price can shoot much higher after it clears the overhead resistance on its chart.
Notable News, Notes and Tweets
• Sam Bankman-Fried, CEO of FTX exchange, was featured in the 40th Annual Forbes 400, quoted at a net worth of $22.5 billion.

• Crypto twitter is once again very bullish on Bitcoin and the state of the market, with both Pomp and Mike Dudas expressing that sentiment this morning.

• Here is yet another fascinating thread on Bitcoin and its energy consumption.
What's Next
We had noticed that the market sentiment had been trending more and more bullish over the last two weeks. This positive shift accelerated drastically today, and Bitcoin is booming because of it.
Bitcoin has had its long, mid-cycle correction that took place over the summer. And the recovery has already seen its medium-term correction in September. What that means is that many of the bears, weak-handed traders and leverage have now been flushed out of the system.
The market is healthy once again, and we have the all-clear for the next exciting phase of the Bitcoin bull market.
On top of all of that, there are still a few catalysts that could push the market higher, including the potential approval of a Bitcoin ETF, further adoption by other nation states and corporations buying or accepting Bitcoin and/or other cryptocurrencies.
Blue skies are ahead.
Best,
Alex