Bitcoin Pushes the Crypto Market Higher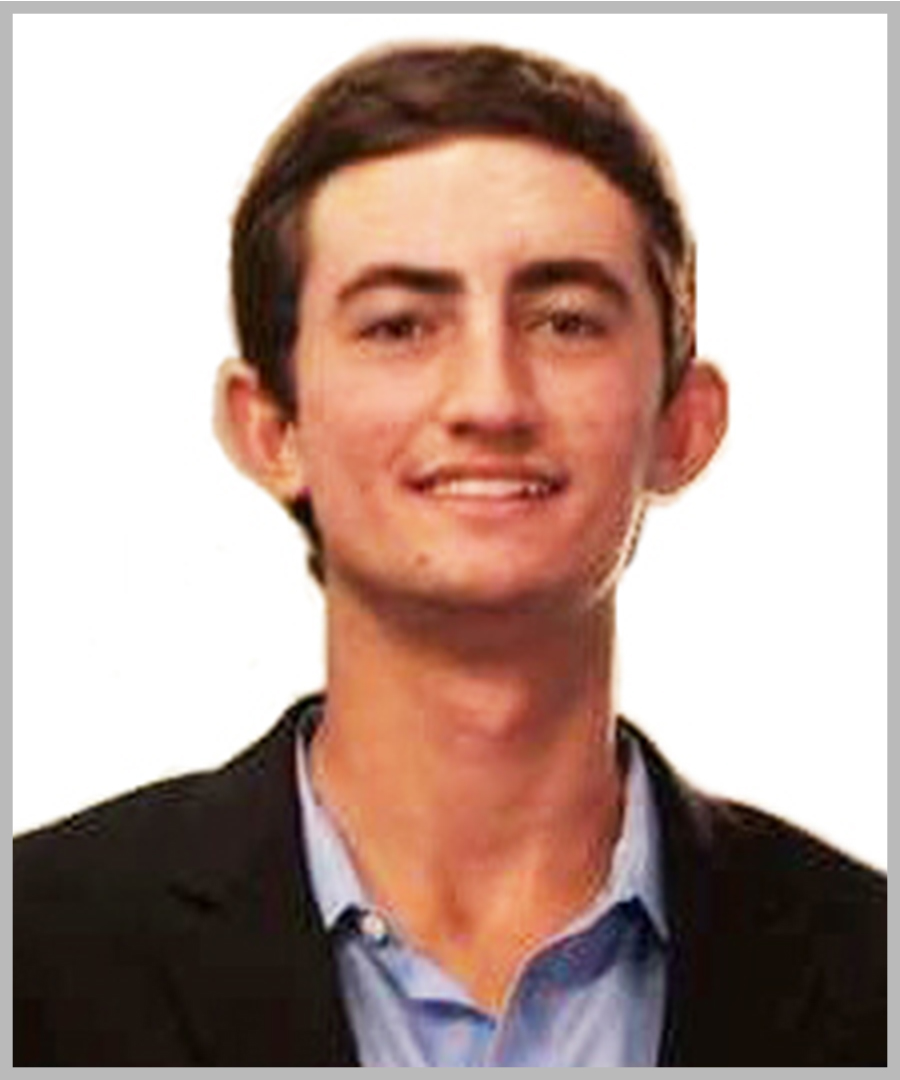 • Bitcoin (BTC, Tech/Adoption Grade "A-") is 1% higher so far today, and it's trading at about $54,500.

• Ethereum (ETH, Tech/Adoption Grade "A-") is up about 2%, and it's sitting around $3,650.

• Bitcoin's crypto market dominance increased another 110 basis points this week to 43.9%.
Bitcoin is extending its recent gains today. The King of Crypto has led the market higher over the past two weeks, topping its September high of about $53,000. And its market dominance has increased over 2% in the same period, even briefly topping 45% for the first time since mid-August.
The crypto market can be volatile, so it wouldn't be surprising to see a minor correction after such a strong past two weeks of trading.
Still, Bitcoin is well above its 21-day moving average, and we'll be looking to see if it can establish strong support at $53,000.
Here's Bitcoin's price in U.S. dollars via Coinbase Global (Nasdaq: COIN):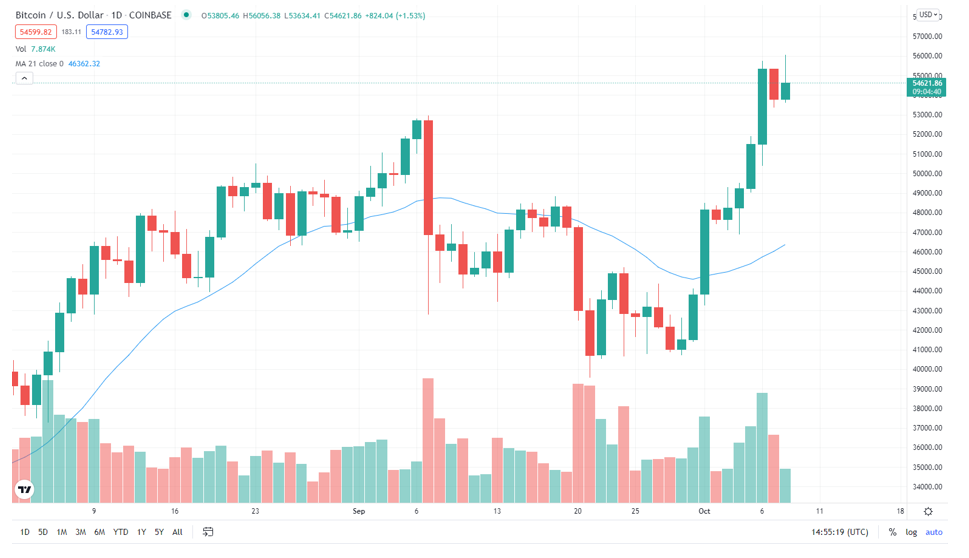 Ethereum's chart has managed to log green candles in nine of the past 10 trading days. But unlike Bitcoin, it has not yet passed its early September highs.
We could easily see a brief pullback given that ETH is right at a key resistance level near $3,700. If we don't, the next important level is $4,000, which was ETH's short-term top in early September. If Ethereum manages to eclipse this psychologically important price level, it's blue skies ahead.
On the other hand, if we see a substantial pullback, ETH's 21-day moving average could provide support.
Here's Ethereum's price in U.S. dollars via Coinbase: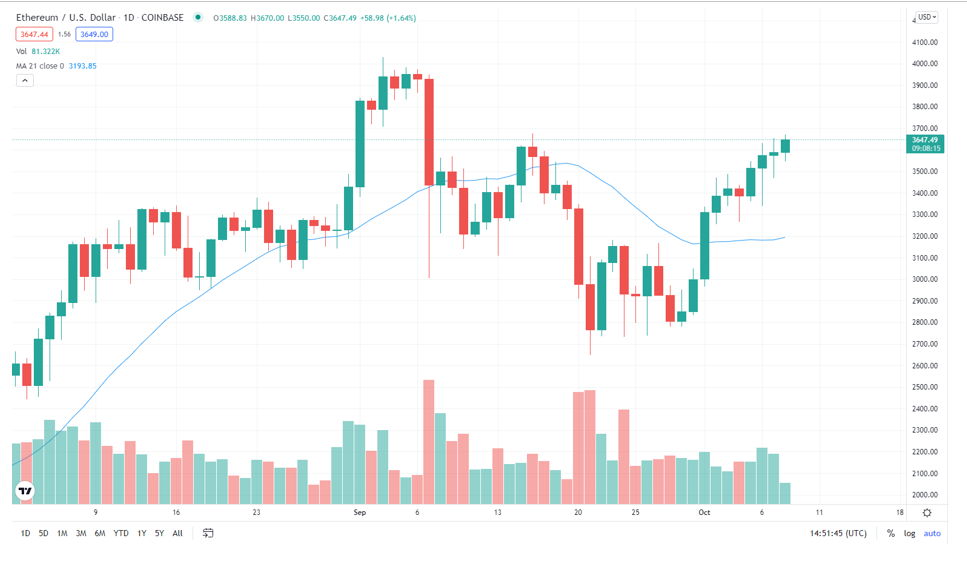 Index Roundup
Very few names were left behind as the broad market marched higher this week.
The Weiss 50 Crypto Index (W50) rose the most by 22.78%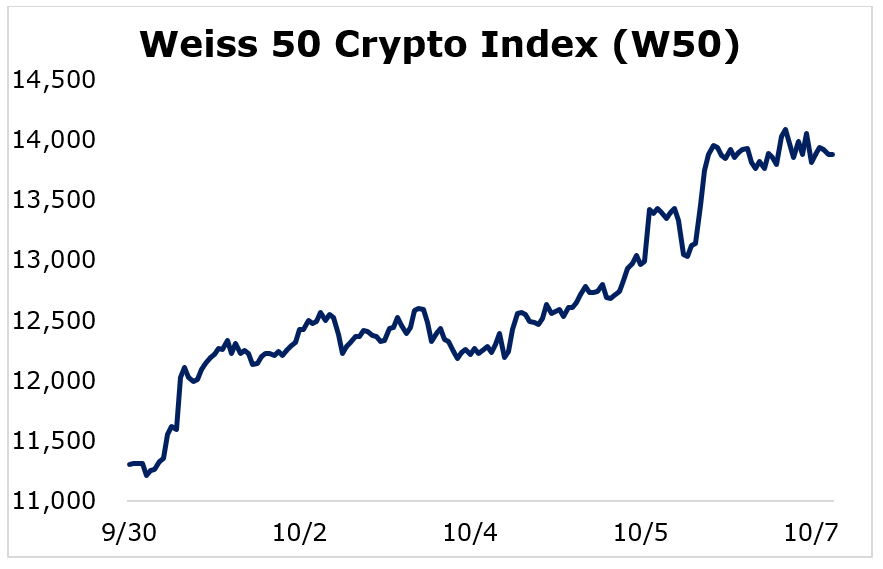 The Weiss 50 Crypto Ex-BTC Index (W50X) increased 19.53%, which makes sense considering Bitcoin's outperformance throughout the week.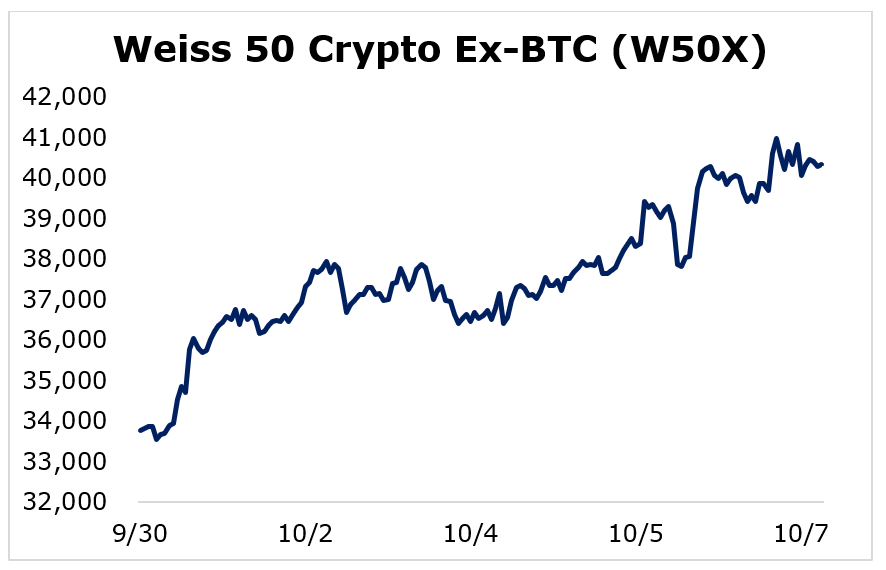 Breaking down the week's performance by market capitalization, we see that the largest and smallest cryptocurrencies outperformed their mid-sized counterparts.
Large-cap cryptocurrencies were the biggest winners, as the Weiss Large-Cap Crypto Index (WLC) soared 34.26%.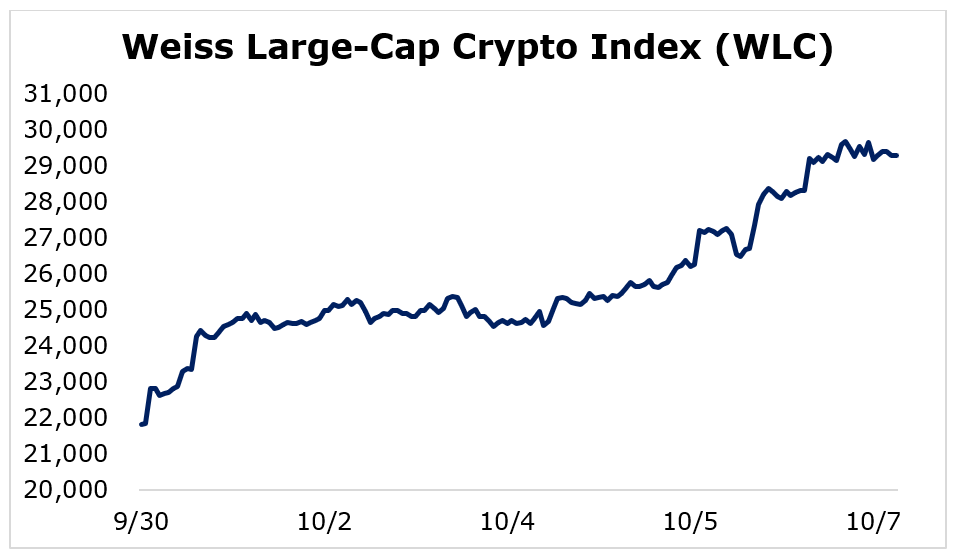 The mid-caps fell behind but still notched solid gains for the week, as you can see in the Weiss Mid-Cap Crypto Index (WMC), whichrose 25.20%.
The small-caps fell just short of making the biggest move, as the Weiss Small-Cap Crypto Index (WSC) climbed 33.64%.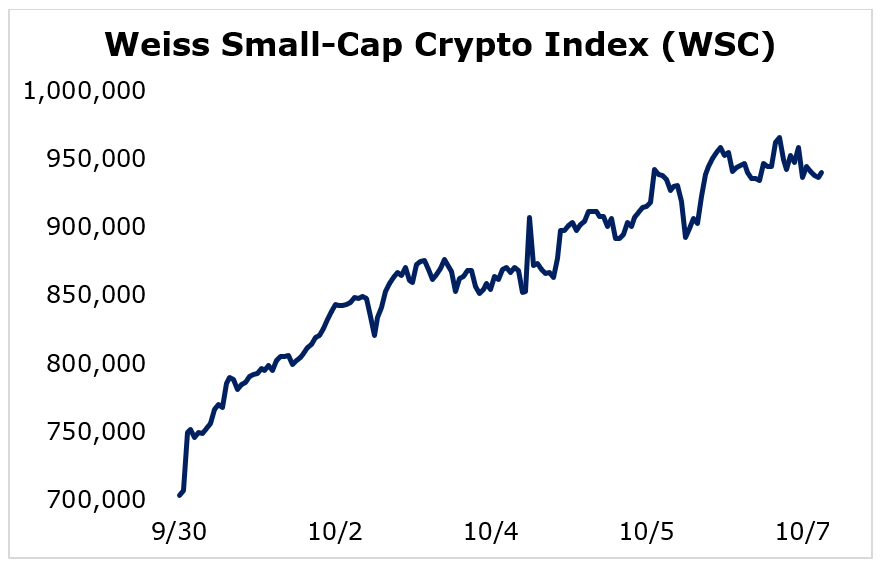 It's encouraging to see Bitcoin leading the way. As the market leader, Bitcoin's price action has a very important impact on the movements of altcoins.
Notable News, Notes and Tweets
• Pomp highlights that the city of Miami has already raised $10 million from MiamiCoin through private citizens.

• JPMorgan Chase & Co. (NYSE: JPM) claims institutions are flocking to Bitcoin instead of gold.

• Data from Cointelegraph shows that investors are accumulating Bitcoin close to all-time highs instead of selling, unlike at its last peak.
What's Next
Institutional appetite for Bitcoin is expanding, and JPMorgan analysts see it as a major factor contributing to the crypto's recent positive movements.
The bank also cited how three other developments — the significant potential for scalability through Layer-2 payment protocols increased legitimacy from adoption in El Salvador and assurances that the U.S. government won't ban Bitcoin outright — greatly improved sentiment toward it.
Bitcoin's fundamentals are stronger than ever, and it has shown that it can easily bounce back from negative headlines. The recent series of positive developments along with improving market sentiment have sent prices barreling to new monthly highs.
Where Bitcoin goes, altcoins follow. And with the King of Crypto at the helm, this bull market looks healthy and sustainable.
Best,
Sam