Bulls vs. Bears: Battle for Key Support Levels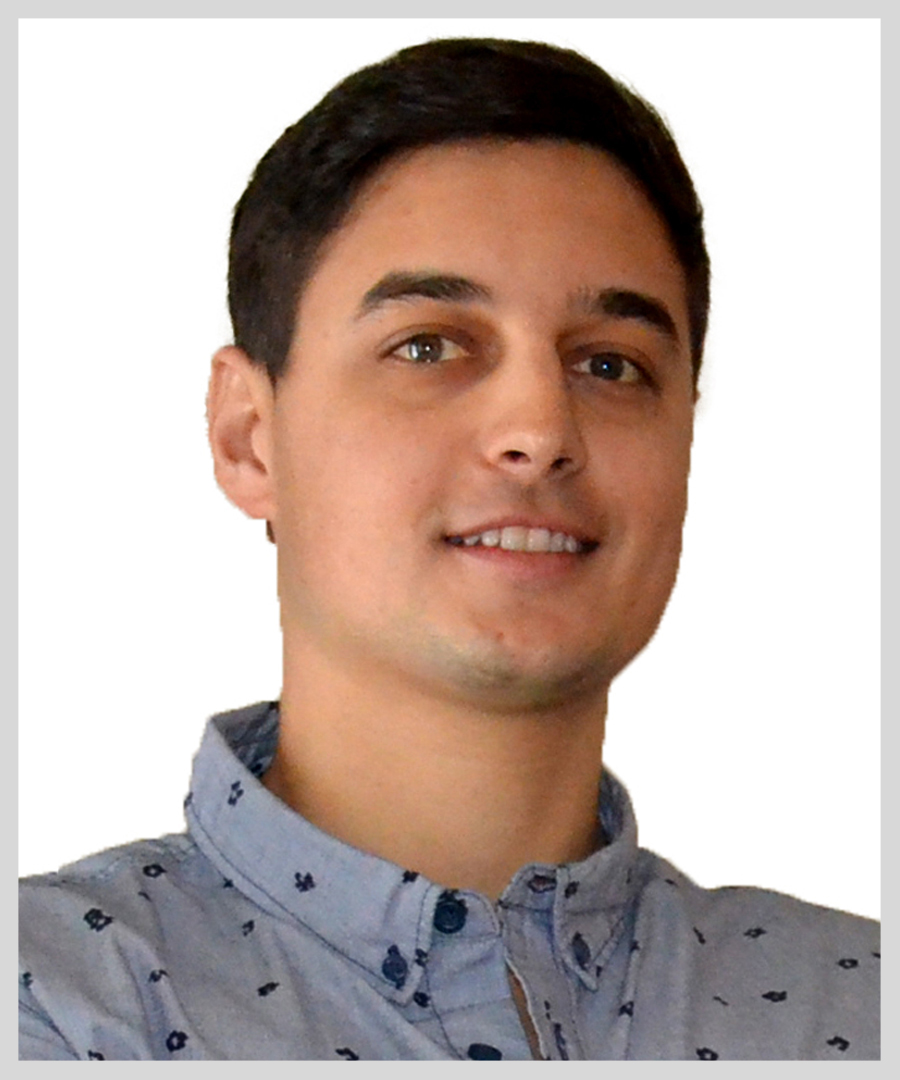 • Bitcoin (BTC, Tech/Adoption Grade "A-") bounced back slightly today as it fights for the support level of $42,000.

• Cardano (ADA, Tech/Adoption Grade "B-") has been on a steady decline since the beginning of the month, can it hold support?

• Chainlink (LINK) has held up surprisingly well over the last month.
Since Bitcoin's drop early last week, the bulls and bears are dueling over market sentiment as BTC fights to retain two key support levels — $40,000 and $42,000.
On the bullish side, Twitter (NYSE: TWTR) recently revealed its new BTC tipping feature, which will surely add to Bitcoin's adoption over time.
On the other side, China's perpetual crusade to "ban" crypto and rumors of regulation bolster the bear's position.
Neither the bulls nor the bears have been able to take control so far this week as traders react headline by headline.
So far, Sept. 21 still seems to be the 80-day-cycle low, though our model has yet to confirm it. As long as BTC holds above that close at $40,700, however, a new run up in price is still in play.
An important note: Any price run is likely to face stiff resistance at a few key levels on the way up. Most notable at this point will be the $45,000 level.
Here's BTC in U.S. dollar terms via Coinbase Global (Nasdaq: COIN):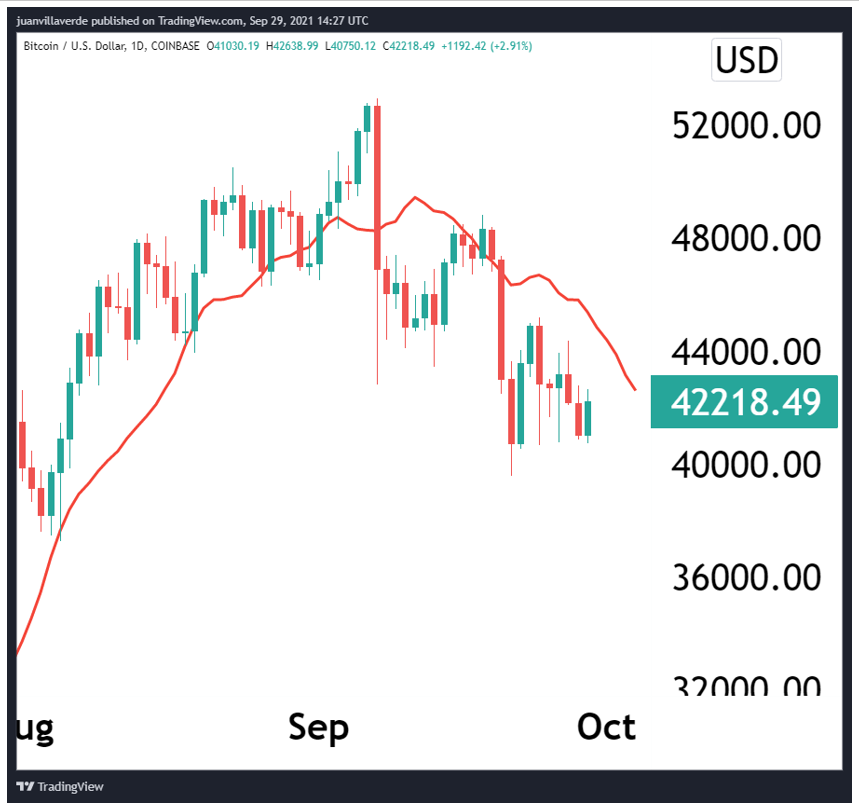 Since hitting a new all-time high earlier this month, Cardano has fallen by 33% and now rests just above $2.00, a key support level.
As the chart below shows, ADA is trading within a rather large support channel. The ~$1.92 - $2.20 range has acted both as tough resistance and solid support for Cardano this year. Before ADA can climb its way out of this range, though, it first needs to reclaim its moving average.
Look for any news of a big, new decentralized application that could act as rocket fuel for Cardano.
Here's ADA in U.S. dollar terms via Kraken: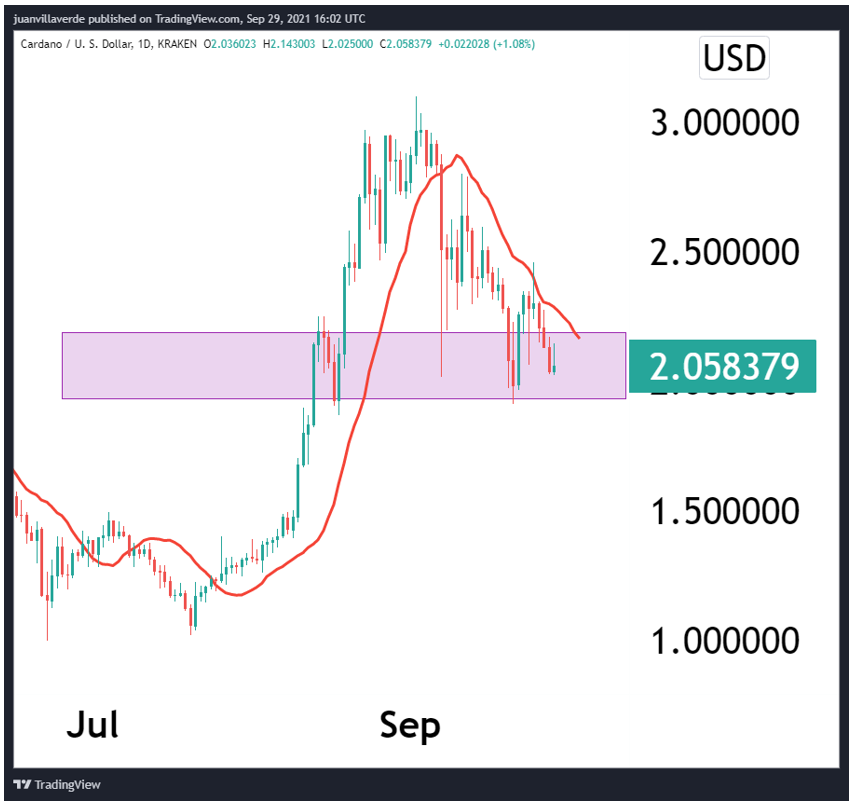 Chainlink has held up well over the last month of bearish market action, upholding support at the crucial $20 level on Sept. 21. That's important to note, because losing that level in the past usually led to LINK into a longer consolidation.
With LINK trading near $23 now, the next resistance level to keep an eye on is $25.40. Then, it will need to pass the $28 level before it can climb back to previous highs.
Chainlink has a history of being one of the early winners in each DeFi sector breakout. And it looks primed to repeat history for the next DeFi price boom.
Here's LINK in U.S. dollar terms via Coinbase: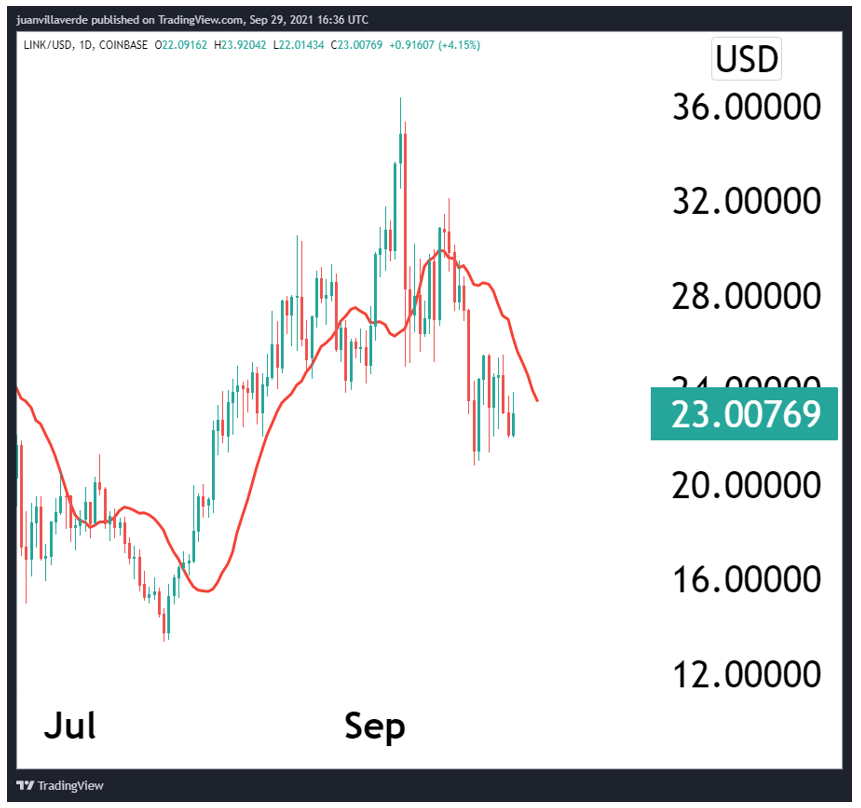 Notable News, Notes and Tweets
• Jason Yanowitz of Blockworks notes the importance of the NFL signing a deal with NFT project Dapper Labs.

• Economist John Tuld calls out Janet Yellen's quote on taxing unrealized capital gains.

• Taxing unrealized capital gains is so previously unfathomable that it is hard to wrap your head around.
What's Next
With such crazy proposed regulation and tax reforms circulating, the weakness we're seeing in both the stock and crypto markets is unsurprising. The silver lining for investors on the crypto side is that most cryptocurrencies are hanging on to key support levels.
That may seem like low-hanging fruit. But the sheer fact that the market isn't in an absolute panic right now speaks volumes about increasing institutional interest and investors' bullish long-term outlook for this industry.
We'll continue to closely watch the news coming out of D.C. as well as the charts on your favorite cryptocurrencies.
Luckily, scary September is ending in just a few days.
Best,
Alex