Crypto Consolidates? Not For Long …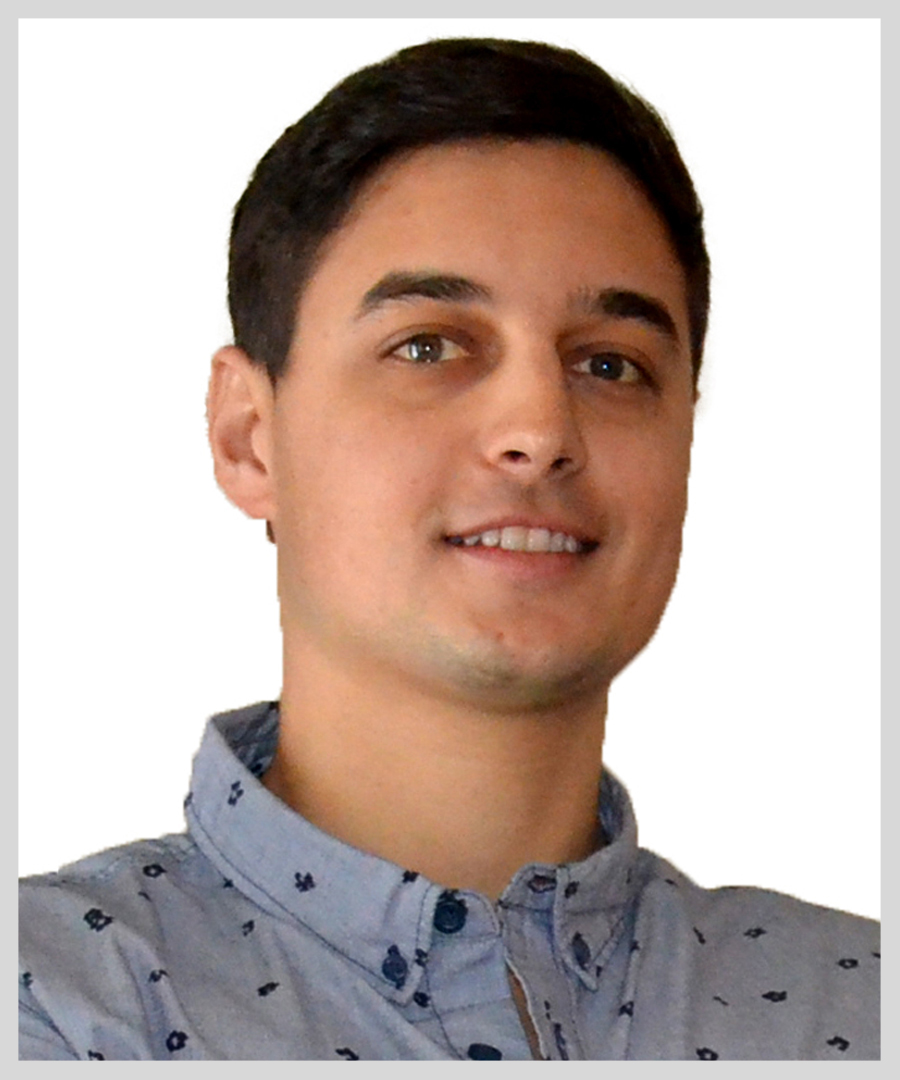 • Bitcoin (BTC, Tech/Adoption Grade "A-") is attempting to reestablish $42,000 as a strong support level.

• Ethereum (ETH, Tech/Adoption Grade "A-") appears to be consolidating this week and needs to hold support.

• Uniswap (UNI) exploded in price over the weekend, perhaps signaling a decentralized finance (DeFi) breakout.
After tumbling on Sept. 20, Bitcoin has bounced around between $40,000 and $45,000. So far, nothing has been able to push BTC outside of this range.
At this point, it kind of seems as though Bitcoin has fallen asleep these past few weeks. That's despite the plentiful bullish developments plastered on headlines.
But appearances can be deceiving.
If Bitcoin can hold above support at $40,000 — and even $42,000 — it has a chance for an imminent breakout. It just needs one more catalyst to ignite this final leg of the bull market and take us into the "parabolic" phase.
What could that catalyst be?
It could come from several things, like the approval of a BTC exchange-traded fund (ETF).
In August, Securities and Exchange Commission (SEC) Chair Gary Gensler signaled he's potentially open to an ETF that tracks Bitcoin futures. Since then, speculation that a BTC futures ETF could be a reality by the end of 2021 has gone mainstream.
Related post: Cardano's Upgrade, Solana's Downtime, Fidelity's SEC Challenge & More
Another large adoption story, in the same vein of El Salvador's adoption of the King of Crypto as legal tender, could also tip the scales.
Related post: Want to Earn Tax-Free BTC? Move to El Salvador!
When could this catalyst hit?
We believe this current bearish action should end in the coming few days. That makes this week an important test for the state of the market.
Here's BTC in U.S. dollar terms via Coinbase Global (Nasdaq: COIN):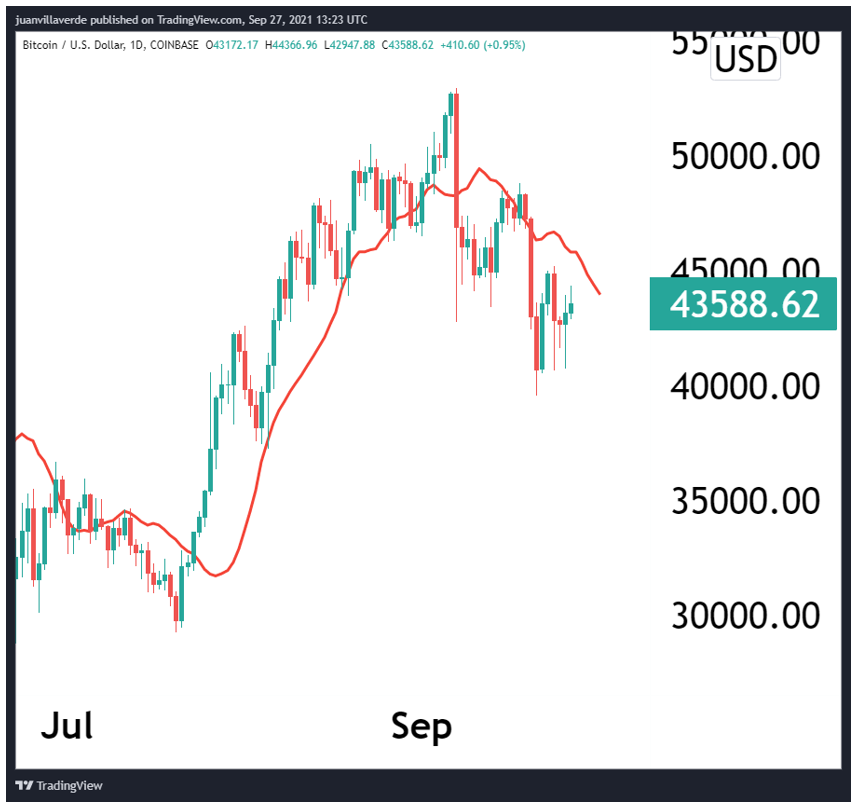 Ethereum and Bitcoin have been moving in lockstep over the last few weeks. So, it's no surprise that ETH is also trading in a range between $2,800 and $3,200.
ETH is trying very hard to re-establish $3,000 as a support level. Which is good, since it'll have to reclaim that level for us to definitively declare Sept. 21 as the short-term low.
We've said it before, but it bears repeating: The discrepancy between the current price action and the on-chain fundamentals is huge.
The current price action has been pretty bearish. But the technicals and fundamentals are painting a different story — a much more bullish one.
Here's ETH in U.S. dollar terms via Coinbase: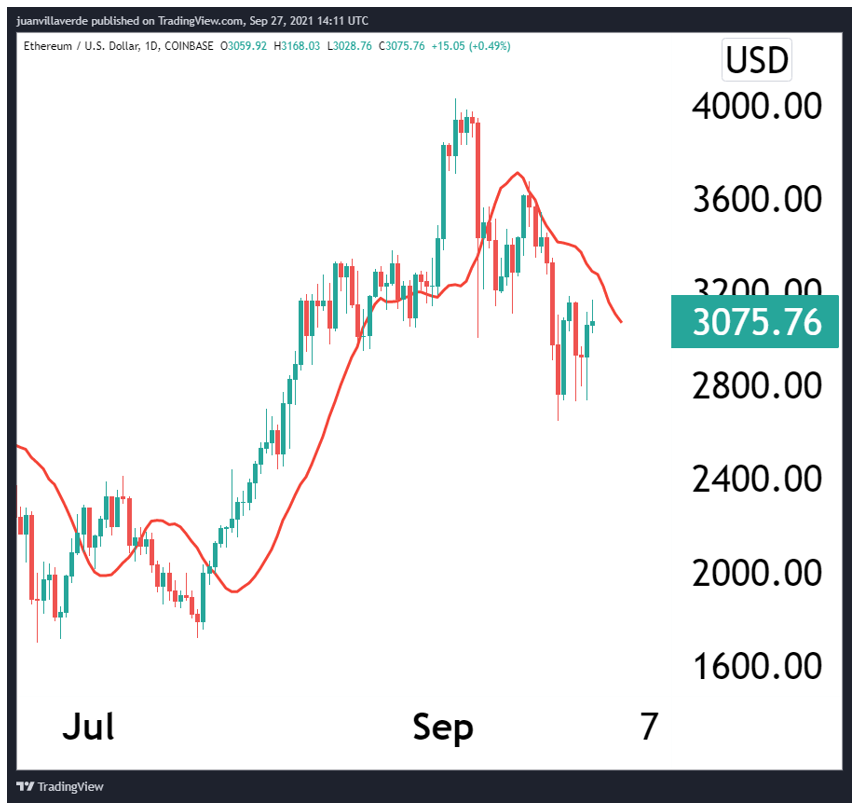 Speaking of strong recoveries, Uniswap blasted off its lows on Sunday, spiking 48% to its Monday high before settling back down.
While we'd like to see it hold those new highs, any moves upward while the broad market consolidates is noticeable. Especially since DeFi has looked drastically oversold for quite a while now.
As UNI isn't the only DeFi token outperforming the market, this could be a sign that things are about to change for this hot sector.
Here's UNI in U.S. dollar terms via Coinbase: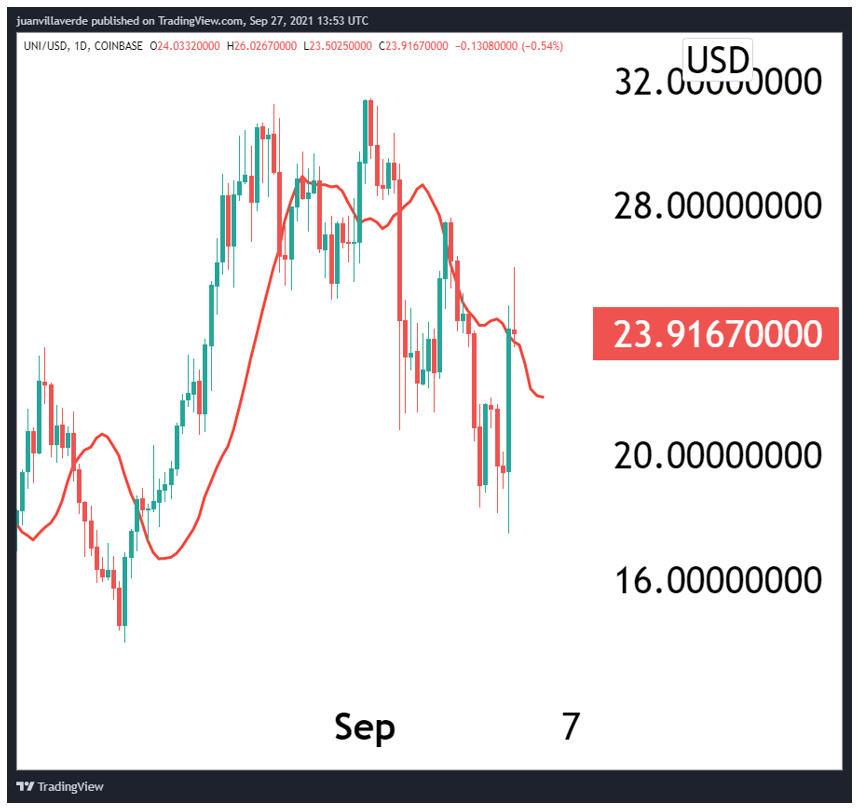 Notable News, Notes and Tweets
• Ari Paul of crypto investment firm BlockTower Capital broke down the relationship between luxury goods and non-fungible token (NFTs).

• Speaking of NFTs, collectors are now speculating on the earliest digital art available.

• This graphic is the perfect summation of why now is a great time to invest in cryptocurrencies.
What's Next
The market looked to be making a strong rebound late last week when the news about China's Bitcoin regulation resurfaced.
As expected with any crypto announcements from China, a wave of worry washed over investors, particularly those who are Asia-based. That worry was reflected in the market.
• But we're reminding you to forget the fear, uncertainty and doubt (FUD.)
Investing is about facts, not feelings. And the fact is, crypto market leaders have strong fundamentals that are only growing stronger.
Both whales and long-term holders of cryptocurrencies are locking away or tying up their crypto at record rates. This is causing a supply shortage.
Simple economics tells us this should send prices higher. Instead, we're seeing prices held down by headline-fueled bearishness.
• This discrepancy signals a strong rebound is coming ... and soon.
Paired with what could be the start of a DeFi sector breakout and there are still plenty of reasons to be excited about crypto in the last stretch of 2021.
Remember to stay tuned here and on our Twitter page to stay up to date with the most important developments and analysis.
Best,
Alex