Crypto Market Drops Across the Board — Well, Sort of …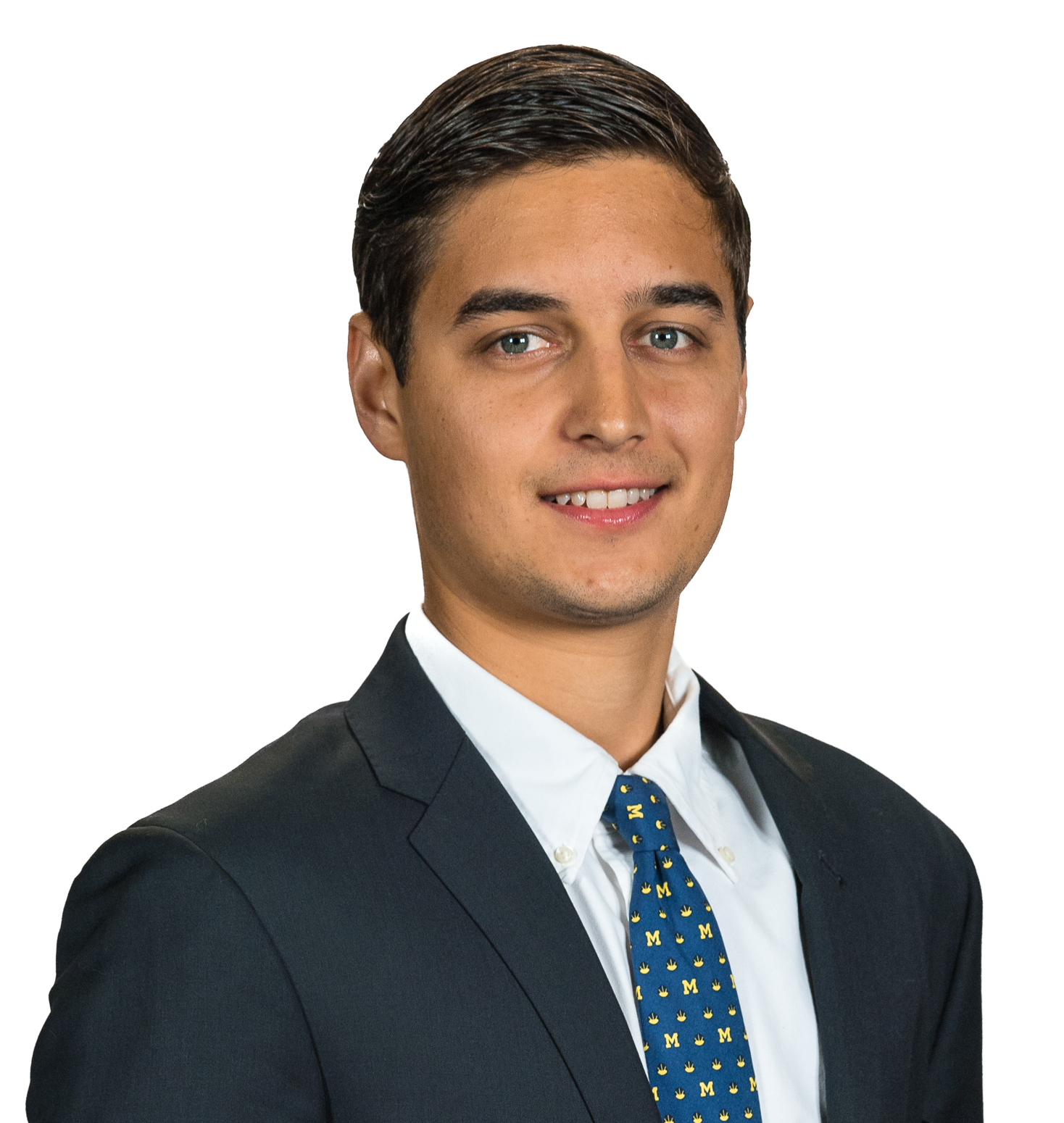 Most assets see 5%-plus losses on the day, but is the market really down?
• Ethereum (ETH, Tech/Adoption Grade "A-") fails to close at all-time highs.

• DeFi remains hot, with AAVE (AAVE, rated) and Uniswap (UNI, Liquidity/Availability Grade "D+") leading the charge.
A 5% daily drop in the S&P 500 Index sounds alarms for traditional investors. A 7% drop triggers a 15-minute halt in trading. At 13%, another 15-minute freeze is triggered. A 20% drop in prices results in a trading freeze of the entire rest of the day.
A 5% drop in prices is just another day for cryptocurrency traders. The highs come with the lows. During the 2015-to-2017 bull market, Bitcoin (BTC, Tech/Adoption Grade "A-") experienced nine significant corrections, some as extreme as 40%. Yet the people who held on during those corrections have always made up their losses.
So, now that we've accepted 5% losses are part of the experience in crypto investing, let's check in on some price charts.
Bitcoin has been trading below its 21-day moving average since Jan. 21, which is a sign of weakness. After such a sharp and fast rally up to the near $40,000 price level, a few days of weakness is to be expected.
That's not to say that the current price action isn't worrisome. And we'd like to see BTC climb back above its moving average as soon as possible. But our bullish outlook is intact.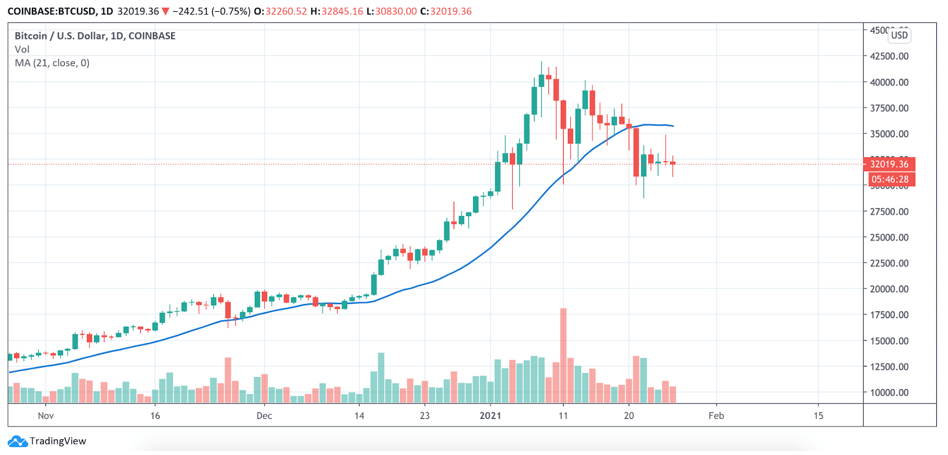 This week is definitely a big test. And history shows that we may have more room to drop. But let's maintain some long-term perspective here.
Ethereum failed to close above its all-time high yesterday, as the bulls failed to maintain the higher price levels. There's been strong resistance each time ETH has risen to the $1,400 level, and it's failed to achieve a convincing breakout after two real tests of the previous all-time high.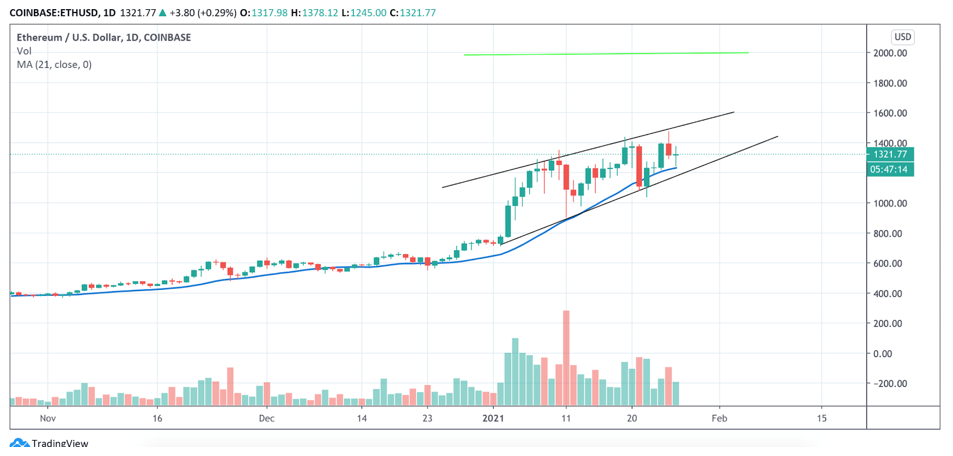 ETH is currently trading above its 21-day moving average and within an ascending channel. If it can break out above the channel and the previous all-time high, it would have little resistance until the $2,000 level.
On the downside, if the price falls below the channel and the 21-day moving average, the next downside target is the psychologically key level of $1,000, which has been tested a few times on the hourly chart.
Elsewhere in the market, both Aave and Uniswap have been performing well today, validating the bullish narrative on DeFi assets. ("DeFi" is short for "decentralized finance.")
We said this week would be a big test for altcoins, DeFi in particular, and so far, so good for the DeFi space. We still need a few more days to definitively call for altcoin season.
Notable News, Notes and Tweets
The trend of institutional Bitcoin buying continues, this time with Ivy League University endowments starting to participate.
The number of ETH investors with large positions — known as "whales" in the crypto space — is way up on the year, potentially a sign of institutional buy in. Anthony Pompliano, aka "Pomp," co-founder of Morgan Creek Digital Assets, has a funny take on 2021.
Now, even Bloomberg is bullish on Bitcoin, and the financial data behemoth has perhaps the best Twitter handle in the industry.
What's Next
Again, this week is a very big test for not only DeFi and altcoins but the entire crypto space.
The market has been moving dramatically, with a few 10% price corrections, but, so far, we've yet to see any of the 40% price drops we've come to expect from this volatile asset class.
There is a chance the market will finally experience a harsher, more drawn-out price drop. And we stress that these things happen — even in the context of a long-term bullish movement.
Of course, we'll be monitoring market action closely over the balance of the week, with a close eye on any action bearing on our short-, medium- and long-term outlooks.
Best,
Alex Benfield