Ethereum Hits All-Time High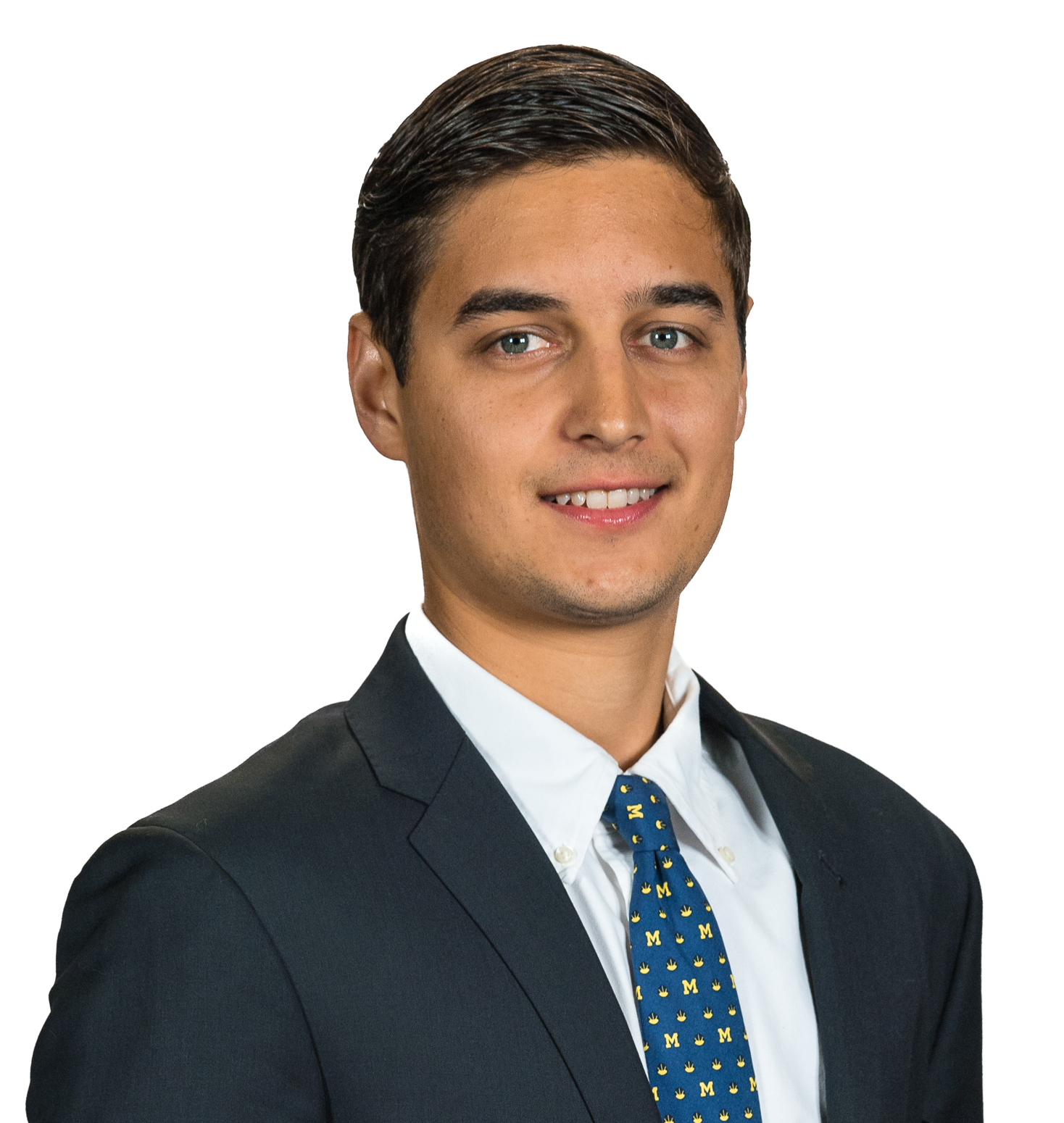 Certain altcoins are breaking out and outperforming Bitcoin this week …
• Ethereum (ETH, Tech/Adoption Grade "A-") hits new all-time high near $1,470

• Chainlink (LINK, Availability/Liquidity Grade "A+") soars along with other DeFi assets
Over the weekend, Ethereum broke through resistance and reached a new all-time high near $1,470 on some exchanges, topping a previous peak around $1,440.
Since Bitcoin (BTC, Tech/Adoption Grade "A-") got to the $42,000 neighborhood on Jan. 8, Ethereum has been outperforming the industry leader, sparking many analysts to call out a potential start to "altcoin season."
Ethereum does usually follow Bitcoin and lead all other altcoins during bull markets.
Let's check in to see how ETH is performing against the U.S. dollar …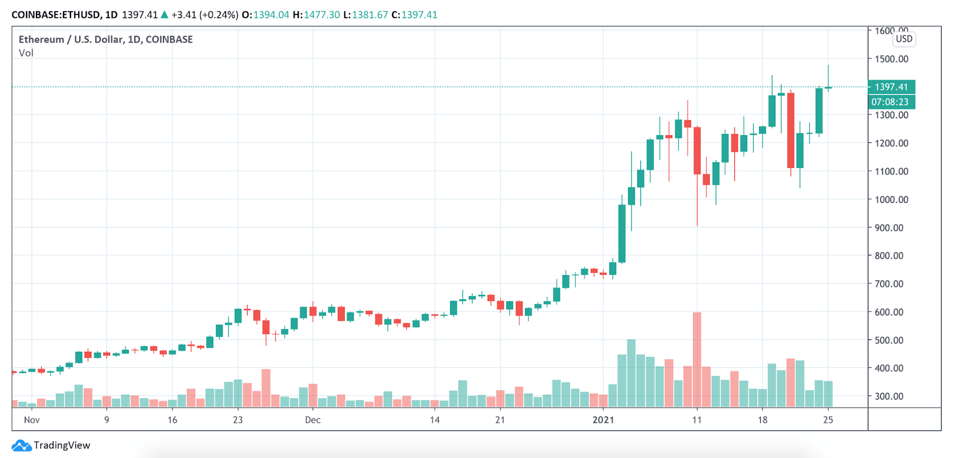 Here's a look at the relationship between ETH and BTC …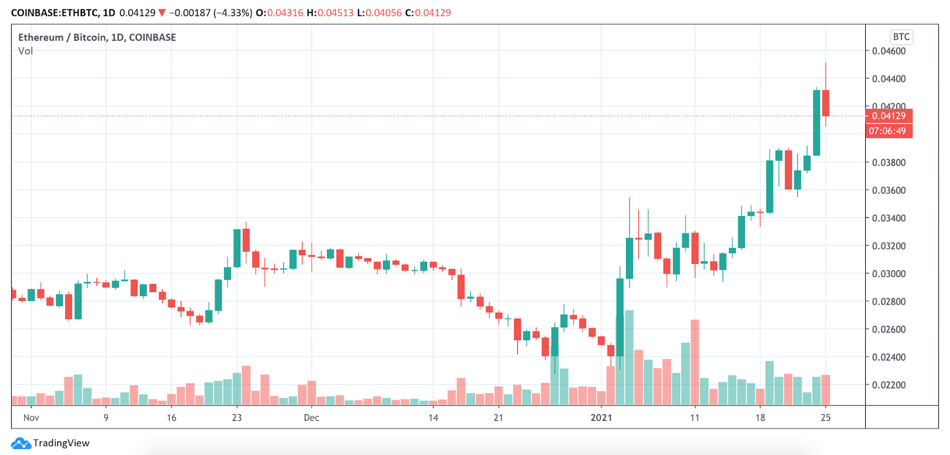 While ETH and other altcoins have been outperforming the King of Crypto over the last two weeks, it's still too early to definitively call the start of altcoin season.
At the same time, we may be very close to officially making such a call. That's because DeFi (short for "decentralized finance") projects have been on a tear recently.
In lock-step with ETH, Chainlink hit an all-time high at $25 on Saturday, much to the enjoyment of the "Link Marines."
LINK has been one of the best-performing altcoins over the last year, rising rapidly to prominence in the crypto top 10. It's already seen a 25% increase over its previous all-time high of $20 set in August 2020, but we remain bullish on the price of the decentralized oracle provider.
The next key level to watch is $30. Here's the price of LINK in U.S. dollars …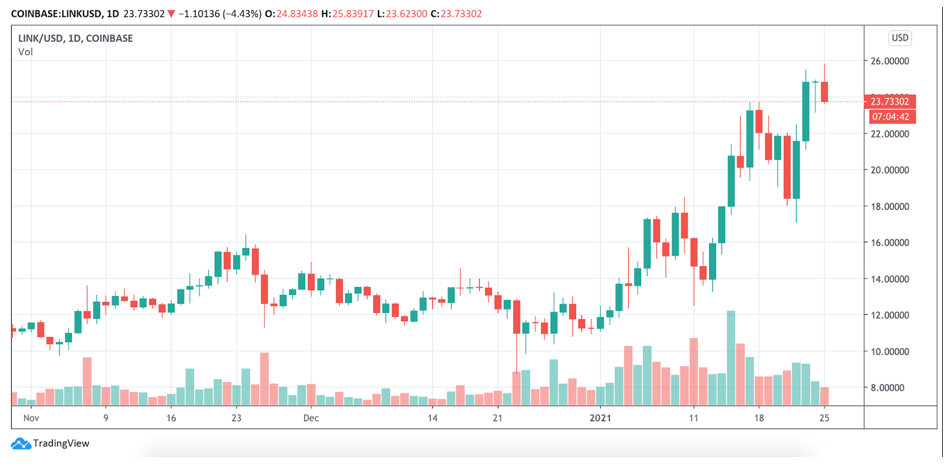 Showcasing the strength and potential future growth of DeFi, Aave (AAVE) rocketed up to a high just north of $290 on the Kraken exchange on Sunday.
Aave is an open-source decentralized liquidity protocol and one of the leaders in the DeFi space. It was trading around $245 just before 1 p.m. Eastern.
Here's AAVE in U.S. dollar terms on Kraken …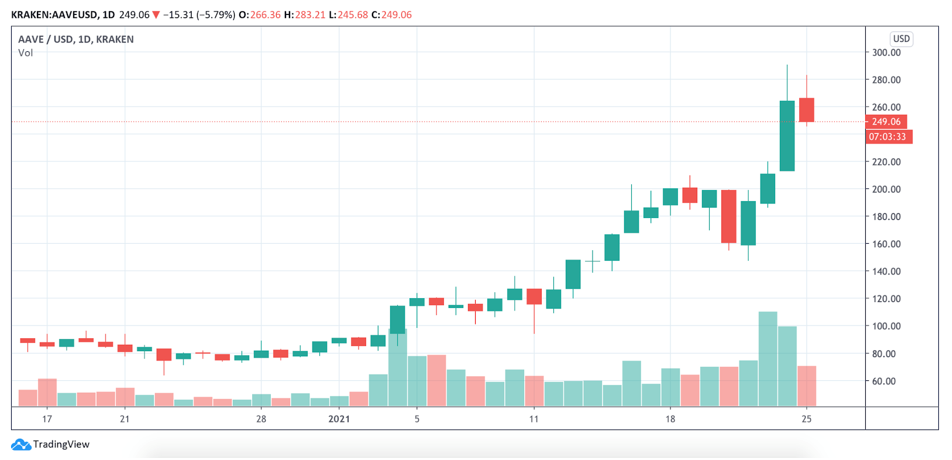 Notable News and Notes
• The trend of institutional Bitcoin buying continues with Marathon Patent Group.

• China continues its test of the Digital Yuan in Chengdu.

• Dan Held, Growth Leader of Kraken Exchange, released an interesting take on Bitcoin supercycles.
Weekly Outlook
Based on the bullish momentum in the market this weekend, we'll continue to watch how altcoins perform versus Bitcoin this week.
Of particular interest will be whether BTC attempts to recover some ground against its cryptocurrency offspring and even retest its own all-time highs. We'll also be looking at Ethereum to hold ground around $1,400; if it does, we'd expect it to soon test those new all-time highs.
Now, if other top DeFi altcoins — like LINK and AAVE — continue to outperform Bitcoin over the week, we may be able to officially call the start of altcoin season.
And that's when it gets really interesting, folks. We're already monitoring the space for altcoins that have yet to go on their own runs.
Stay tuned.
Best,
Alex Benfield