Ethereum's Move Means Altseason Is On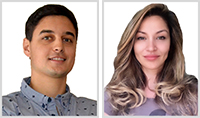 The top alternative cryptocurrency is putting the whole market on its shoulders, as the bulls seem to be waking up to its long-term use case.
• Ethereum (ETH, Tech/Adoption Grade "A-"), the No. 1 altcoin, is breaking out to new highs, rising 10% today.

• Chainlink (LINK), about to solve one of crypto's biggest problems, is ready to run.

• Bitcoin (BTC, Tech/Adoption Grade "A-"), though still the market leader, is ceding share to altcoins.
Ethereum is extending its already incredible rally this week, as it's now reached a new all-time high around $2,600. This week's move is backed by both excellent and improving fundamentals, as well as a solid technical profile.
Looking at the daily chart, we can see that ETH tested its 21-day moving average before bouncing right off that level and confirming $2,000 as support. As ETH enters new territory, the next key level to look at is $3,000.
As for the fundamental developments, ETH transaction fees hit the second-highest level in history yesterday ($47.3 million per day), even higher than on Feb. 23, when most assets spiked to local highs.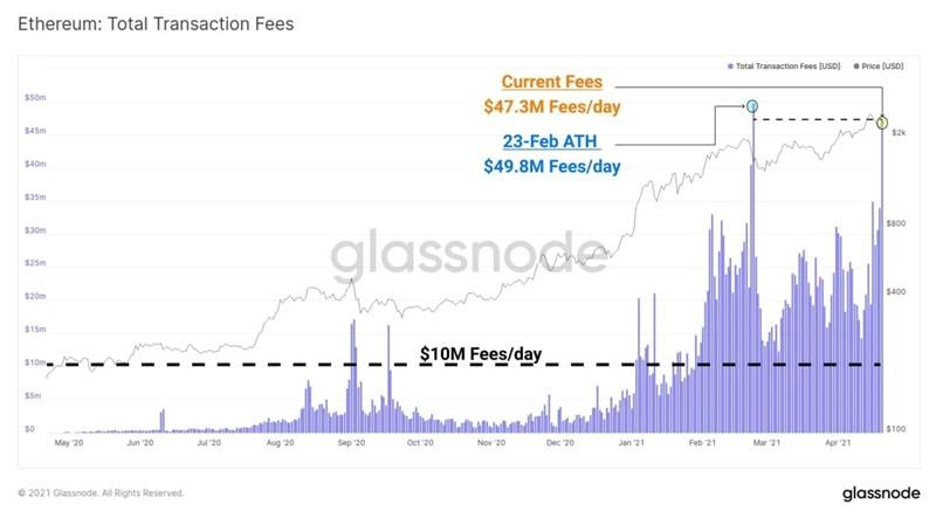 Many investors are waiting to see how ETH reacts to the release of EIP-1559, which will improve Ethereum fees in a big way. This development could be a huge catalyst for the adoption of Ethereum by major institutions.
As noted above, on the upside, we're looking at $3,000 as the next target. On the downside, there's heavy support near $2,000. As shown in the volume profile data below, there's heavy trading volume between $2,000 and $2,200, suggesting lots of support in that area.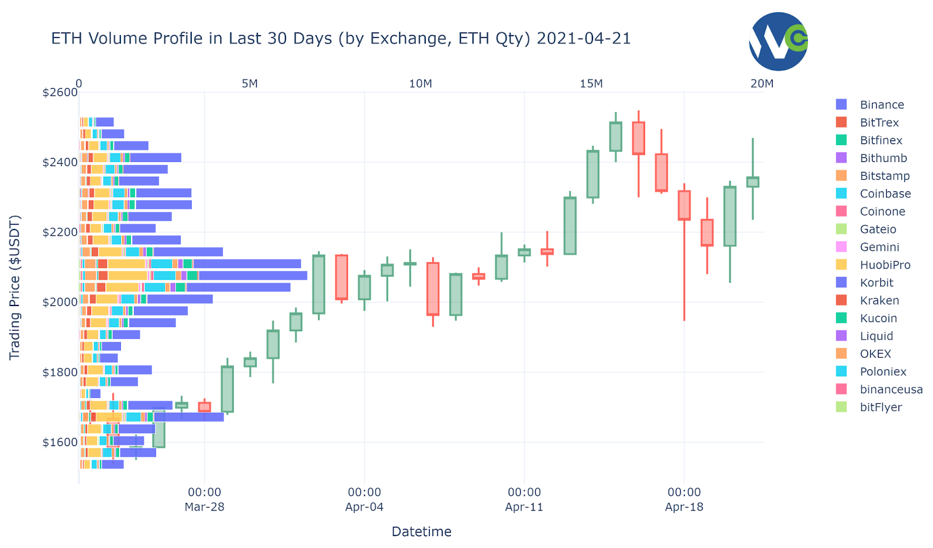 Look for ETH to test that $3,000 bull target before approaching those support levels.
Here's ETH in U.S. dollar terms via Coinbase Global, Inc. (Nasdaq: COIN):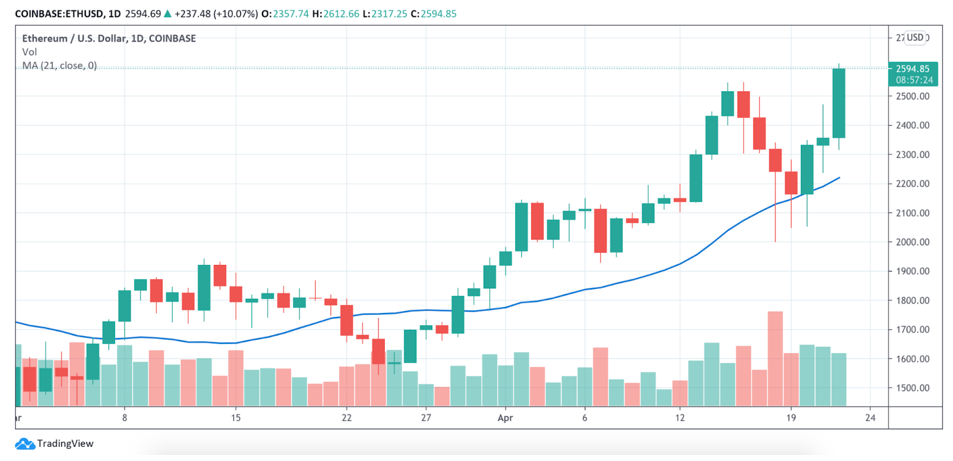 Chainlink, which has broken out from a week-old triangle on the two-hour chart, looks very bullish at the moment.
Here's LINK in U.S. dollar terms with two-hour candles via Binance: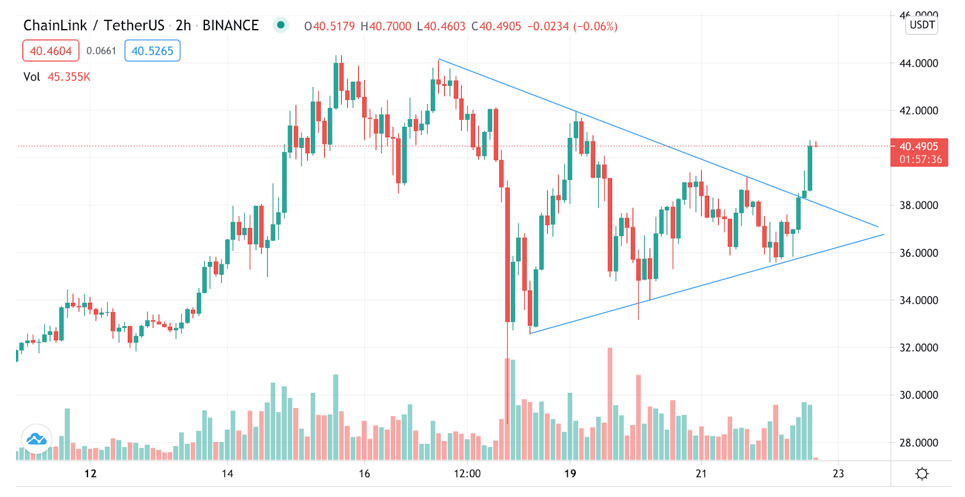 LINK will likely retest the upper line of the triangle for further confirmation in the next few hours, but it does look good right now.
Chainlink published a white paper a few days ago describing an update that promises to solve front-running of transactions and similar problems on Ethereum. This is bullish for the whole industry.
"Front-running" happens on Ethereum because bots are able to bid a slightly higher gas price on a transaction, incentivizing miners to place those transactions earlier in the block. The higher-paying transactions are executed first. On a larger scale, this raises the transaction cost for everyone using ETH or its tokens.
There are other similar issues that Chainlink plans to tackle, like annoying "sandwich" attacks. Sandwich attacks raise the price of wanted crypto assets for those who are buying them on decentralized exchanges, while attackers are profiting from it.
How do these sandwich attacks work?
Because a blockchain is transparent, attackers can see transactions that are waiting to be confirmed in a blockchain's "entrance" hall, or "mempool."
So, for example, if you're buying token "X" via Uniswap, the attacker can buy it before you, which will raise the price of that token for you. After your purchase, the price of the X token will go up even more, so an attacker will sell their X token after that for a higher price than when they purchased it.
They'll basically place your transaction in a "sandwich" between their two transactions. This attack is generally done by bots belonging to miners. And, as we know, miners are the ones who decide the order of the transactions in the block.
Decentralized finance (DeFi) has been suffering from these issues for quite some time now, and they are important problems that need to be solved. So, it's not difficult to see why investors are very bullish on Chainlink.
Notable News, Notes and Tweets
• This surge in Ethereum is likely solely coming from retail traders; when institutional money begins to flow into ETH, things could get really wild.

• Perhaps Bitcoin could actually be a good thing for clean energy and the environment, unlike the popular bearish narrative being driven by media critics.

• Fun fact: Ethereum settled $1.5 trillion in transactions in the first quarter of 2021, which is more than its previous seven quarters combined: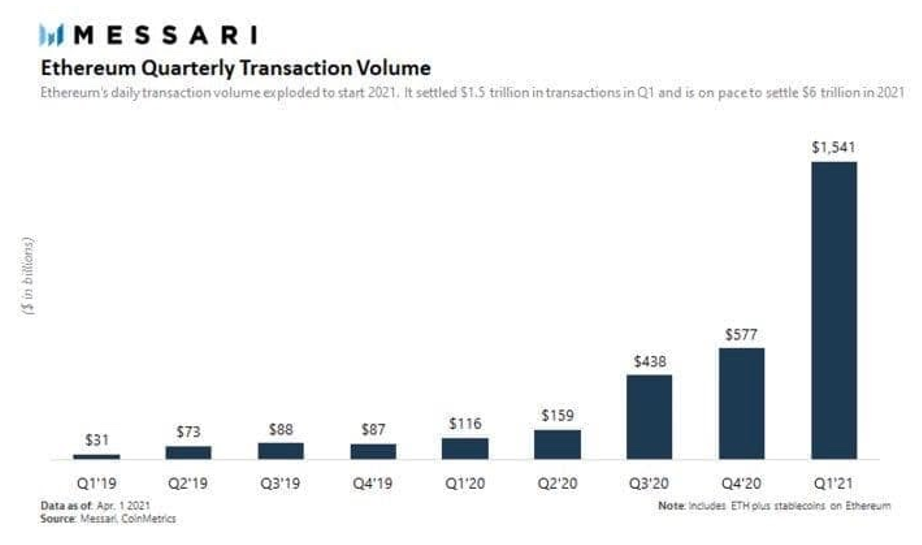 What's Next
Many analysts have been waiting for Ethereum to break out in a way much like we're seeing this week. Our timing was way off, of course, but this move does seem long overdue.
But now's the time for traders to get excited, as Ethereum's breakout is likely the sign of a much larger, much broader altcoin breakout.
Ethereum is currently pulling up altcoin dominance, and that means Bitcoin is losing shares of the market to its alternatives now. This opens up the door for big trading opportunities in smaller coins with higher profit potentials.
Don't get me wrong, altcoin trading is risky. Many of these altcoins that are experiencing parabolic price runs will likely also face steep price corrections, but this is the point in the market cycle where experienced traders can make a lot of money.
As always, stay tuned for more insights into those altcoin opportunities and deeper dives into the development activities of the most important cryptocurrencies.
Best,
Alex and Marija