Evergrande Fears Filter Into Crypto Sphere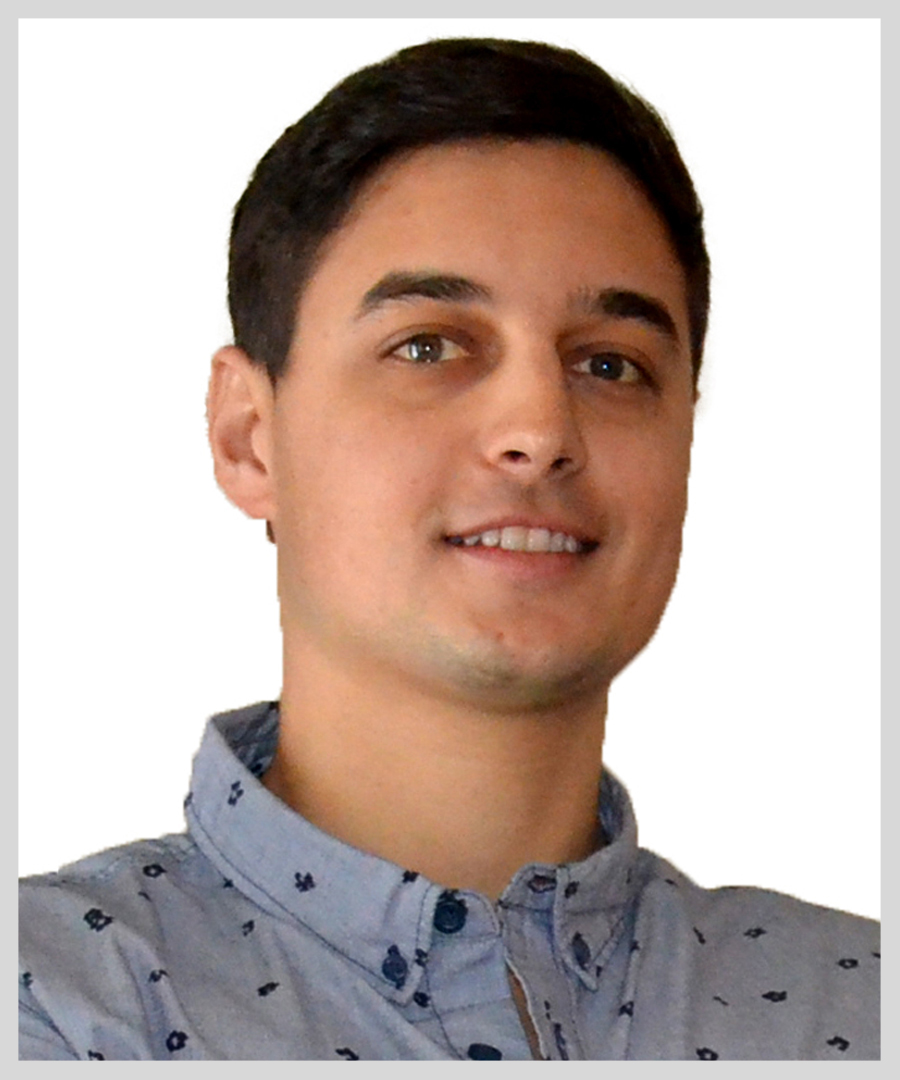 Bitcoin (BTC, Tech/Adoption Grade "A-") is demonstrating high levels of correlation to the S&P 500 lately.

Ethereum (ETH, Tech/Adoption Grade "A-") broke through major support level and is showing some weakness.

Polygon (MATIC) held up on a long-term support level yesterday and bounced big time today.
Bitcoin lost some major ground early this week, following the S&P 500's lead due to news coming out of China regarding the Evergrande situation.
BTC has dropped about 10% since the start of the week, giving up the ground it gained in September. And yesterday, it dipped all the way to the $40,000 level before jumping back slightly to find support at the important $42,000 level.
That support hasn't held up as well as we would like to see, which furthers the case that BTC is in shaky territory in the short term. From a medium-term and long-term outlook, however, this isn't much to worry about.
The correlation between the S&P 500 and BTC has been very high lately, which tends to happen when Bitcoin consolidates and volatility shrinks. In fact, according to Bloomberg, this correlation is the highest since last October: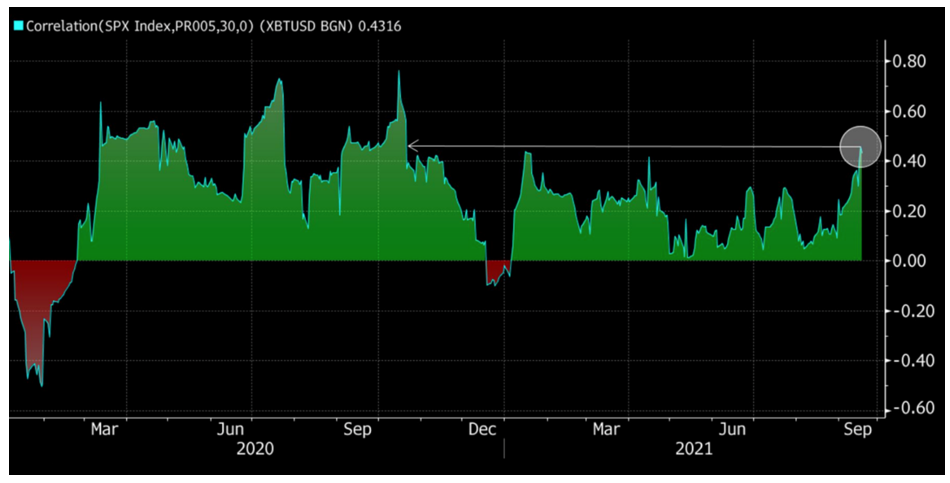 In the short term, Bitcoin will likely follow whatever direction the S&P 500 takes ... and right now the S&P 500 is in shaky territory. Things should clear up over the next week or two, though — especially in light of the Federal Reserve's scheduled announcement today.
At the time of writing, the Fed's two-day meeting hasn't ended yet. Still, it isn't hard to guess what we'll hear from the post-meeting press conference.
The Fed will likely continue the money printing to stave off any prolonged drop in the S&P 500 ... and, in doing so, continue to bolster the case for Bitcoin and cryptocurrencies.
By the time this all shakes out, not much will have changed. The U.S. economic policy will still look murky, and Bitcoin will continue to be the shining light.
Here's BTC in U.S. dollar terms via Coinbase Global (Nasdaq: COIN):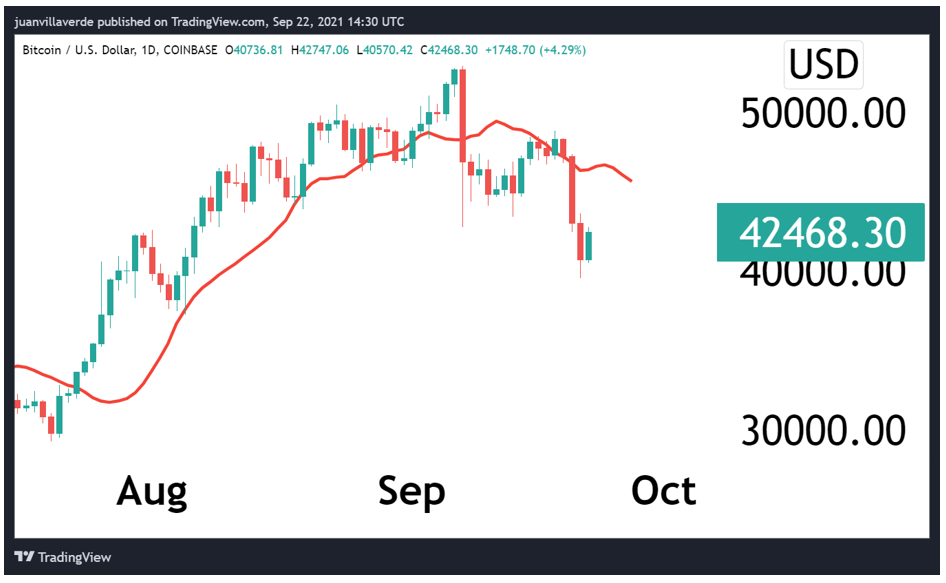 Bitcoin isn't the only large-cap crypto facing downside pressure. The $2,900-$3,000 channel that held up as strong support for ETH since the first week of August wavered yesterday, albeit temporarily.
Ethereum is likely in the process of setting its 80-day-cycle low, something that we had hoped was already in.
What does this mean for Ethereum over the short- and medium-term outlook?
Short term, ETH is in slightly shaky territory so long as the cycle low remains unconfirmed. We will need to see ETH bounce and hold above support levels with conviction before we can definitively call a bottom for the 80-day cycle.
Medium term, our outlook doesn't change much. ETH will continue to trade sideways for a while until we have a catalyst to spark the next leg of this bull market.
Things have been very volatile over the last few months, and each dip hits hard. But remember that volatility works both ways, and the chances for face-melting price rises are also pretty high right now. First, though, we need to see the market establish itself and show some strength.
Here's ETH in U.S. dollar terms via Coinbase: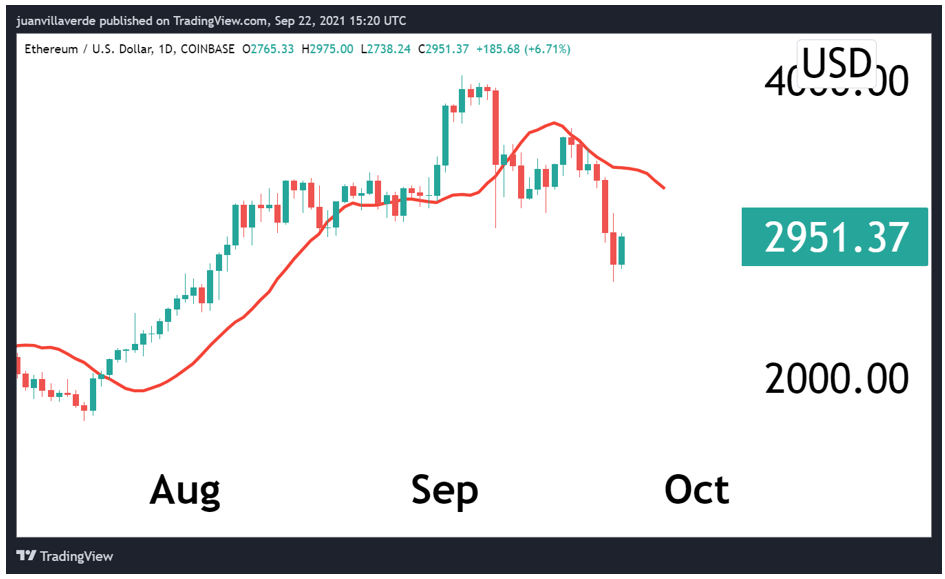 Elsewhere, Polygon has been able to hold onto long-term support near $1.00 throughout this current dip. MATIC has held above that level since July.
The chart below shows MATIC has made a nice recovery so far today, but it will need to clear the $1.30 level to really get back into bullish territory.
The fundamentals show that isn't unreasonable. Institutions are now very bullish on Layer-2 solutions like MATIC, which can reduce fees and transaction times for ETH transactions. Polygon developers are also looking to capitalize on the hottest decentralized finance (DeFi) developments, incentivizing non-fungible tokens (NFT) and gaming platforms to develop on their network.
Good times are likely in store for Polygon holders.
Here's MATIC in U.S. dollar terms via Coinbase: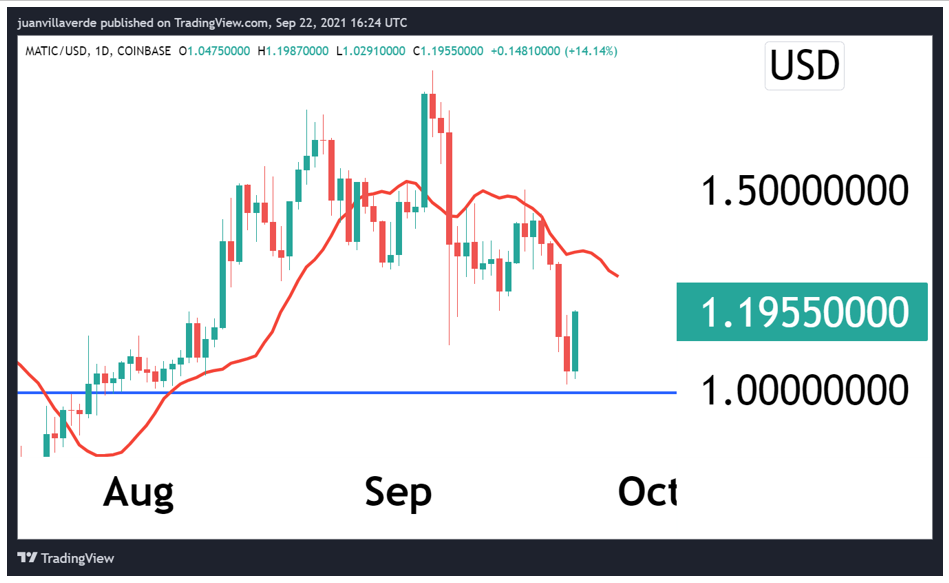 Notable News, Notes and Tweets
• Dan Held tweeted a thread that showcases the benefits of a crypto self-directed IRA, which is a great way to reduce taxes on your crypto.

• Bitcoin mining difficulty is rising again as Chinese mining equipment has now moved out to other countries.

• One of the biggest reasons to be bullish right now is that the chance of the Securities and Exchange Commission (SEC) approving a BTC exchange-traded fund (ETF) is on the rise.
What's Next
The many concerns with the traditional markets and the current high correlation between BTC and the S&P 500 means that we're likely to see more volatility in the short-term.
That's perfectly fine. And we always expected some bearish action in September, which has historically been Bitcoin's worst month of price action.
There are still so many fundamental factors driving the bullish case for Bitcoin and cryptocurrencies, and we can't understate the impact that the U.S. monetary policy will have on crypto markets over the long term.
Stay vigilant and patient during times like these, and as always, stay tuned to Weiss Crypto Alert for your market updates.
Best,
Alex