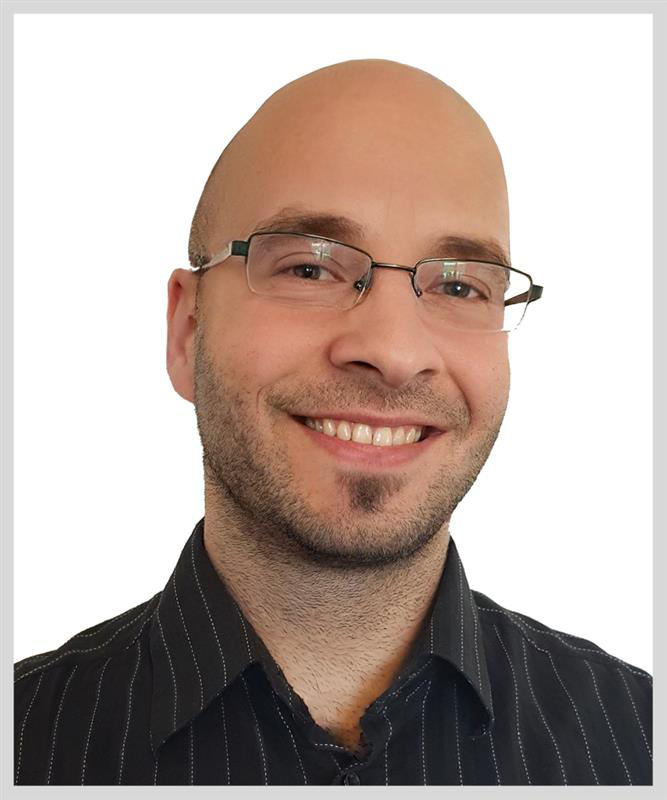 Welcome to yet another week of this historically significant marketwide correction — one we've been warning about relentlessly over the past several months.
The markets are drenched in red. Weak hands are selling, leading to an inevitable retail pullback and even greater concentration of wealth in the hands of whales, institutions and those shrewd enough to endure ups and downs that are currently underway.
But a few assets have stubbornly stood brave in the face of the onslaught, including Polygon (MATIC):
My colleague, Alex Benfield, previously told you about MATIC's strong performance in the face of yesterday's correction. If that's not impressive enough for you, then check out its recent gains. Our Weiss Crypto Portfolio subscribers bought MATIC earlier this month and are already sitting on open gains of about 300% on the Layer-2 crypto. Not too shabby!
MATIC is an outlier, though. The broad market remains in turmoil. Fear, uncertainty and doubt reign supreme among weak-handed investors.
While Dogecoin (DOGE, Tech/Adoption Grade "B-") didn't escape the correction as MATIC did, it is seeing a respectable bounce in the aftermath.
Last week, it was trending all over social media, and rightly so. While some, including mainstream experts, have voiced their disdain for the memecoin, we were adamant to warn our readers not to underestimate this underdog (pun intended) and its vibrant community:
Bloomberg's Mike McGlone wonders if #Dogecoin has reached its peak and says he sees limited potential for this meme #crypto. Do not underestimate the power of the meme. Memes create communities, and community is a necessary ingredient in any successful decentralized network.

— Weiss Crypto (@WeissCrypto) May 16, 2021
We only hope you listened and were able to survive the onslaught in the aftermath of Musk's crypto musings — something probably best kept to himself:
Elon Musk sent the #Dogecoin price higher once again, after tweeting he 'strongly' believes in $BTC and #cryptocurrency. After this week, perhaps investors should start ignoring his tweets on #crypto and finance. @elonmusk we love you but stick to cars and rockets.

— Weiss Crypto (@WeissCrypto) May 14, 2021
Last week, we asked for your opinion on Musk moving the market. One reader responded ...
Is Elon Musk purposefully shaking the markets in an elaborate pump-and-dump scheme, or is he simply speaking his mind and getting too much credit? Let us know by adding a #WeissCryptoAlert hashtag to your post! We'll feature the best tweets in next Thursday's Weiss Crypto Alert.
Market volatility, as we saw the past week, reveals a weakness in investors ... even hardened veterans. When headlines flash and markets turn red, fear overrides fundamentals. Uncertainty undermines understanding. Doubt destroys solid judgment.
How do you overcome the fear, uncertainty and doubt (FUD)? By learning the intricacies of market action.
To that end, last week we recommended "Fear Is the Mindkiller" — a thought-provoking piece by none other than Arthur Hayes, former BitMEX CEO and one of its co-founders.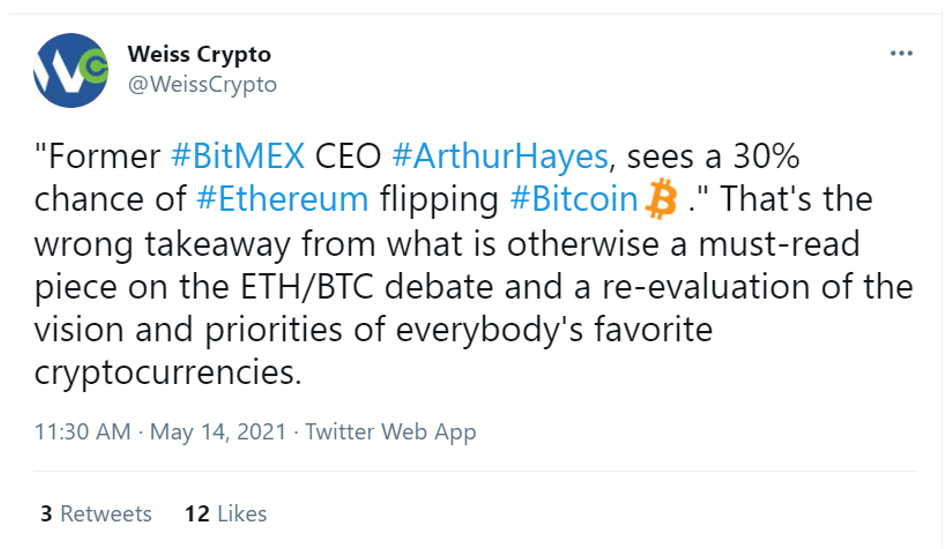 Our own Juan Villaverde's glowing comments should be reason enough for both new and veteran investors to jump in and take a look.
For those of you who didn't fall for the FUD, we asked what you were doing with your money:


About 66% of you went in and got bags of BTC, while the rest admitted to sitting this one out and HODLing. Some were even able to sell your Ethereum (ETH, Tech/Adoption Grade "A-") at the top, making decent profit as Ethereum made its way up. Great work!
We regret this poll didn't have greater response rates, but then again, the silence speaks volumes.
As this week is coming to an end, it will be interesting to see what next week holds for us. Is the bottom in, or will BTC plunge even further before it starts rallying?
Use the #WeissCryptoAlert hashtag and let us know your thoughts!
We look forward to hearing from you!
Best,
Jurica Dujmovic