Has Bitcoin 'Decoupled' from Old-School Markets?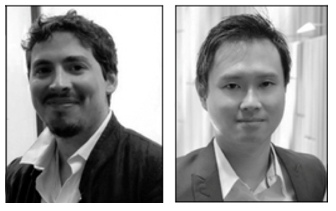 Bitcoin (BTC, Tech/Adoption Grade "A-"), still well above $13,000 as of midday Monday after breaking through that key level last week, is in the green today even as U.S. equities sell off on fading stimulus hopes and rising pandemic fears.
Up until very recently — as we hinted in a recent tweet — Bitcoin (and the crypto complex generally) had traded in sympathy with traditional financial asset classes, rising and falling to rhythms dictated by the federal response to the novel coronavirus.
But now, we could be at a "decoupling" where widespread awareness and adaptation is happening die to an accumulation of critical factors.
Now, we'd like to see more than five days' worth of trading data before we confirm this "decoupling." But things are happening that suggest we're at a "critical mass" moment when widespread awareness and adoption is about to happen.
This includes, of course, the impact of central bank money-printing and federal government borrowing to mitigate the effects of COVID-19 on the population, markets and the economy. Their "kitchen sink" approach has costs, though only limited benefits have shown so far.
#BTC seems to be decoupling from stocks with a parabolic rise in recent days. Let's hope it doesn't lose steam.#Bitcoin #crypto

— Weiss Crypto Ratings (@WeissCrypto) October 21, 2020
Now, as for positive catalysts, take, for example, the Oct. 21 announcement by PayPal Holdings Inc. (Nasdaq: PYPL) of "a new service enabling its customers to buy, hold and sell cryptocurrency directly from their PayPal account."
This is absolutely a big deal: 340 million people around the world use PayPal's services. And it pushes the theoretical "use" case because 26 million PayPal merchants will soon be able to accept crypto payments.
Yeah, but …
#PayPal will not let its users hold private keys, transfer #crypto to other users, or send them to merchants' or other wallets. Not your keys, not your crypto. In all fairness to PayPal, those features may come later.

— Weiss Crypto Ratings (@WeissCrypto) October 24, 2020
So, we continue to view such "singularities" with skepticism. We're grateful for the double-digit rally, but we're mindful as well of the bigger, longer-term picture. It just so happens that there are other factors that enhance and brighten that outlook.
In fact, one of the Winklevoss twins tweeted about PayPal and Bitcoin, and those guys still wield a lot of influence due to their Facebook Inc. (Nasdaq: FB) connection. The analogy he draws of a "bridge" to an "island" is decent.
But it's this observation that has us interested: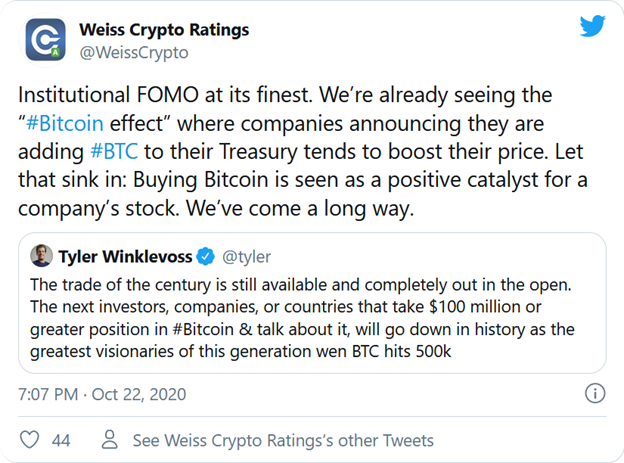 In addition to PayPal and the "use" case, companies are starting to act on the investment case for Bitcoin.
And, finally, a third leg of what's starting to look like a proverbial stool will be the government.
We discussed in some length last Monday "central bank digital currencies," or CBDCs, and their potential impact on markets, highlighting a Twitter thread by Raoul Pal.
Raoul followed up with an incisive video that includes some of the best commentary we've heard on the topic.
Government, particularly in the U.S., has struggled to respond to the current crisis beyond its usual tactics. It's instructive that authority will now turn to crypto as its perceived panacea.
There is not a single cause that will drive Bitcoin back to $19,783.06 and beyond.
It will be an accumulation of factors. It just so happens they're beginning to coalesce.
Best,
Juan and Bruce