How High Will Bitcoin Go Before the Bull Market Ends? Answer: $70,000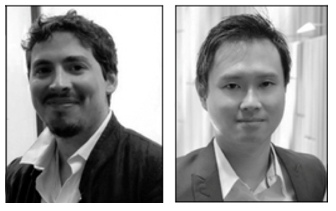 This number comes from a popular indicator called S2F, or stock-to-flow analysis, which is based on a very common-sense idea: The scarcer a commodity is, the more valuable it becomes.
Gold, for example, has a S2F of 62. That's the number of years of current production required to match global above-ground holdings.
By contrast, it takes only 22 years of current silver production to equal above-ground supplies.
Being less scarce in this way ... is precisely what makes silver less valuable than gold.
What about Bitcoin (BTC, Tech/Adoption Grade "A-")?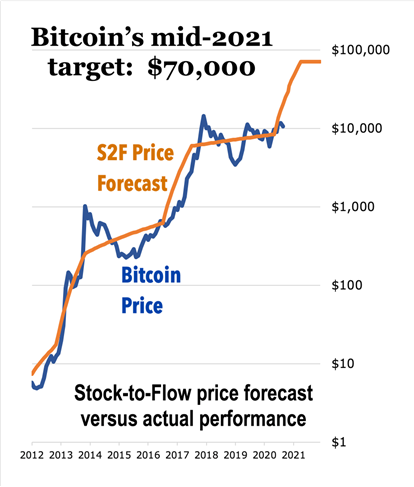 Well right now, 6.25 new Bitcoin are being created every 10 minutes. At that pace, it would take about 56 years for new mintage to match Bitcoin's circulating supply.
Notice how close that is to the S2F number for gold. And it makes sense, because Bitcoin is fast becoming a major rival to gold as a safe-haven investment in a world gone mad.
As you can see, the S2F indicator is pointing toward Bitcoin hitting $70,000. That's about six times today's price level.
Whether this number turns out to be precisely accurate or not, it's clearly undeniably bullish. What's more, we aren't the only ones who think so.
At least 13 public companies have piled up nearly $7 billion worth of Bitcoin on their balance sheets.
Among them is Grayscale Investments, sponsor of America's first Bitcoin stock fund, Bitcoin Trust (OTC: GBTC) — which now owns a whopping 2.4% of Bitcoin's total circulating supply!
It also includes payment processor Square and software house MicroStrategy — which cited Bitcoin as a hedge against pandemic panic, flagrant money-printing and political uncertainty.
Hedge fund titan Paul Tudor Jones is buying Bitcoin for his flagship fund. And now comes news institutional asset manager Stone Ridge Holdings Group has scooped up another $115 million worth of Bitcoin (bringing its total holdings above $1 billion).
It's easy to see why.
U.S. mutual fund behemoth Fidelity Investments recently issued a report examining the five-year impact of adding Bitcoin to a standard diversified portfolio (consisting of 60% stocks and 40% bonds).
Analysts found putting just 3% of such a portfolio into Bitcoin boosted average annual returns a whopping 49.9%.
With Fidelity effectively giving Bitcoin its stamp of approval for portfolio investment, we think it's only a matter of time until conventional money managers everywhere start following its lead — and adjust their portfolios in a similar manner.
Fidelity reckons the global investible market (stocks and bonds) is worth about $116 trillion. As we write, Bitcoin's entire market cap is just $211 billion. This leads to some very compelling arithmetic ...
• If just 1% of the world investible market flowed into Bitcoin, this would be sufficient to send prices blasting up 5.5-fold. That's very close to the S2F forecast — which anticipates a six-fold increase.

• But if 3% — the portfolio allocation Fidelity actually suggests — poured into Bitcoin, you're going to see BTC shoot up more than 16-fold.
Following the smart money is pretty standard in investing. Smart investors can see the writing on the wall and get in early.
If you're looking to beat the rush into the King of Crypto, look to pullbacks for a great buying opportunity.
Best,
Juan and Bruce