It's a Good Day to Remember That the Supply of Bitcoin Is Fixed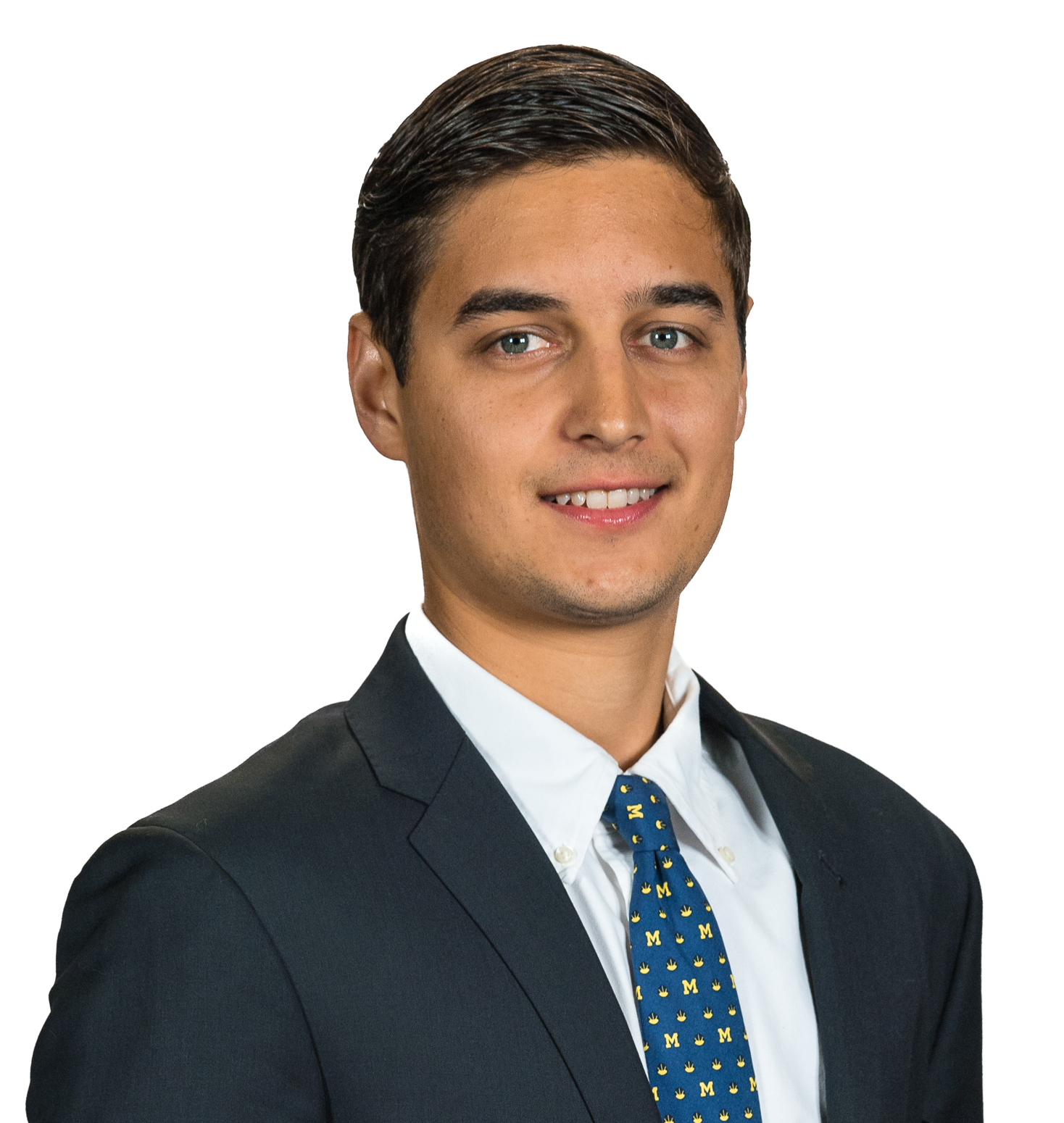 • The King of Crypto blasted to new all-time highs, gaining almost 10%, or $3,800, in a single hourly candle.

• Altcoins gained over the weekend but are lagging on Monday.

• Ethereum (ETH, Tech/Adoption Grade "A-") is still trading close to all-time highs after last week's big gain.
Bitcoin (BTC, Tech/Adoption Grade "A-") can no longer credibly be deemed a risky long-term investment after Tesla, Inc. (Nasdaq: TSLA) revealed via a filing with the Securities and Exchange Commission that it had purchased $1.5 billion of the world's leading cryptocurrency and said it would starting accepting it for payment.
MicroStrategy Inc. (Nasdaq: MSTR) CEO Michael Saylor started the movement of corporations shifting some portion of their balance sheets over to Bitcoin, and he's been hard at work trying to convince other CEOs to join him.
It seems he did enough to convince Elon Musk, as Tesla has shifted close to 10% of its available cash to BTC.
This seems like the tip of an iceberg — to mix metaphors, there could be a tidal wave of corporate demand coming to the crypto market. We're back to blue skies for BTC, as the next upside target is the psychological level of $45,000.
Here's Bitcoin in U.S. dollar terms via Coinbase: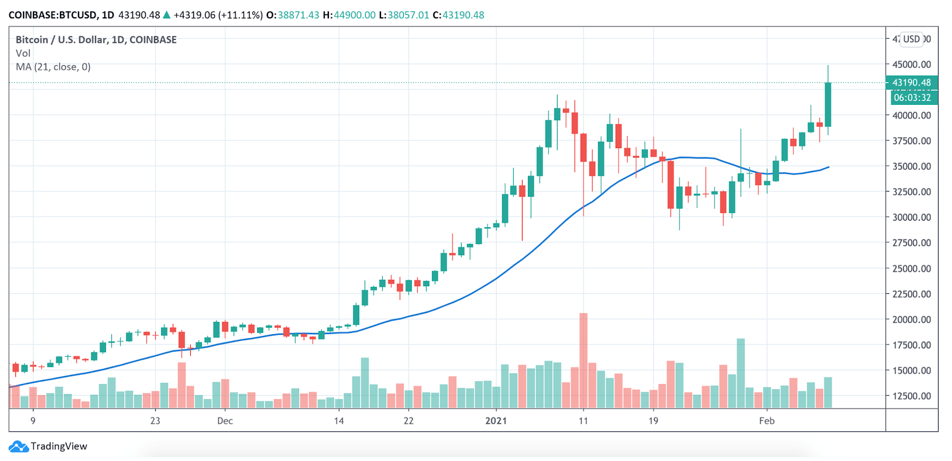 Altcoins had a good weekend of price action, but all eyes are back on the King of Crypto today, as BTC has smashed its previous all-time high.
Aave (AAVE, Unrated) dipped almost 20% over the weekend but is now back to trading above $500 in a show of strength for the DeFi blue chip. Attention now is on the previous high of about $560, after which $600 will be the next upside target.
Here's AAVE in U.S. dollar terms via Coinbase: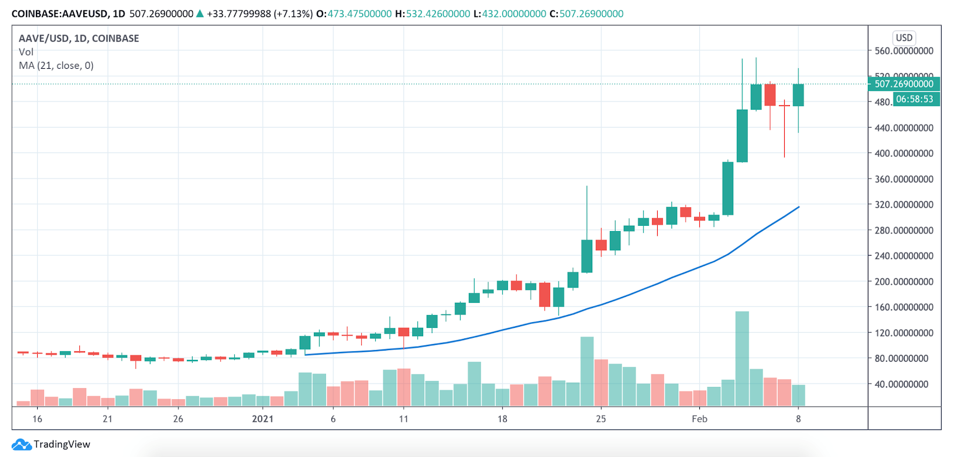 Bitcoin may be leading today, but Ethereum is not far behind it.
ETH is trading just over $1,700, tapping on yet another new all-time high. This comes as the Chicago Mercantile Exchange launched ETH futures today, and news of EIP-1559 hit the tape.
EIP-1559 would burn off a large part of ETH transaction fees as part of an effort to change how fees are calculated on the Ethereum network. This has the side effect of cutting down on the overall supply of ETH. Following the laws of economics, less supply would lead to higher prices for the second-biggest cryptocurrency. Things are looking very bullish.
Here's ETH in U.S. dollar terms via Coinbase: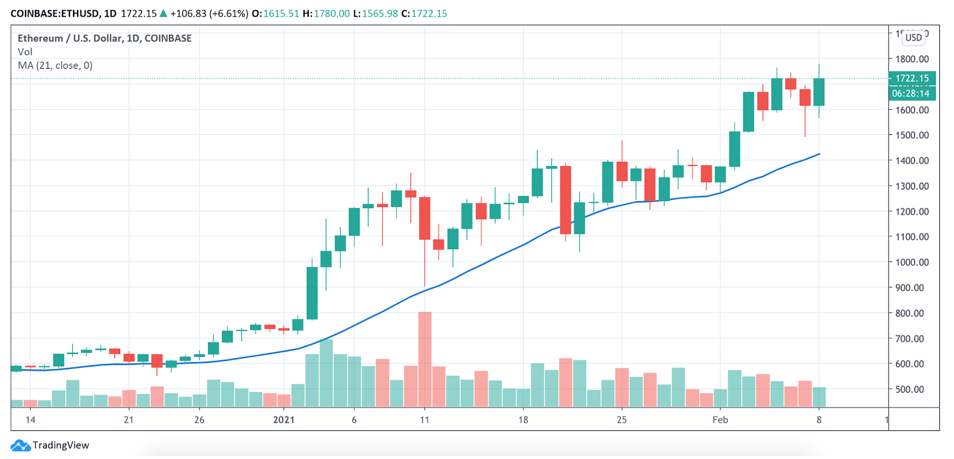 We've recently received some requests to cover Stellar (XLM, Tech/Adoption Grade "B-"), so let's take a look.
Stellar has quietly had a very good year so far, rising more than 200% since the start of 2021. It recently crossed above its 21-day moving average toward the end of January and is trading at price levels last seen in early 2018.
XLM's all-time high is somewhere around $1.00, so we're still quite a way's away from the highs. That shows the potential of XLM, as many crypto assets are starting to approach old highs in sympathy with Bitcoin and Ethereum.
Here's XLM in U.S. dollar terms via Coinbase: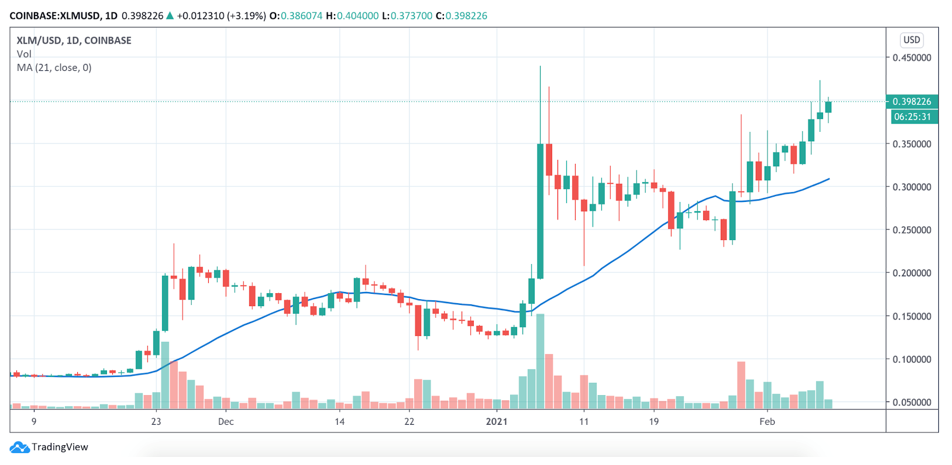 Notable News, Notes and Tweets
What's Next
The importance of Tesla's purchase of Bitcoin can't be overstated. This is massively bullish news.
When Michael Saylor announced that MicroStrategy had allocated some of its balance sheet to BTC, it made some noise. Saylor has been campaigning to get more companies to follow his lead, and, today, it looks like he's successfully convinced the richest man in the world to join his cause.
Elon Musk is a figurehead, everything he does makes the news and people listen to him. Today, he validated Bitcoin and the entire cryptocurrency industry along with it. Others will follow. There's likely a huge surge in demand coming, driven by corporate buyers. Remember: The supply of Bitcoin is fixed.
This can only lead to higher prices, and we're excited for the ride ahead.
Best,
Alex