Let's Talk About Bitcoin's New Market-Cap High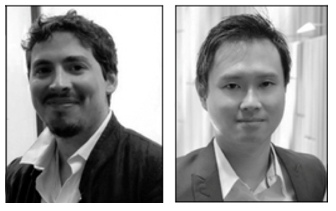 The Bitcoin (BTC, Tech/Adoption Grade "A-") price will highlight most of the headlines you'll see in mainstream financial media sources these days – and that's a good thing.
As we often note, Bitcoin's leadership is a necessary precondition for a durable, industry-wide rally. We're certainly seeing that, as the market capitalization of the first and largest cryptocurrency reached a fresh all-time high today.
We're not yet talking about a new all-time high for the U.S. dollar price of one Bitcoin. BTC traded as high as $18,711.43 early this morning; at last check on coinmarketcap.com, it was $18,196.35. The all-time high price remains $20,089.00, which was reached on Dec. 17, 2017.
That market cap, though, has reached $344 billion.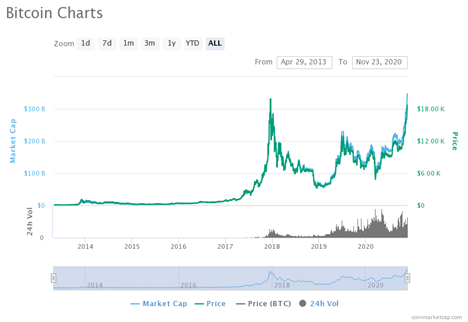 And, as a plurality of voters in our recent Twitter poll believe, it's $20,000 or bust – and it looks likely soon.
Indeed, it seems "directional bets" placed by old-school heavy-hitters like Jim Druckenmiller are generating a positive feedback loop. And Jaime Dimon's own research team has helped push Bitcoin's market cap above and beyond JPMorgan Chase & Co.'s (NYSE: JPM).
Due to a combination of low supply and "tons of new buyers," #Bitcoin (#BTC) will hit $65,000, Mike Novogratz says. Interestingly, that's pretty much the same reason behind Druckenmiller's investing in BTC. As more people join in, this becomes a self-fulfilling prophecy.

— Weiss Crypto Ratings (@WeissCrypto) November 17, 2020
The thing now is, we're starting to see explosive moves up and down the market-cap scale.
Ethereum (ETH, Tech/Adoption Grade "A-"), the No. 2 crypto, is pushing $600 at this hour, up nearly 12% in the last 24 hours and close to 30% over the last seven days. ETH's market cap is now above $67 billion.
Chainlink (LINK, Tech/Adoption Grade "C-"), which has delivered an open gain of nearly 200% in five months for subscribers to Weiss Crypto Investor, is up almost 4% in the last 24 hours and about 18% in a week.
And less well-known projects such as yearn.finance (YFI) are also taking off again.
There are many factors driving interest toward crypto. For now, let's enjoy it. To that end, here's Coindesk's Galen Moore, leading the Crypto Long & Short email in Noelle Acheson's stead over the weekend:
Do you remember the scene in the 1987 movie, "Revenge of the Nerds," where the jocks burn down their own house by accident, then take over the freshman dormitory? The market for Bitcoin feels a little like that, right now — except that the nerds in the dorm aren't leaving.

I've been thinking that maybe gold's most important property, besides scarcity, is its beauty. Maybe gold is an inflation hedge, maybe not. Either way, gold's attraction is powerful, sometimes irrational. That's because it is uniquely, elementally beautiful.

Bitcoin is, too, or so I think. However, there is a difference between the beauty of gold and the beauty of Bitcoin. Gold's attraction is nearly universal. Bitcoin's allure is strongest for those who love computer science, cryptography and economics. It's the ultimate revenge of the nerds.
Galen also offers four reasons why this rally is different from the one into year's end 2017…
Best,
Juan and Bruce