Price Action Confirms Big-Time Breakouts for Key Crypto Assets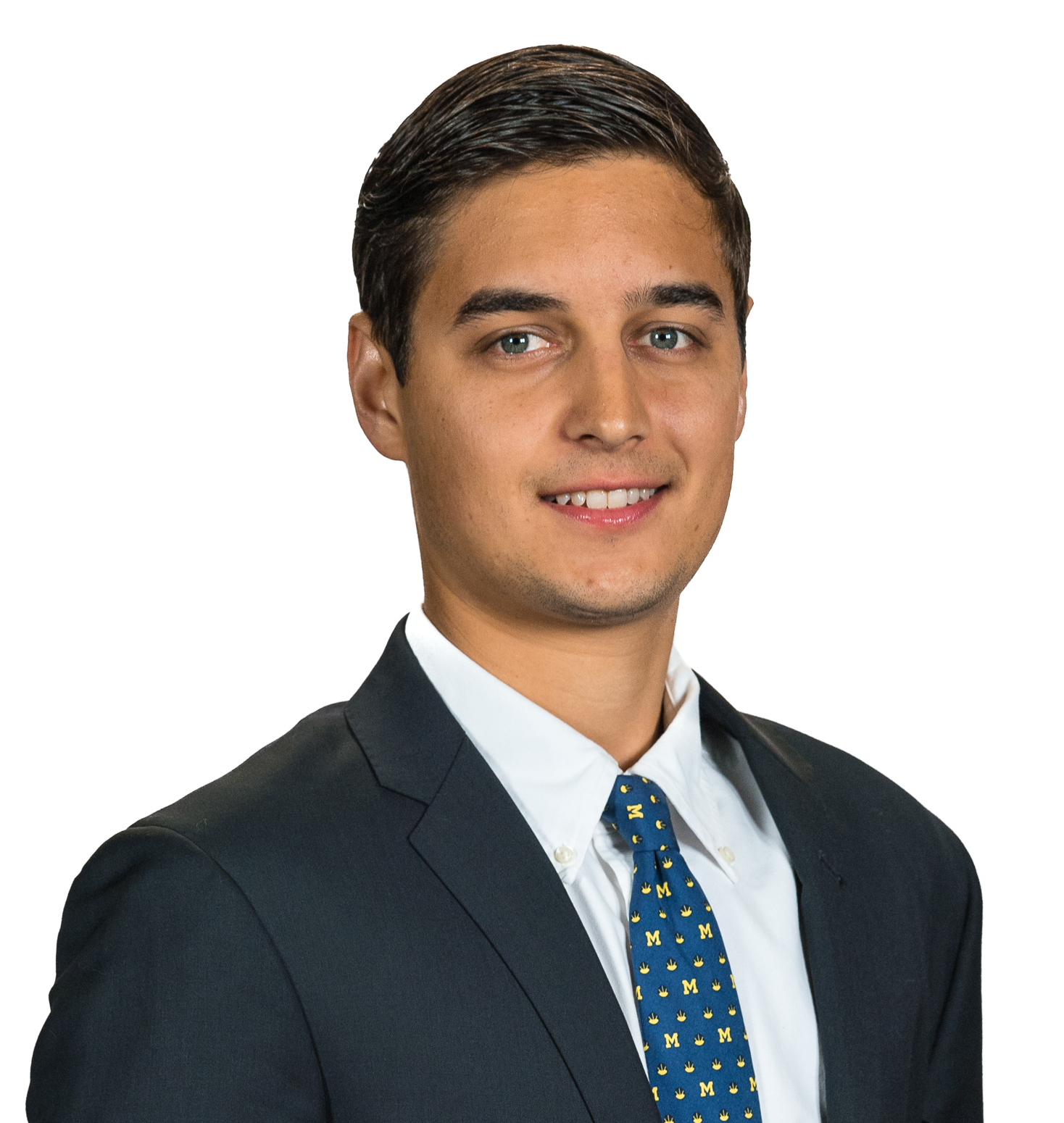 • Bitcoin (BTC, Tech/Adoption Grade "A-") also appears to have made itself comfortable trading above $36,000 again, which marks an important step on its journey to new all-time highs.

• Ethereum (ETH, Tech/Adoption Grade "A-") has stabilized above $1,600 and seems poised for a big move in favor of the bulls.

• Aave (AAVE, Unrated) continues its absolutely scorching year, setting new highs above $400. Trading peaked at about $480 on Coinbase, and its daily price chart looks absolutely parabolic.
Yesterday was a very important day in terms of the price structure of the two main cryptocurrencies, Bitcoin and Ethereum.
Today's news is relatively tame compared to yesterday, but today's price action is just as important.
BTC and ETH have both held the key levels they crossed yesterday, despite bears' attempts to test those levels earlier today.
Bitcoin crossed above its 21-day moving average on Tuesday and crossed above $36,000 yesterday. The moving-average crossover was the more important level, a sign the power has shifted back into the hand of the bulls.
After hitting highs above $38,000 earlier today, BTC tested the $36,000 level a few hours ago. It has since rebounded and held that key level, demonstrating the strength of this recent price movement.
The next important upside price target is $40,000, and if the King of Crypto can begin trading above that level again, it would be a big display of power for the entire crypto market.
Here's Bitcoin in U.S. dollar terms via Coinbase: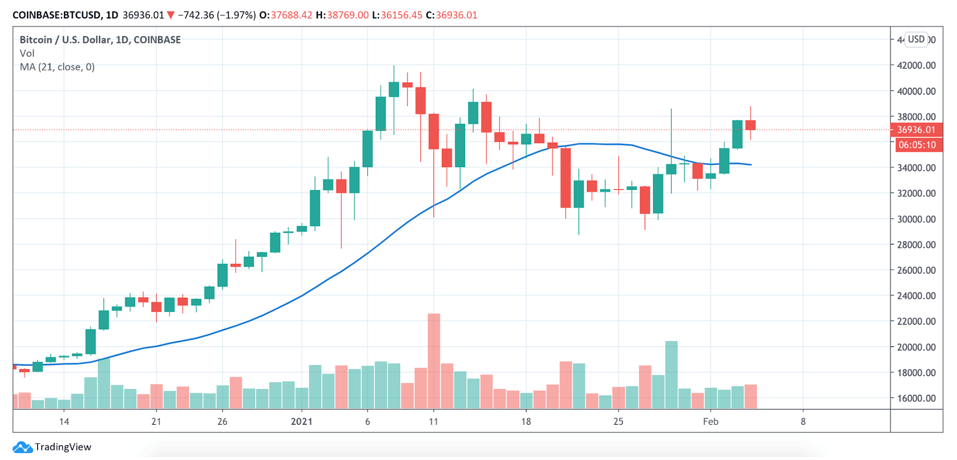 Ethereum broke out to new all-time highs yesterday and has held those levels since then. Earlier today, the bears attempted to push the price lower but were stifled at around $1,550. The bulls have since pulled the price back up above $1,600. The next big upside target is $2,000.
Here's ETH in U.S. dollar terms via Coinbase: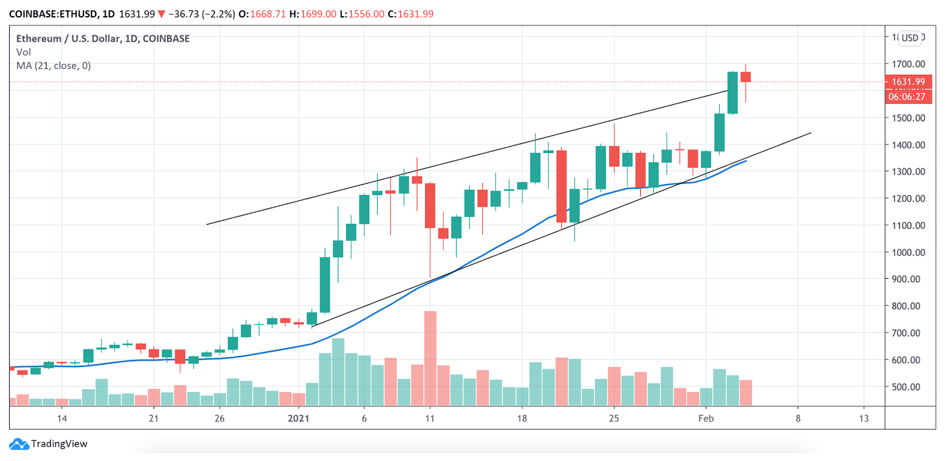 The big news of the day is Aave going full-on super saiyan.
The DeFi (that's short for "decentralized finance") protocol is up about 50% on the day and has set new all-time highs above the $500 level. Just two weeks ago, AAVE was trading under $200. This is one of the parabolic pops that has historically characterized cryptocurrency bull runs. This asset is in price discovery mode, and, at this point, the sky is the limit.
Here's AAVE in U.S. dollar terms via Coinbase: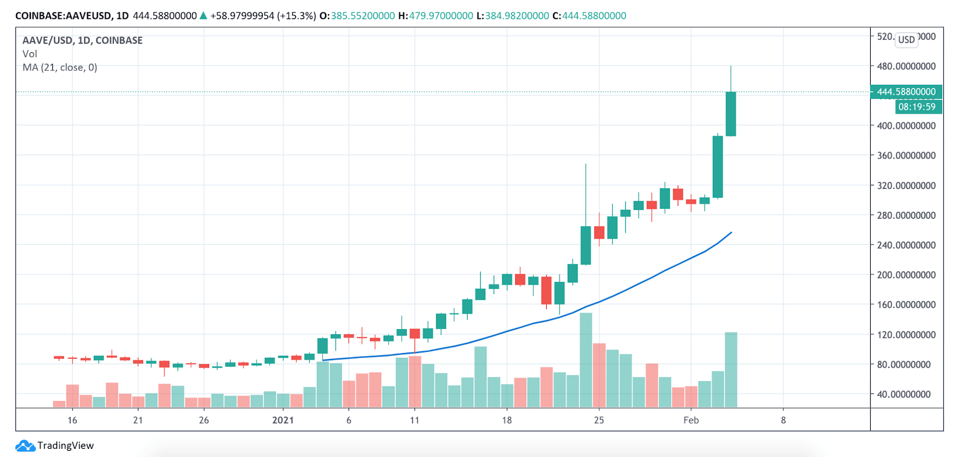 Notable News, Notes and Tweets
• NYDIG founder Ross Stevens gave a speech at MicroStrategy Inc.'s (Nasdaq: MSTR) Bitcoin for Corporations summit, calling the King of Crypto "the best money we've ever had."

• Bridgewater Associates founder and co-chief investment officer Ray Dalio shares some general life advice.

• Elon Musk once again tweeted out a reference to Dogecoin, which pumped up the meme crypto back to 5 cents.
What's Next
Lately I've been saying that we were entering exciting times in the crypto market. And, now, we're officially in that exciting time.
Many key cryptocurrencies have crossed above critical levels, making new all-time highs in the process, and it seems like there's nothing ahead of us except blue horizon.
We're at the beginning stages of altcoin season, so, moving forward, the best thing we can do is find and track smaller-cap assets with greater return potential.
Best,
Alex