The Crypto Market Is Growing Up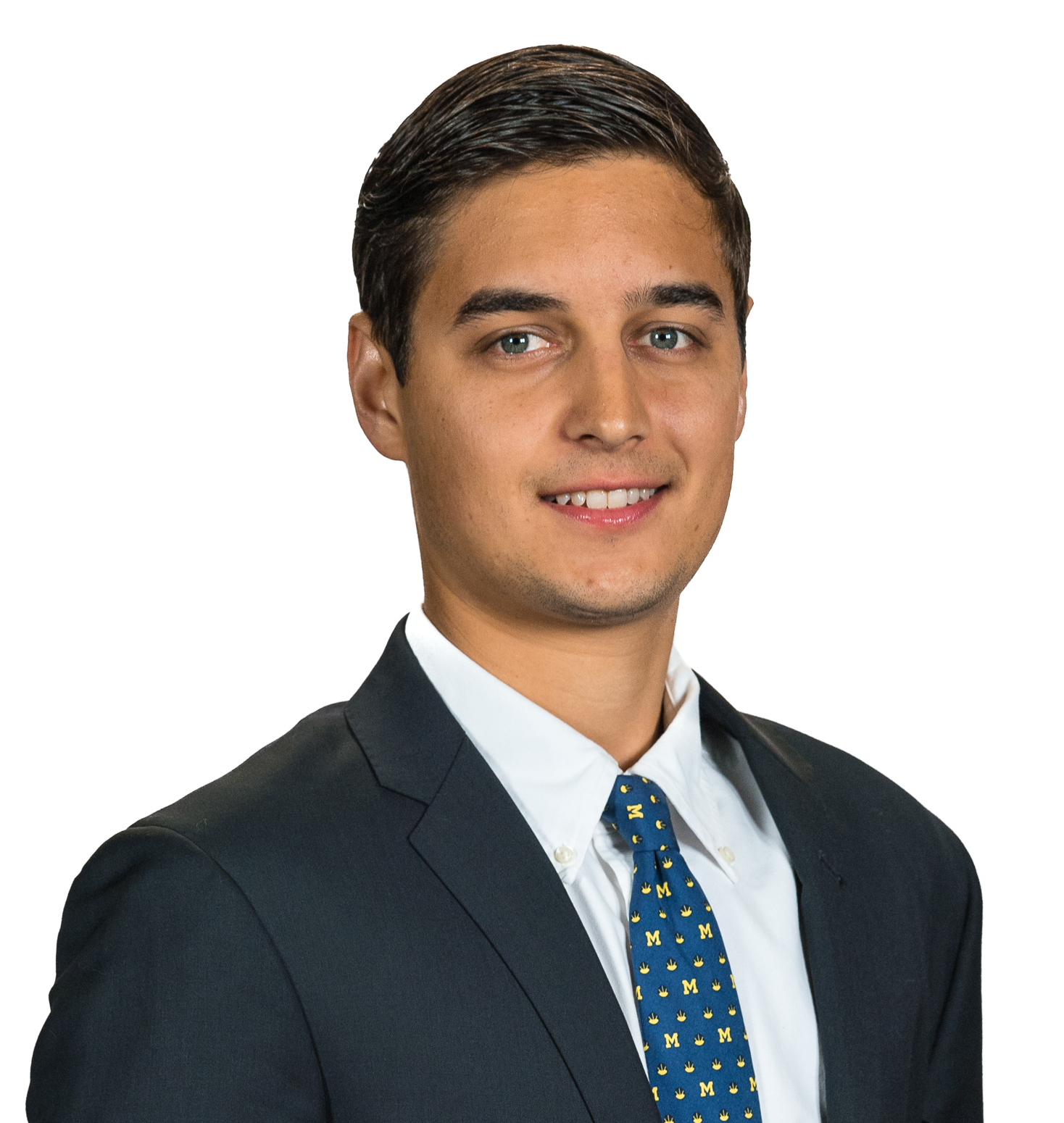 • Bitcoin (BTC, Tech/Adoption Grade "A-") cools off, as prices fall slightly across exchanges.

• Binance Coin (BNB, Tech/Adoption Grade "D+") gains more than 20% just one day after reaching new all-time highs.

• Cardano (ADA, Tech/Adoption Grade "C+") blasts past 80 cents and has gained more than 80% in just seven days.
After Bitcoin soared to highs around $48,000 yesterday, the King of Crypto is taking a breather today, retreating below $45,000. Meanwhile, altcoins are having yet another day, highlighted by both Cardano and Binance Coin gaining more than 20%.
BTC has been red-hot all week. The fact that it's taking a break today is no surprise. It's trading down about 4%, representing a minor pullback. Bitcoin remains one of the hottest mainstream financial stories, as each day more and more people are talking about the No. 1 crypto asset.
And it's still well above its 21-day moving average, resting on solid support at $40,000. The nearest upside target is still $50,000. Folks, a day or three of slight retracement before attempting to break previous highs would be a sign of a healthy market.
Here's Bitcoin in U.S. dollar terms via Coinbase: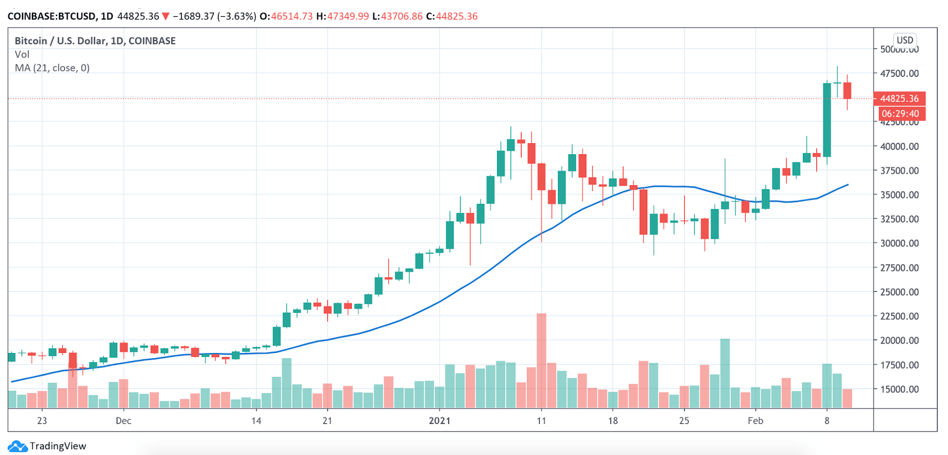 Ethereum (ETH, Tech/Adoption Grade "A-") has failed once again to close above $1,800 despite two consecutive wicks above that key resistance level.
ETH is showing some signs of weakness as the bears have held the line and not succumbed to the second-largest crypto's assault on $2,000. A close above $1,800 should shift the power back in favor of the bulls.
Here's ETH in U.S. dollar terms via Coinbase: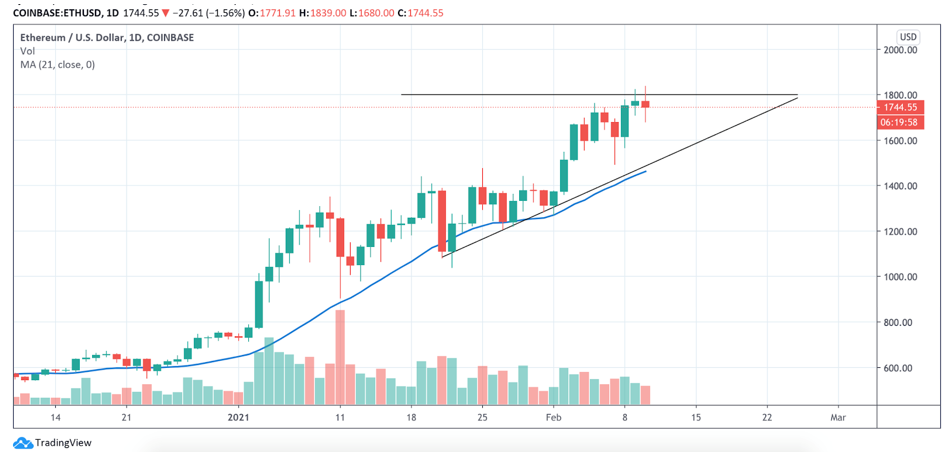 We touched on Binance Coin yesterday, noting its impressive price rise as it crossed $100 for the first time.
Earlier today, BNB spiked to an all-time high above $150 — that's a quick, 50% gain one day after setting an all-time high. This coin continues to impress.
Here's BNB in U.S. dollar terms via Binance: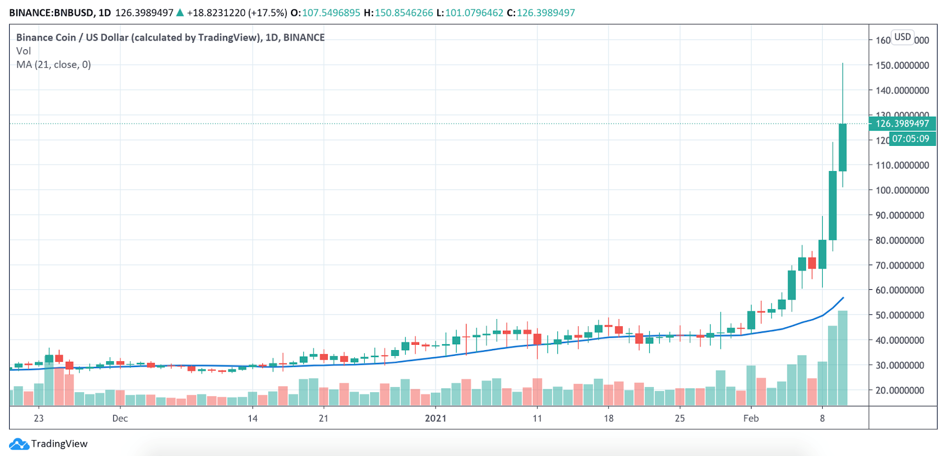 We covered Cardano last Friday, when it broke above 50 cents. The IOHK team has been making improvements to the smart-contract platform, and investors seem to appreciate the project's development.
Well, since Friday, that asset has casually risen more than 50%, soaring above 80 cents today after briefly trading above 90. And it's still trading well below all-time highs, still more than a 100% gain from here. ADA still has lots of potential to grow.
Here's ADA in U.S. dollar terms via Binance: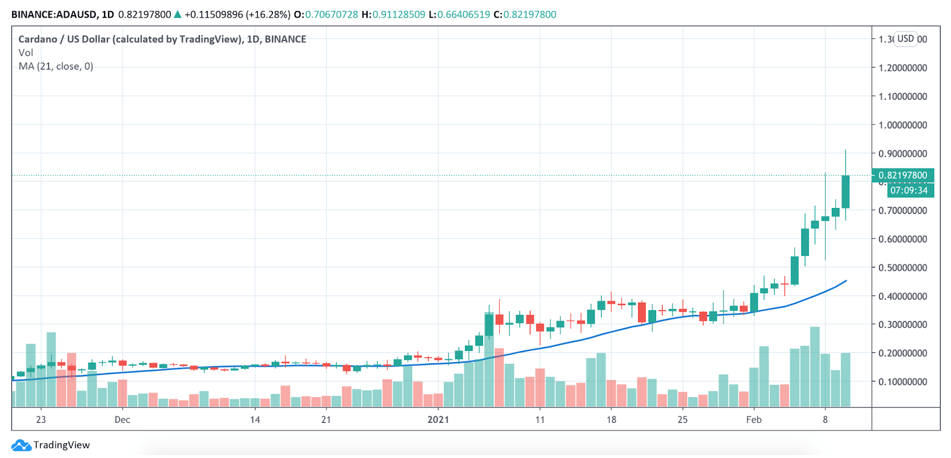 Notable News, Notes and Tweets
• As the bull market heats up, Dan Held offers a simple investment strategy, while Pomp
reminds us how to invest safely.

• Tyler Winklevoss is still campaigning for companies to transfer funds to Bitcoin.

• However, analysts at JPMorgan Chase & Co. (NYSE: JPM) and notable crypto bears
apparently think that companies will not follow Tesla Inc.'s (Nasdaq: TSLA) lead.
What's Next
It's safe to say this bull market has been faster, stronger and more abrupt than many expected.
This week, we saw a single-day candle on Bitcoin extend more than $8,000, the single biggest daily candle for the King of Crypto in its entire trading history. After movements like that, days like today, where we see a 4% to 5% retracement, are welcome.
In fact, these kinds of moves allow the market to cool off, relative strength to abate. That's necessary lest we creep into highly overbought levels.
The crypto market has gained lots of attention recently, leading many observers to speculate whether we're in "another bubble." I'll reiterate the point I made yesterday: Today's bull market is being led by larger institutions and corporations, unlike the retail boom of 2017.
This is healthy development, a sign of a maturing market. And signs abound that there's much more room to run — in the short term, as retail traders jump back in, as well as for the long term, due to increasingly favorable macroeconomic factors.
Still, we need to keep in mind that significant price retracements are to be expected in a crypto bull market. And we are slightly overextended at the moment. A correction of 30% or more would actually be a sign of a healthy market — in fact, that would make for another good buying opportunity.
Now, the exact timing of such a move is impossible to pinpoint. But we can get close. And it's good to be aware of the potential at moments like this and to keep in touch with us for indications of ripe opportunities.
And, again, remember to enjoy the ride.
Best,
Alex