This Is What AltSeason Looks Like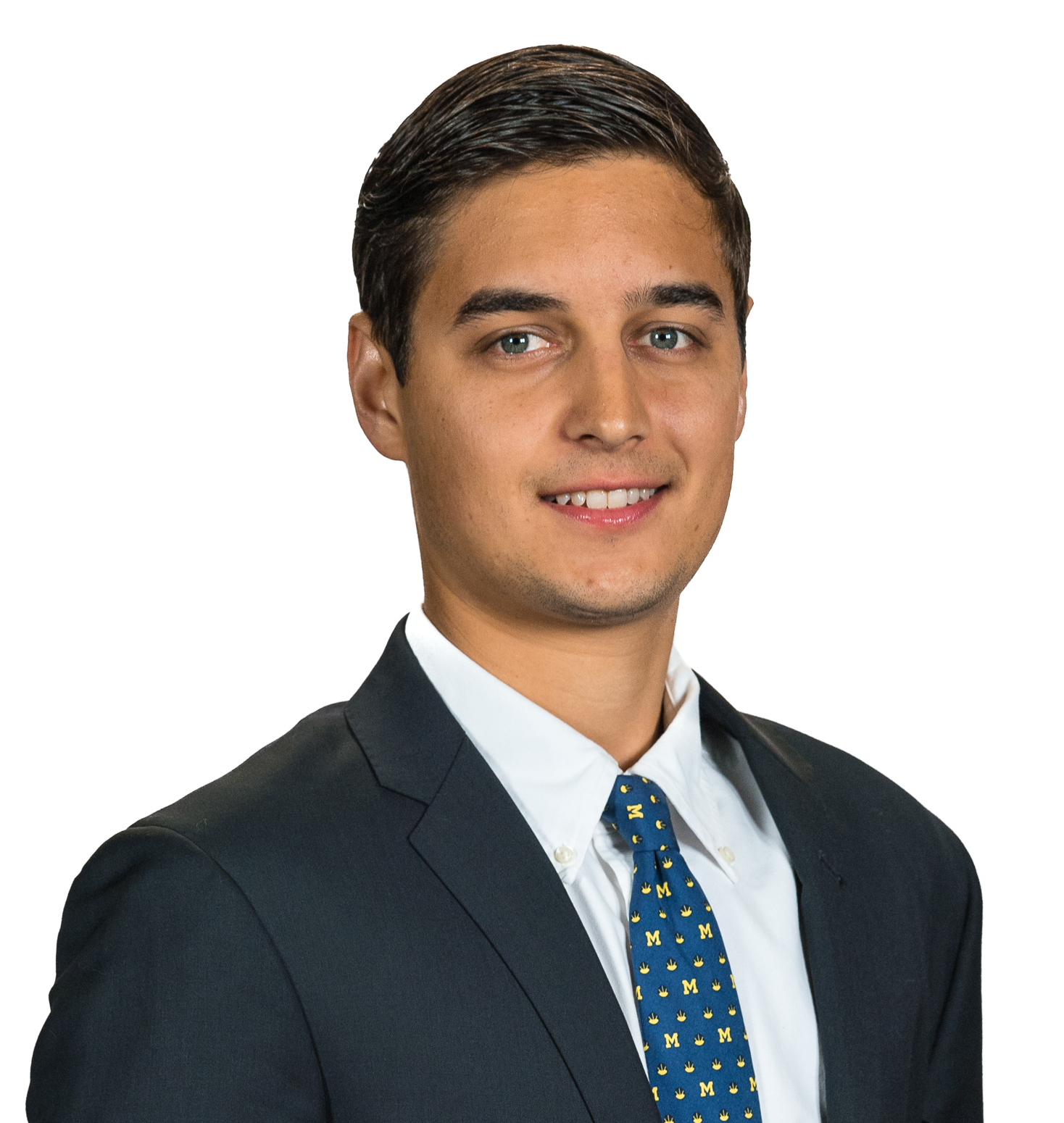 • Bitcoin (BTC, Tech/Adoption Grade "A-") has regained its losses from yesterday and is tapping on new all-time highs, but altcoins are the real winners today.

• Cardano (ADA, Tech/Adoption Grade "C+") continues to soar.

• Zcash (ZEC, Tech/Adoption Grade "C+") breaks above resistance and gains 25%.
We've been talking about "altcoin season" for weeks, officially calling the start of AltSeason just last Friday. We're in the beginning stages of this altcoin cycle, and money flows have shifted into the broader altcoin market, not just DeFi (decentralized finance).
Bitcoin is trading around $48,000, right at all-time highs. It tested sub-$45,000 levels yesterday and bounced right back up, perhaps establishing $45,000 as a support level.
The next upside target is the very important psychological level of $50,000. If BTC breaks through $50,000, it could go on a very big run past that.
Here's Bitcoin in U.S. dollar terms via Coinbase: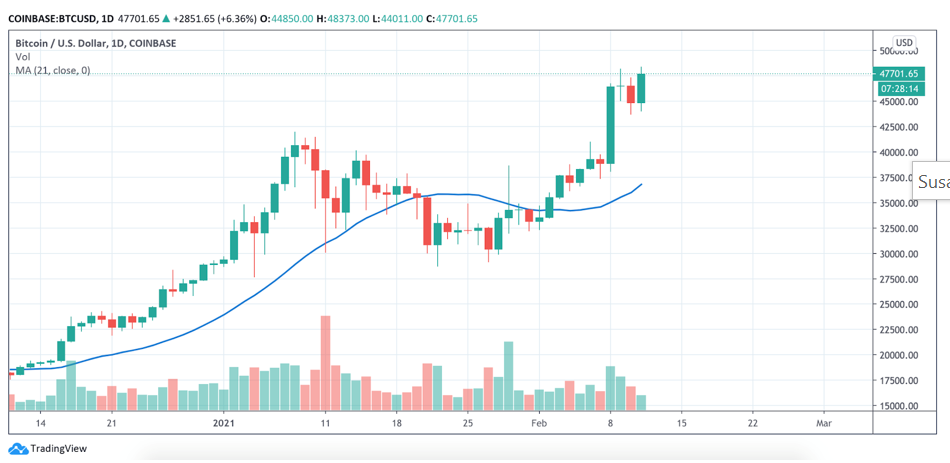 Yesterday, we talked about how Ethereum (ETH, Tech/Adoption Grade "A-") has been unable to break the $1,800 level, and today it's trading just south of $1,800.
There isn't much else to say about its price action right now, other than the fact that it looks weaker with each day that passes where ETH fails to close above $1,800.
Here's ETH in U.S. dollar terms via Coinbase: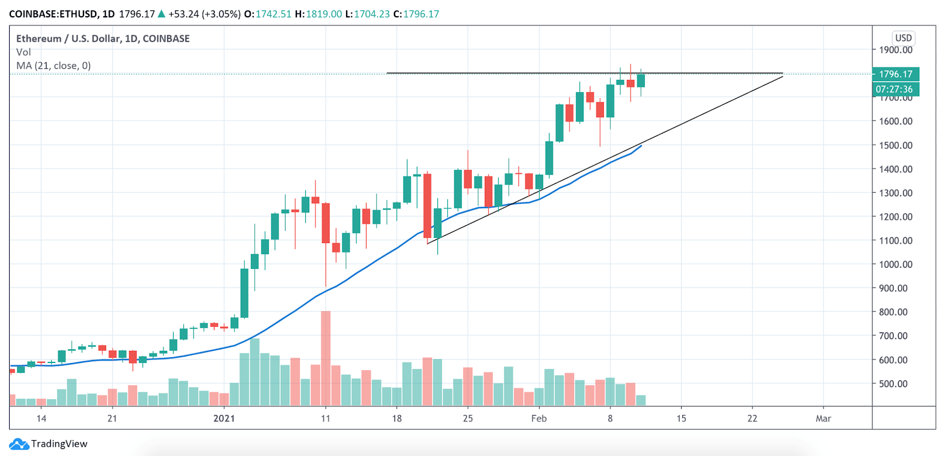 Cardano is one of the best performers so far today, extending its already great price run to start the year. ADA is trading around 95 cents, having briefly broke above the important $1.00 level earlier today.
The catalyst of this price action is the implementation of smart contracts on the Cardano blockchain. The IOHK team hopes to compete with Ethereum for decentralized application development with its new capabilities.
Here's ADA in U.S. dollar terms via Binance: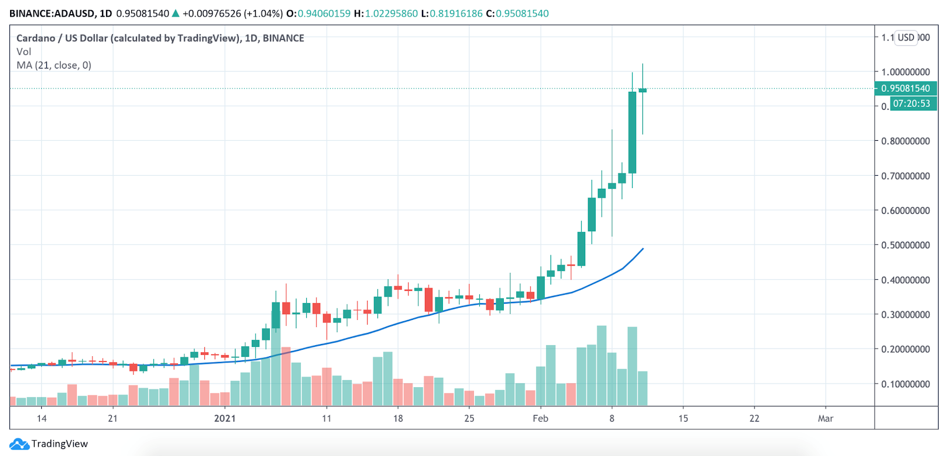 Zcash, a privacy-focused cryptocurrency, is trading up over 25% on the day and is up more than 50% since bouncing off its 21-day moving average on Feb. 8.
Zcash is an interesting privacy coin due to its offering of either public transactions or optional private transactions. Most privacy coins only offer private transactions and, in doing so, garner negative attention from governing bodies.
Monero (XMR, Tech/Adoption Grade "C"), for example, has been dropped from many exchanges lately due to know-your-customer (KYC) problems. Zcash is offered on popular exchange Coinbase, while Monero is not; during bull runs, many altcoins experience what's known as the "Coinbase effect."
The "Coinbase effect" is where lower-priced altcoins see big inflows of cash as new investors buy crypto assets with lower prices than Bitcoin, as some people don't know that cryptocurrencies can be purchased in fractions.
ZEC traded above $800 in January 2018, putting it in the category of other altcoins that have tons of room to grow if they were to return to previous highs.
Here's ZEC in U.S. dollar terms via Coinbase: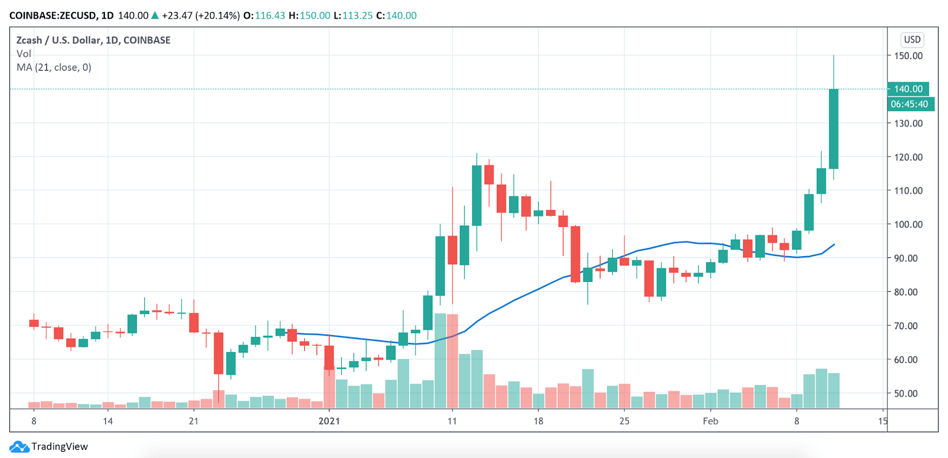 Notable News, Notes and Tweets
What's Next
The last big AltSeason, birthed from the 2017 bull market, took place after Bitcoin peaked in December of that year. It peaked almost two months later, in February 2018.
Interestingly, this current AltSeason is really kicking off now while both Bitcoin and Ethereum are still making new all-time highs. We're still in its very early stages, and many assets popular in 2017 — like ADA and ZEC — have yet to hit previous all-time highs.
Altcoin season is typically identified as money flows from Bitcoin to Ethereum (and other blue-chip assets) into mid-cap cryptos and, lastly, into small-cap assets. This AltSeason is interesting because money is still flowing into Bitcoin, not to mention the total market capitalization of the cryptocurrency industry as a whole is increasing daily.
The total market cap of the crypto industry — minus BTC — has just barely cracked the highs of 2017, showing the potential for more money to flow into altcoins.
Despite the fact that many altcoins are trading at or near all-time highs, there will still be many more opportunities for smaller cryptocurrencies to see massive moves.
Stay tuned for insights on those opportunities.
Best,
Alex