Why Ethereum's Breakout Is Big News for Crypto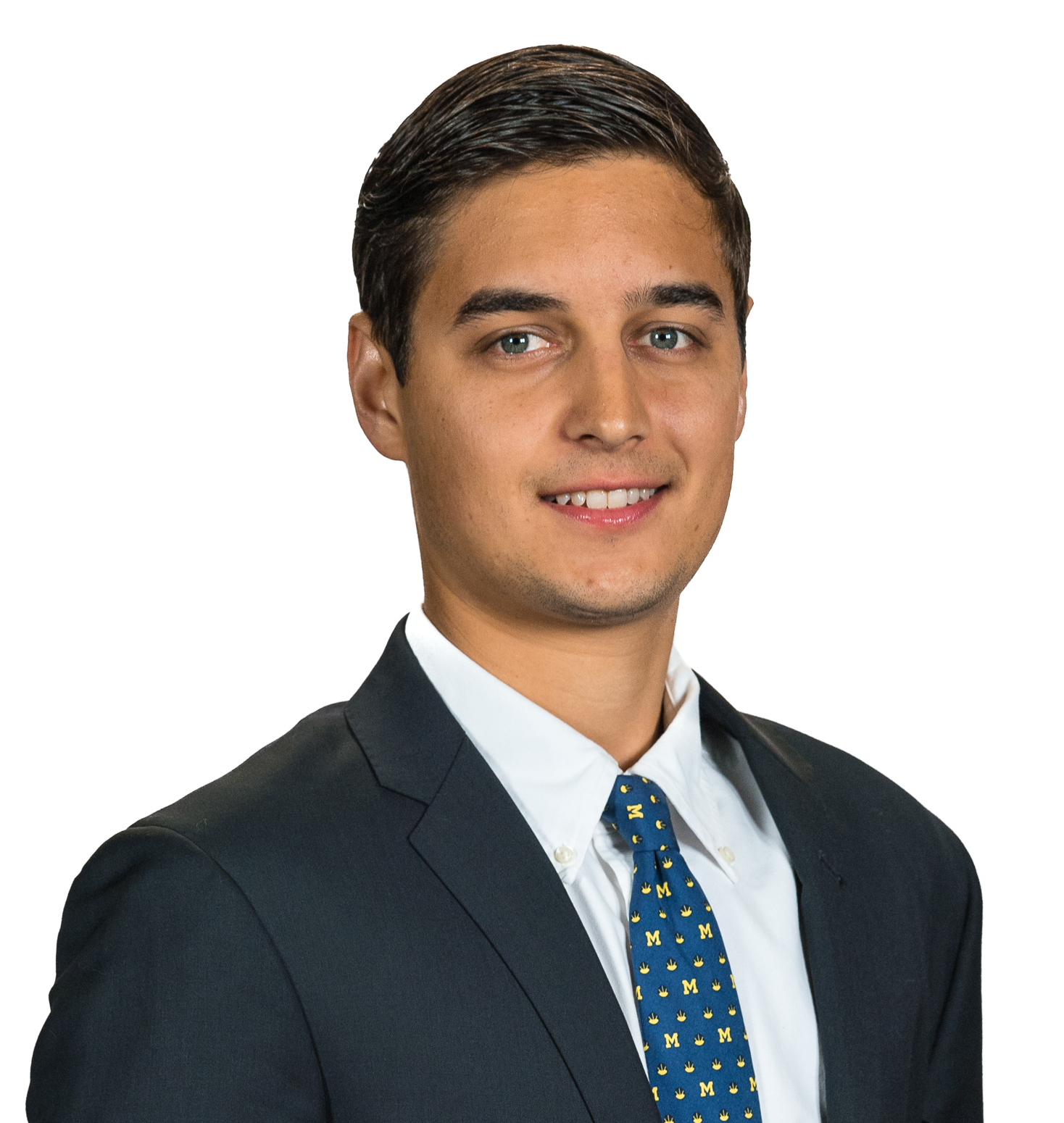 • Ethereum (ETH, Tech/Adoption Grade "A-") broke out yesterday, making a new all-time high and pulling the broader market up with it.

• Bitcoin (BTC, Tech/Adoption Grade "A-") is up about 5%, testing $37,000, as it and many altcoins are rising with ETH.

• Altcoins are also having a great day, so whether it's truly altcoin season or not, we're in for some fun times.
As the dust from last week's fiasco in old-school equity markets settles, the cryptocurrency market is emerging from a brief slumber and providing new fodder for mainstream media headlines today.
Ethereum has finally closed above the $1,440 level, eclipsing its previous all-time high, and is on the verge of breaking out of the channel it's been trading in for weeks.
We've been closely watching these levels for over a week now, and you've been following along with us as we've tracked ETH's movement between the 21-day moving average, which roughly defined the lower bound, and the upper bound of this channel.
We're very close to a full breakout from this channel, after which we expect to see a big move to the upside.
Here's ETH in U.S. dollar terms via Coinbase: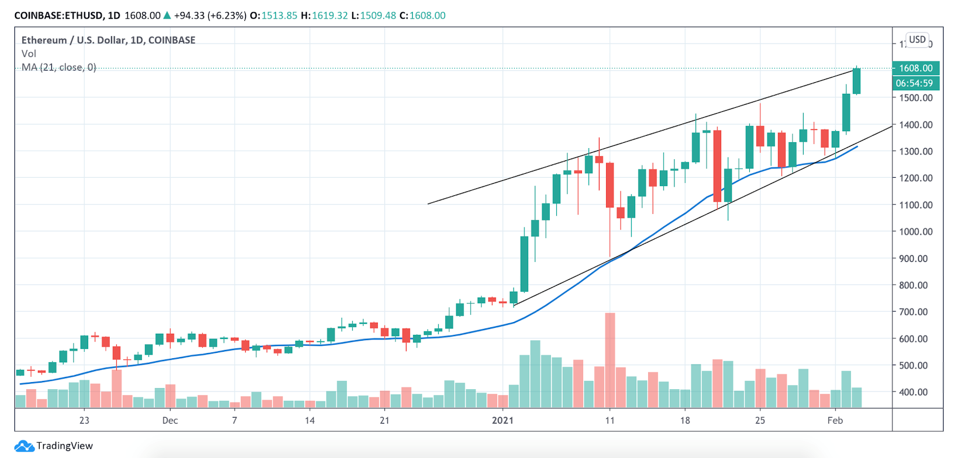 This could be the start of a much larger move for the leading altcoin; even now, it's already a strong enough move to pull up much of the rest of the market behind it.
Bitcoin is also up on the day and has crossed back above $37,000. More importantly, BTC's back above its 21-day moving average.
Here's Bitcoin in U.S. dollar terms via Coinbase: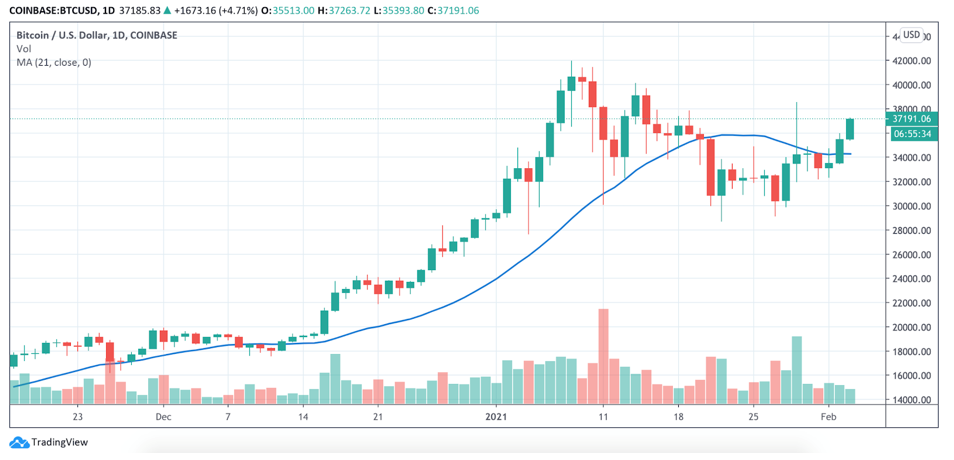 This could finally signal the end of Bitcoin's (relatively) brief pullback/consolidation.
We'd previously labeled Bitcoin's move from $42,000 all the way down to about $29,000 a "pullback" rather than the start of a larger downtrend. We also called it a great buying opportunity.
Elsewhere across the altcoin market, we're seeing bullish action on interoperability blockchain platform Polkadot (DOT, Tech/Adoption Grade "C"), as well as many DeFi (decentralized finance) assets. DOT is up about 8% and is trading near its all-time high of about $20.
Here's DOT in U.S. dollar terms via Binance: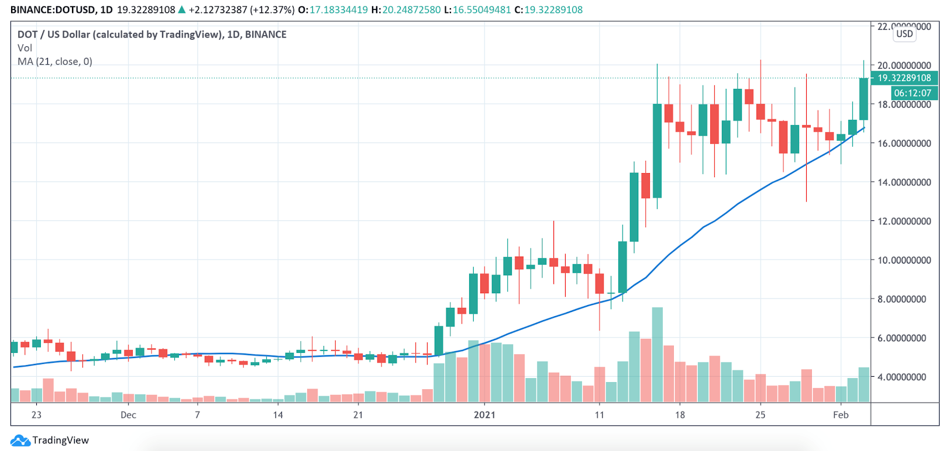 Aave (AAVE, Unrated) is up big once again, making new all-time highs today. Does anybody else have a sense of déjà vu after reading that?
AAVE had previously spiked to about $350 on Coinbase on Jan 24. Today, it's trading with volume at that same level, and it's on track for its highest-ever daily close. This asset just keeps outperforming expectations.
Note, though, that AAVE's relative strength index (RSI) is up in overbought territory today, as it's barely stopped to take a breath since the start of the year.
Here's AAVE in U.S. dollar terms via Coinbase: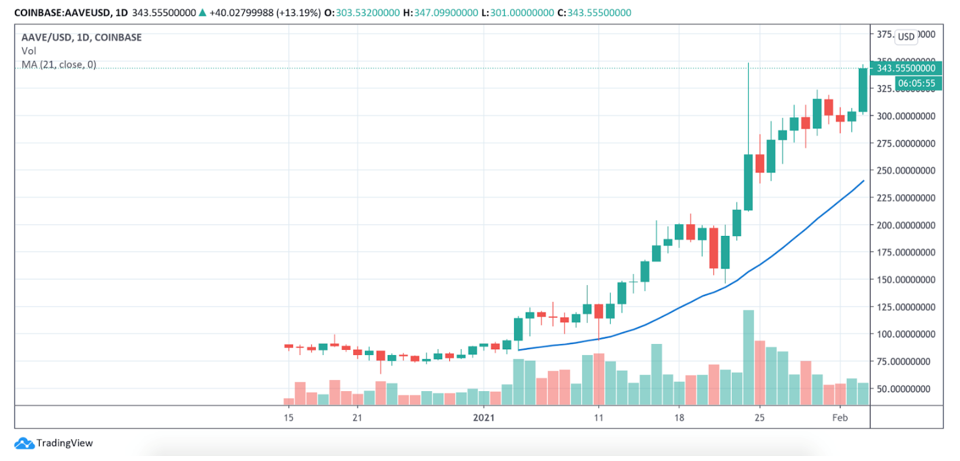 Finally, let's check in on price oracle project Chainlink (LINK, Availability/Liquidity Grade "A+").
LINK is once again flirting with all-time highs, trading above $25 as of this writing. If LINK can close above its previous all-time high, the next key level is the psychological resistance at $30.
Here's LINK in U.S. dollar terms via Coinbase: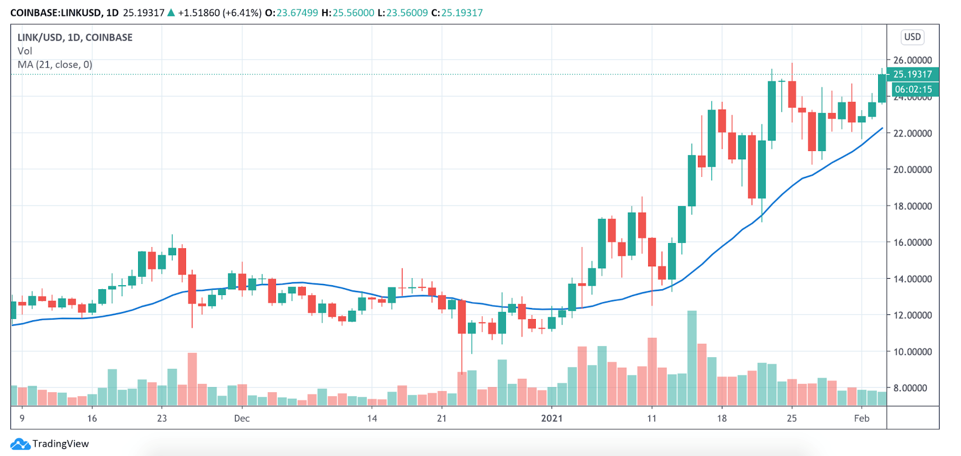 Notable News, Notes and Tweets
• This qualifies as the joke of the day and as a sound piece of advice.

• Miami Mayor Francis Suarez is back in the news today, offering an early look at his "favorable" policy toward cryptocurrencies. Apparently, he's also considering giving city employees the option to get paid in Bitcoin.

• Pomp notes the potential for stimulus-related inflation and how it may impact Bitcoin.

• BlockTower Capital CIO Ari Paul notes the changing terms of debate in the crypto space. It's interesting that the main topic has shifted from the mechanics of each asset and differences in blockchain fundamentals to how useful each project might become. This is a sign the industry is maturing.
What's Next
For the past week or so, the market has been in limbo, and I've discussed the idea that we were in a "test" period. Today it seems that we've passed the test, confirmed by breakouts in ETH, BTC and other assets.
The final phase of the test is whether this move will be strong enough to carry Bitcoin above its previous all-time high of $42,000. If that level breaks and other main assets are also making new highs, we might be entering blue sky territory for the whole market.
Things are getting exciting, folks.
Best,
Alex