With Crypto Friends Like These
We're only halfway through #Uptober, and despite the small correction we face right now, Bitcoin (BTC, Tech/Adoption Grade "A-") continues to lead the market higher.
This surge in optimism among traders and investors is in stark contrast with the economic uncertainty, fear and doubt that central banks and governments continue to generate.
Excessive printing of paper money, coupled with overregulation of crypto assets, has created a perfect storm ...
• Dangerous fiscal policies have shaken the foundation of traditional finance, pushing it to the brink of collapse.

• Meanwhile, those have also stunted the growth of the only system of money and payment capable of undoing the damage!
The dangerous winds of financial calamity are picking up speed. And notable actors and whistleblowers are taking notice.
People like Edward Snowden, who exposed mass-surveillance tactics used by U.S. intelligence agencies ...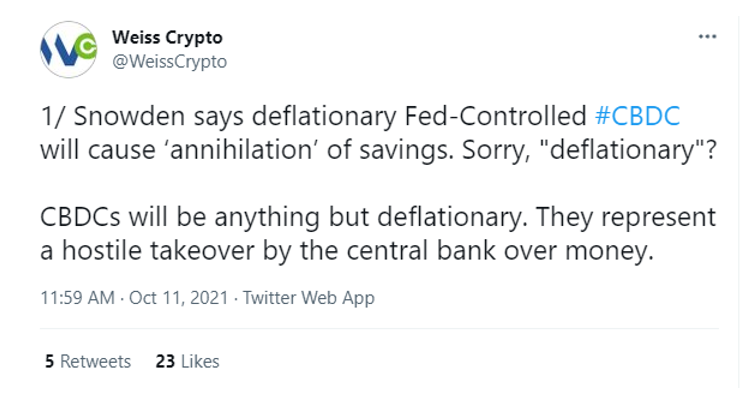 We applaud input from people who have a platform that can reach many people. However, we do wish they had a deeper understanding of economies and digital currencies.
On the other hand, those who do understand — and are able to shed light on the truth behind cryptocurrencies and their enormous potential — are being censored.
A good example is the recent ban of one of the biggest proponents of crypto, Anthony Pompliano. His channel has recently been banned from YouTube: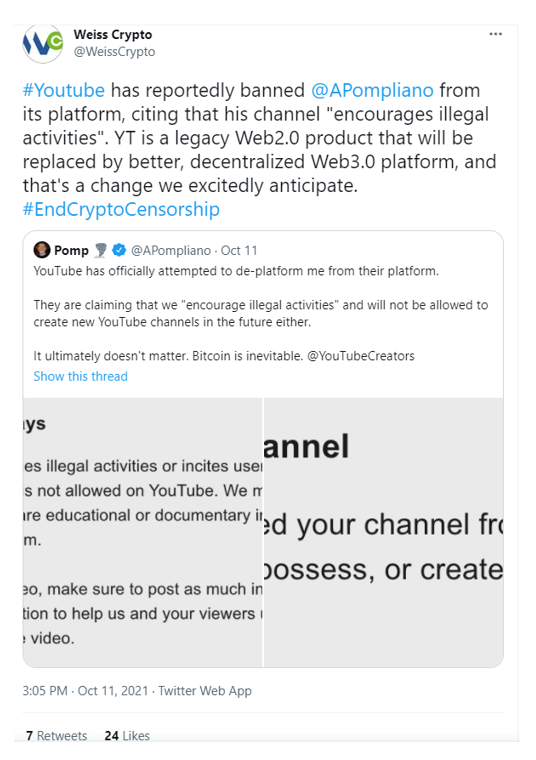 Although the channel has since been reinstated, this incident is one of the few that have had a happy ending.
For many years now, YouTube has been banning crypto educational videos left and right. It cites "breach of policy" as an excuse to take these actions.
In the past, thousands of channels (mostly small ones) have been purged. At the same time, the larger ones, like Ivan on Tech, have either been reinstated after a brief hiatus and apology, or else they completely escaped the cull in the first place.
In the meantime, crypto progresses, unabated: Incoming Polkadot (DOT, Tech/Adoption Grade "B") auctions mean that DOT holders may soon reap the rewards for their patience: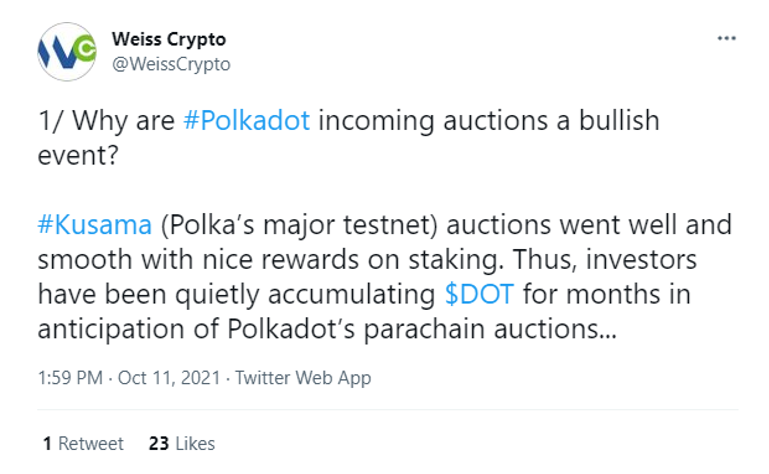 Equally patient Ethereum (ETH, Tech/Adoption Grade "A") HODLers could also see some healthy gains in the future, due to supply rate having been drastically reduced since the launch of the London Hard Fork: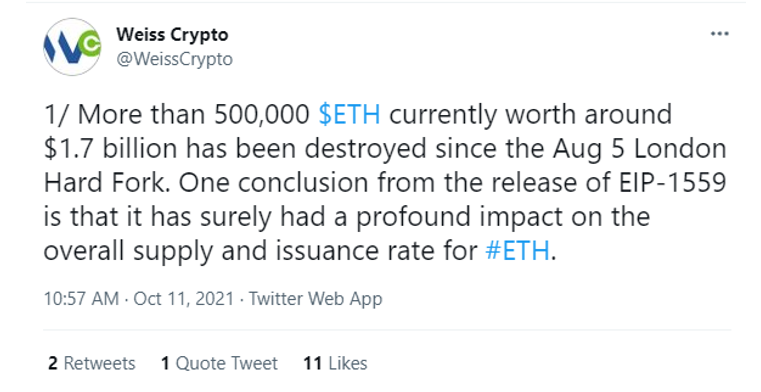 With Bitcoin and Ethereum inching ever closer to their all-time highs, the optimism (dare we say greed) permeating the markets is hitting a fever pitch.
In this atmosphere of exuberance, questions like this one are common: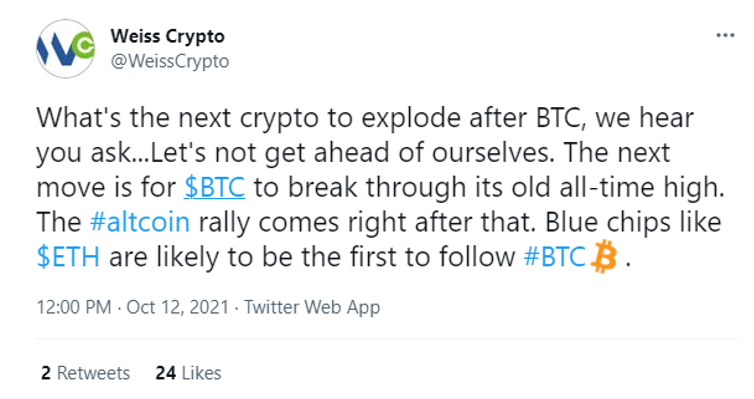 As this tweet was posted, Ethereum entered in what my fellow Weiss Crypto Daily contributor Alex Benfield called "a minor, healthy, price correction on the road to bigger and better highs."
This correction caused some discomfort among the amateurs and the fearful. We quickly responded and poured oil on troubled waters: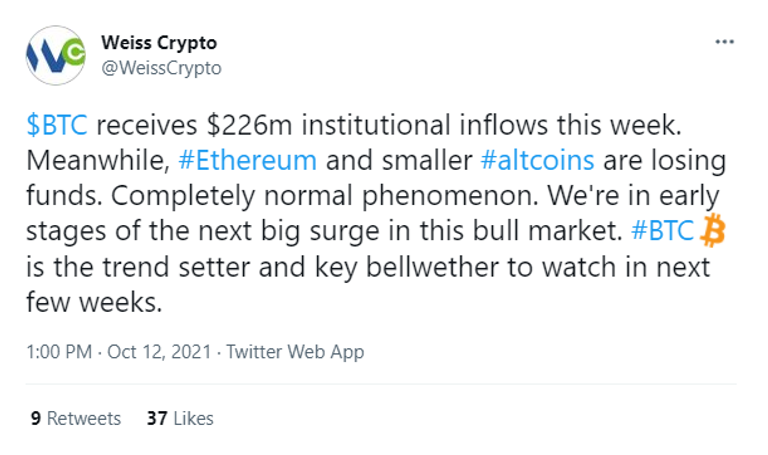 Indeed, it is "steady-as-she-goes" for crypto, and no one — not central banks, not governments, and certainly not Jamie Dimon, can stop its inevitable supremacy over the traditional finance: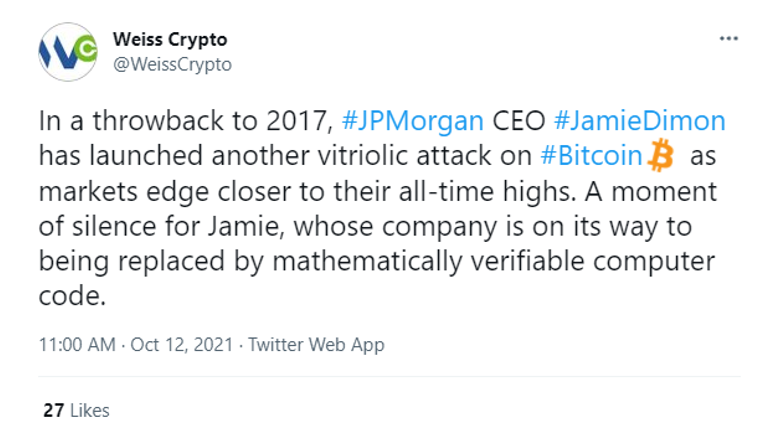 As you can see, despite Dimon calling Bitcoin "worthless," this week has been quite bullish for the King of Cryptos and the next generation of cryptos that stand to offer Bitcoin-sized (and potentially bigger) gains.
The current correction is just that, a correction on the way up.
I'm excited to see what's next for crypto assets and the industry in general. And as soon as we learn about it, you can rest assured that we'll be talking about it on Twitter.
Until then, stay safe and trade well.
Jurica Dujmović