1 Chart Tells You Where To Invest Now
Man, Wall Street keeps looking for a bottom in tech. I can't go online without seeing that Tesla (TSLA), Meta Platforms (META) or Coinbase (COIN) is "near a bottom."
Malarkey!
I've been pounding the table since January about how we're seeing a massive rotation from growth to value, fueled in large part by inflation. Big Tech still has a lot of pain ahead.
But you know what's poised for upside outperformance? Commodities!
I've been persistent on my views about commodities, too. It's paying off for Members of my service Resource Trader.
Now let me show you why the party in commodities is just getting started.
Look at this weekly chart of the iPath Bloomberg Commodity Index Total Return ETN (DJP), a leading basket of commodities, divided by the performance of the tech-focused Invesco QQQ Trust (QQQ).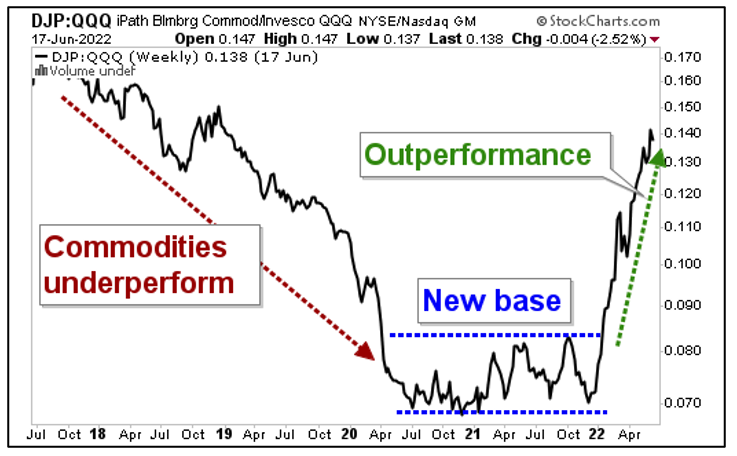 You can see that commodities underperformed tech for years. In fact, that underperformance goes all the way back to 2008 … 14 years ago!
But commodities stopped underperforming tech in 2020. And at the start of this year, commodities began outperforming tech. We're seeing bullish moves in oil, gas, nickel, wheat and gold!
As with tech's underperformance, commodity outperformance is fueled by inflation, with the Consumer Price Index (CPI) at 8.6%.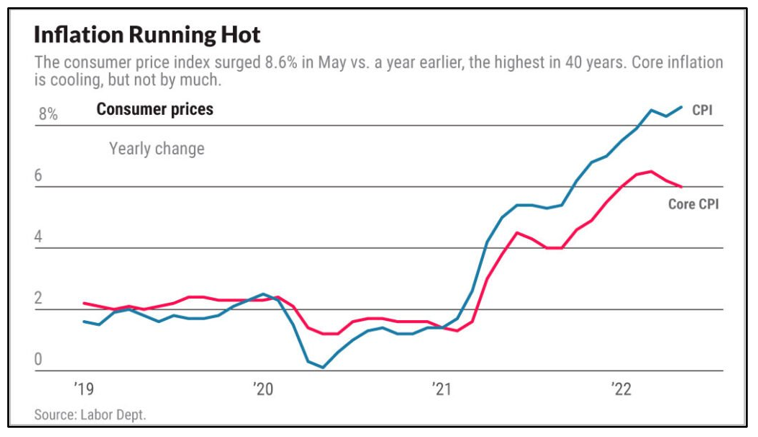 That makes sense. Inflation is caused by the rising prices of stuff … and commodities are stuff.
So, do you think inflation is going to end anytime soon? I sure don't.
We'll see zigs and zags, for sure. Nothing goes up in a straight line. But like commodities, inflation was suppressed for too long. Now, we're going to see the cycle turn the other way.
As for commodities, 14 years of underperformance should yield a good long time of outperformance.
DJP is a fine way to play the commodity boom. It has a 36% weight in energy, which is one of the big drivers of inflation. Its expense ratio is 0.70%.
One flaw in DJP is it pays no dividends. I've told you before that investments paying high and growing dividends will also outperform in this rocky market (I've been right about that, too). That's how my model portfolio for Resource Trader is structured.
But the good news is there are plenty of commodity-leveraged stocks that DO pay dividends. If you're doing this on your own, roll up your sleeves and get to work finding the best of them.
Commodity outperformance is real, and it's likely here to stay. They're a great place to invest in going forward.
As always, conduct your own due diligence before entering a trade.
Best wishes,
Sean