2 More Tiny Explorers With Visible Gold
I hope you read my column on Thursday about Cassiar Gold (TSX-V: GLDC; OTCQX: CGLCF).
You got to see how my friend Shirley Anthony, the VP of Communications for Cassiar, helped me guide my readers to fat stock profits once before at her previous company. And I showed you why her new company also appears packed with profit potential.
Cassiar is tiny: It's market cap is just $21.6 million! And though it's listed on the OTCQX, it's thinly traded in the U.S., so you'd be better off buying it in Canada.
Still, the story she told me was so compelling, I bought the stock right away.
The story was one of visible gold, which Cassiar has along with the high grades that go with it. Now the company is drilling furiously to prove up its resource.
By the way, I left something out.
I mentioned that Shirley previously worked at Maple Gold Mines (TSX-V: MGM; OTCQB: MGMLF), and that stock turned out to be a winner for my subscribers.
Maple Gold is working on a joint venture with Agnico-Eagle Mines (NYSE: AEM); they're developing one of the largest undeveloped gold deposits in Quebec. That project, Douay-Joutel, is more advanced than Cassiar.
What I forgot to mention is that Douay-Joutel ALSO has high grades and visible gold.
•  Why is that important? Because visible gold excites investors and funds alike. There aren't a lot of projects around with grades high enough to have visible gold. Heck, even world-class gold projects sometimes don't have visible gold.
And when gold prices start running higher, projects with visible gold can run higher and faster than those that don't! You get more bang for your buck.
Today, I'm going to tell you about TWO MORE small companies that have visible gold.
New Found Gold (TSX-V: NFG; OTC Pink: NFGFF)
The first is New Found Gold, a gold explorer hitting bonanza grades — including visible gold — at its Queensway project in Newfoundland.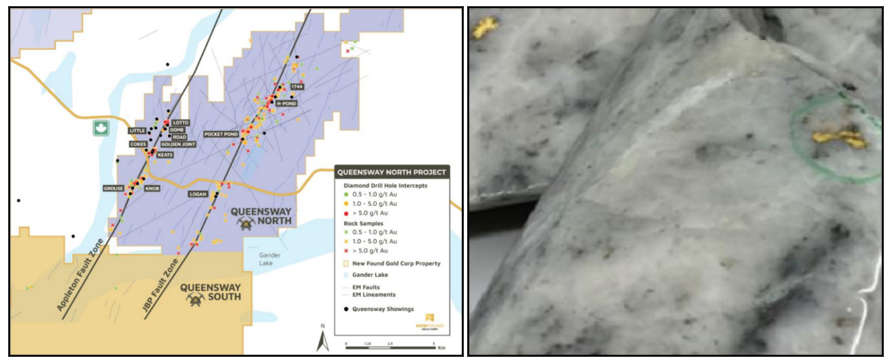 Source: New Found Gold Presentation
In fact, New Found Gold often hits grades of 15 grams per ton (g/t) and higher, starting at surface.
And the deeper the drilling goes, the higher the grades seem to get.
New Found Gold recently reported deeper results including 225 g/t over 2.5 meters and 150.3 g/t over 11.5 meters.
The company's market cap is over a billion dollars and has decent volume for a pink sheet stock. Again, like Cassiar, you'd be better off buying it in Canada.
Great Bear Resources (TSX-V: GBR; OTCQX: GTBAF)
The second company is Great Bear. It has a market cap of $615 million and is an up-and-coming gold developer. Its Dixie Project in the heart of Canada's Red Lake District is widely acknowledged as a major discovery. It, too, has visible gold.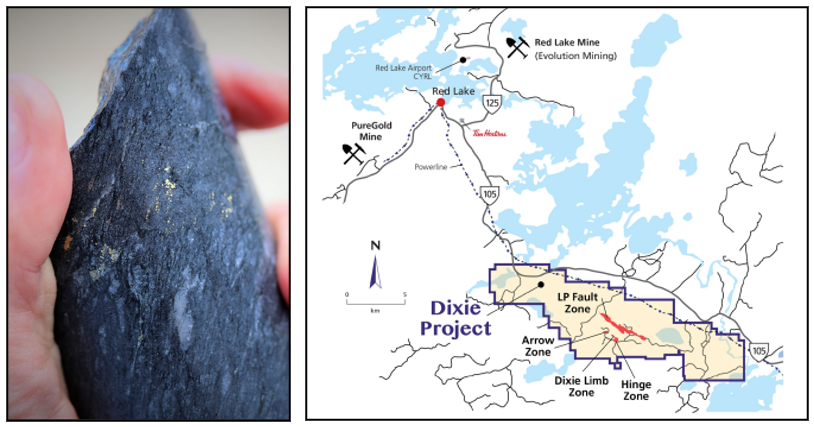 Source: Great Bear Resources
Great Bear is now pursuing a massive drill program to prove it has a lot more gold. Considering that its chairman — Michael Kenyon — led three other small companies to big buyouts, I'd say the odds of that happening to Great Bear are better than average.
•  Like Cassiar and New Found Gold, Great Bear is very speculative. It trades more than Cassiar and less than New Found Gold, but ALL of them are very speculative. I can't emphasize that enough.
However, if you believe — as I do — that gold has bottomed and miners have followed, and if you want to gamble on some names with big upside potential, you can do worse than to buy an explorer with sound management and visible gold.
Whether any of these stocks are right for you … is up to you. Do your own research. I'm not ready to recommend these stocks to my subscribers — yet. I'll pull the trigger when the time is right.
So if or when the time comes that I want to recommend buying Great Bear, New Found Gold, Cassiar or any other promising resource stock, you can be among the first to know. Click here to see how.
All the best,
Sean