A New OPEC of Natural Gas
I've been writing about energy a lot lately, but as John Dillinger said when asked why he robbed banks, "That's where the money is."
And man, as much money as there is in oil now, there's a heck of a lot more opportunity in natural gas. Let me show you a chart that might shock you: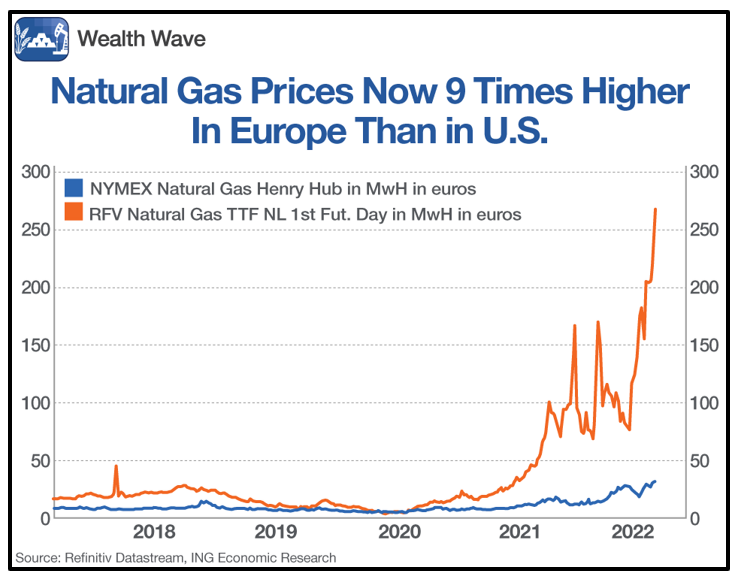 Yep, that chart shows the price of natural gas in Europe is now trading over nine times the price here in the U.S. A little over a week ago, I explained that the price in Europe was 7.5 times the U.S. price.
Since then, U.S. natural gas has rocketed to a record high, but the price in Europe keeps outpacing it.
Europe's natural gas price is now about 15 times the average summertime price. In fact, the price of natural gas in Europe is now energy-equivalent to oil costing more than $500 a barrel!
Europe's Bear of a Problem
The problem for Europe is Russia keeps cutting the flow of natural gas it used to supply on the cheap. Russian natural gas supplies to Europe are down around 75% year over year.
What's more, Russia's energy company, Gazprom, announced unscheduled maintenance on the major natural gas pipeline to Europe.
Europe says Russia is doing this in retaliation for sanctions it slapped on Russia after the country invaded Ukraine.
That's probably true, but what comes next should strike fear into European natural gas consumers.
Last month, Gazprom and the National Iranian Oil Company signed a memorandum of understanding worth $40 billion. This will be used to develop Iranian oil and gas fields and build liquified natural gas projects, including export terminals and pipelines.
But over at OilPrice.com, they're wondering if this is the first step in Russia's ambition to be at the core of a new natural gas cartel, much like OPEC is for oil.
When I heard that, my first thought was, "Hey, why isn't there an OPEC for natural gas?"
And though I expect natural gas prices will come down sooner than later — if only because at recent prices, factories across Europe are shutting down — high prices are not going away.
10 Difficult Winters
In fact, on Monday, Prime Minister Alexander De Croo of Belgium warned that "the next five to 10 winters will be difficult."
I'm not saying he's the final word on anything. But if Europe is bracing for five to 10 years of high natural gas prices, that's a heck-of-a-long bull market.
And yes, that's precisely the kind of environment where you could see a new international cartel spring up. I could easily see Iran and Russia being the core founding members and other producers falling in line to boost their own revenues.
To be sure, the world's biggest natural gas exporter is the U.S. In fact, America's LNG exports increased by 12% in the first half of 2022. And at current prices, we're selling everything we can to Europe and other international customers. That helped push U.S. natural gas prices to a 14-year high.
And there's more coming. The U.S. exported 90.9 million tons of LNG last year. That's only limited by our amount of LNG export terminals. A new terminal at Calcasieu Pass in Louisiana should be online soon, and the Freeport LNG export terminal that went offline this year due to an explosion should come back online in November.
American Exports Will Soar
Over the next three years, enough new export terminals should come online to boost America's total export capacity to 130 million tons per year.
So, would we be part of Russia's new OPEC of natural gas? That may sound implausible, but there are plenty of people in America who are very fond of Vladimir Putin — and some of them hold elected office. Anything is possible.
So, keep your eye on natural gas and on Russia. A new, pro-Russia natural gas cartel could bring Europe to its knees … and holds the potential to rock the financial world.
How Investors Can Ride This Natural Gas Bull
Investors could turn to one of the exchange-traded funds or exchange-traded notes that track natural gas as a commodity. Those include the United States Natural Gas Fund LP (UNG), which tracks natural gas itself, and the ProShares Ultra Bloomberg Natural Gas (BOIL), which is leveraged.
But I'd suggest looking at the First Trust Natural Gas ETF (FCG). It tracks a basket of companies that derive "a substantial portion" of revenues from natural gas. These include Western Midstream Partners LP (WES) and ConocoPhillips (COP).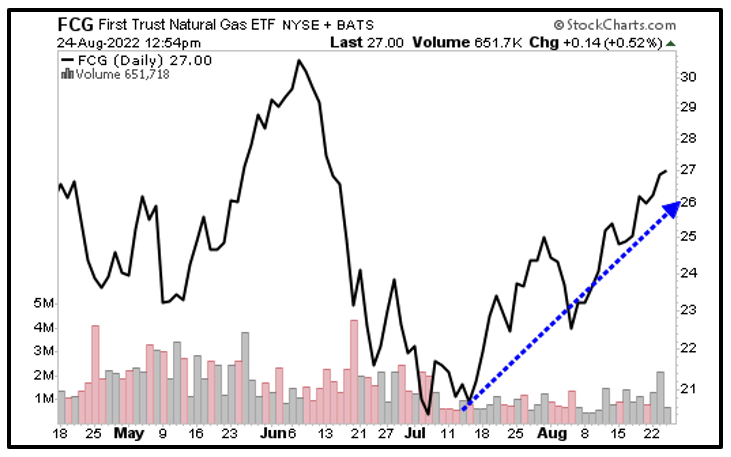 You can see FCG is breaking out and heading higher — on strong volume, too. Heck, it's up nearly 9% since I talked about it last week.
FCG has an expense ratio of 0.60% and a dividend yield of 1.82%.
The global natural gas market is in crisis mode. Russia may be making plans to kick this crisis into overdrive.
However it plays out, we're looking at high natural gas prices for years to come. You should probably invest accordingly.
Just make sure to conduct your own due diligence beforehand.
Best wishes,
Sean
P.S. Earlier this week, Dr. Martin Weiss held a free tutorial for an all-weather strategy that helps investors consistently beat the market. Testing shows this strategy would've beaten the S&P 500 nearly 5-to-1 over the past 19 years! See how it works by clicking here.