Natural Gas' Explosive Profit Potential
Natural gas tumbled lower yesterday on news that China's economy may be slowing down. Energy markets, broadly, were reeling.
But for energy bulls, this is a buying opportunity.
Why? I'll bet you dollars to donuts that natural gas prices here in America haven't peaked … and companies leveraged to it stand to reap windfalls of profits.
Last Thursday, I explained why the oil run isn't done. I touched a bit on natural gas, too, but it deserves its own column because there's profit potential for you there, too.
Natural gas bears are cropping up all over the place. Heck, Bloomberg just ran a story telling us that natural gas prices should weaken because:
U.S. exports to Europe should be limited.


U.S. natural gas in storage, which is currently near the bottom of its five-year range, should build.


U.S. production is accelerating.
Of all those reasons, I only agree with the last one. Because that's a fact. But the other two are "hopium" that smart traders will view with a boulder of salt. The fact is the U.S. still has more liquified natural gas export capacity.
So, exports can go up, and U.S. weather is so unpredictable lately, I wouldn't count on any gas in storage until it's actually there.
And sure, U.S. natural gas production is rising, up 4% year over year in the most recent month. But with demand hitting overdrive as heat blasts both Europe and North America, we'll need every cubic foot of gas we can get.
The Chart That Trumps the Bears
You know what chart traders should be looking at? This one: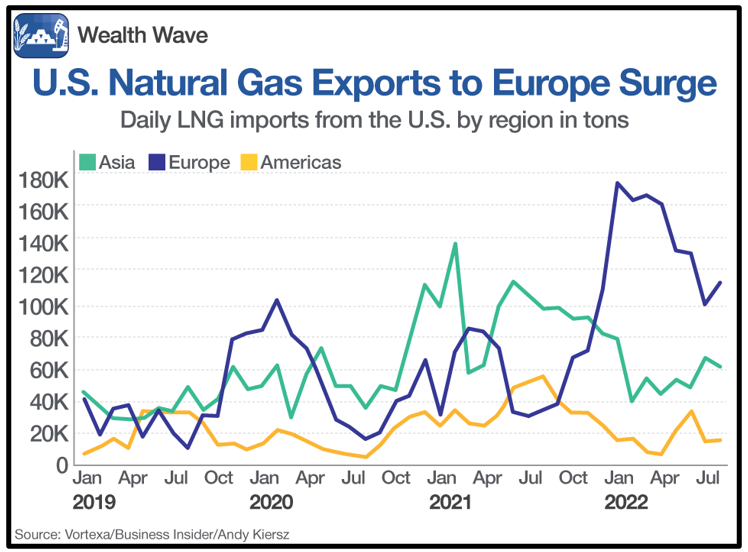 Look at how U.S. nat-gas exports to Europe are soaring. Exports were higher earlier this year but they're picking back up again.
Part of what's holding exports back is the largest U.S. LNG facility, owned by Freeport LNG, which exploded in June. It was supposed to be out all year, but now Freeport says it can bring it back online by early October.
Why the rush? I'll show you why. Here's a chart of Europe's benchmark natural gas price. You can see it's priced at 214.46 euros per megawatt hour (MWh). That's about $220.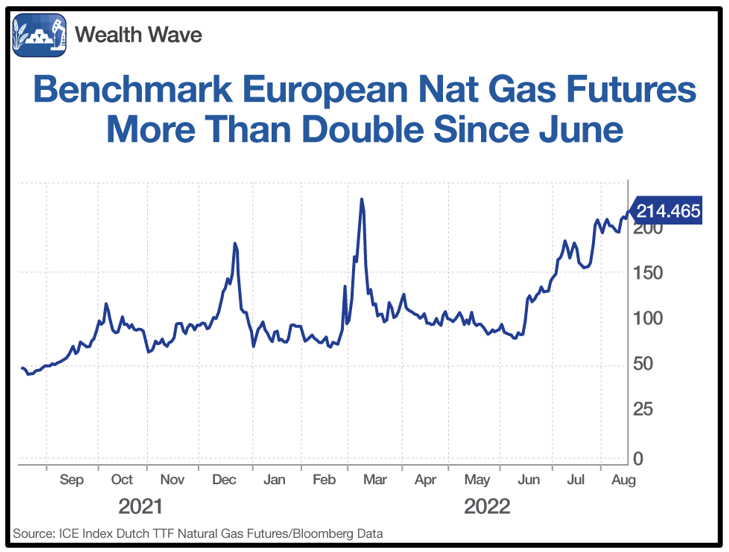 You can see that European natural gas prices are sky-high … heck, prices doubled just since June!
To confuse things, the U.S. measures its natural gas contracts in million British Thermal Units. So, when I say the U.S. price of nat-gas is $8.66 per million BTUs, that price difference sounds insane.
But doing the conversion (1 MWh = 3.4212 million BTUs), the European price of natural gas is still 7½ times the price in America!
That's still crazy … crazy profitable to ship U.S. natural gas to Europe.
In fact, the U.S. is now sending 60% of its LNG exports to Europe, up from less than 20% this time a year ago.
According to Reuters, "Companies with gas to sell in the U.S. can fill a large ship and send it across the Atlantic for around $60 million, with the cargo then fetching around $275 million in Europe."
Yeah, if I was in the nat-gas business, I'd be selling lock, stock and barrel to Europe, too!
To be sure, the high price of European natural gas is fueled by Russia's invasion of Ukraine and the subsequent back-and-forth sanctions between Europe and Russia. In June, the U.S. supplied more natural gas to Europe than Russian pipelines. It helps that Russian nat-gas shipments have slowed down.
And by paying top dollar, Europe is building up its stockpiles, currently at about 73% of normal levels. However, this is a time when Europe's stockpiles are normally building anyway, ahead of winter.
A new report in the Financial Times said Germany must cut its nat-gas use by a fifth to avoid a crippling shortage this winter. Can you imagine telling U.S. businesses and consumers they had to cut any energy use by a fifth? They'd raise heck loud enough to rattle the Rocky Mountains.
What if Russia cuts off all natural gas supplies to Europe, as they've threatened to do?
My point is that it's much easier for nat-gas prices to go up than down. And sure, Europe's prices may come down, but nat gas in Amsterdam is going to be much more expensive than at the Henry Hub for a long time. Exports will continue, lending more support to U.S. prices.
How Should Investors Play It?
You can buy individual stocks leveraged to natural gas. That's what I'm telling my paying members of Wealth Megatrends to do.
But an easy alternative is the First Trust Natural Gas ETF (FCG).
This is a basket of 50 companies all leveraged to natural gas. Companies like Hess Midstream Partners (HESM), DCP Midstream (DCP) and Occidental Petroleum (OXY).
Plus, FCG has an expense ratio of 0.60% and a dividend yield of 2.18%.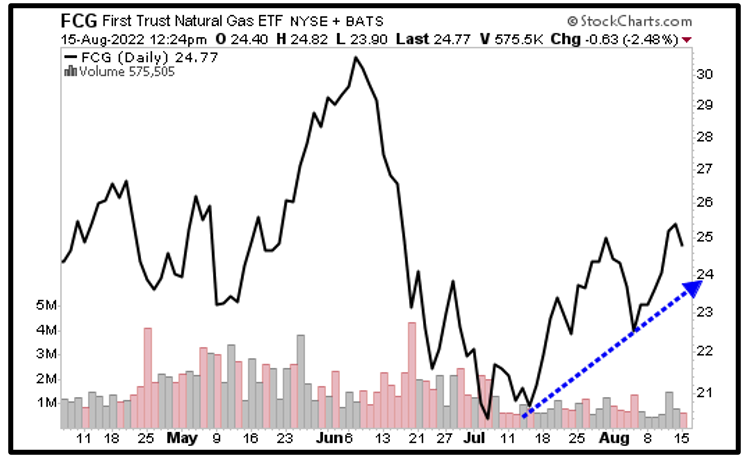 You can see that after its recent bottom in July, FCG is headed higher again. Considering what's going on in the nat-gas markets, I'm surprised it's not even higher!
Bottom line: the profit potential in natural gas is explosive. Just something to consider when you're looking for opportunities in this crazy market.
Best wishes,
Sean