The Bonus From America's Oil Boom
Recently, sentiment in the oil markets has cooled quite a bit, as the national average price of gasoline dropped below $4 a gallon for the first time since March.
To be sure, gasoline isn't oil, but one comes from the other. And I really can't blame investors for being less bullish on oil as prices at the pump go down.
Also weighing on prices is the fact that U.S. oil production just hit 12.2 million barrels per day — the highest since April 2020. It's a regular oil boom!
Perhaps some investors think we have too much of a good thing. However, those investors need to remember that oil is a commodity that's traded globally. And buyers in Europe especially — but also elsewhere — are lining up for America's light, sweet crude as global oil supply and demand grows tighter.
This became very apparent on Tuesday, when Russia shut off oil flows to three European countries (Hungary, Slovakia and the Czech Republic) due to a dispute over pipeline payments. Those three countries depend so heavily on Russian oil that they are exempt from a European Union ban on Russian oil that goes into effect this year.
Sure, Russia will turn on the oil again. But this underscores an ugly fact: We know Russia is using oil for political leverage, and we can expect it to stop and start shipments all year long. That makes U.S. supplies even more attractive to our allies.
Let me show you some charts about what I mean …
Here's a recent chart of U.S. crude oil exports. Sure, they've dipped recently, probably due to the typical slow summer season. But America's oil exports are still up 79% over the low that was hit in January!
We also export a lot of oil products. Here's a chart of that: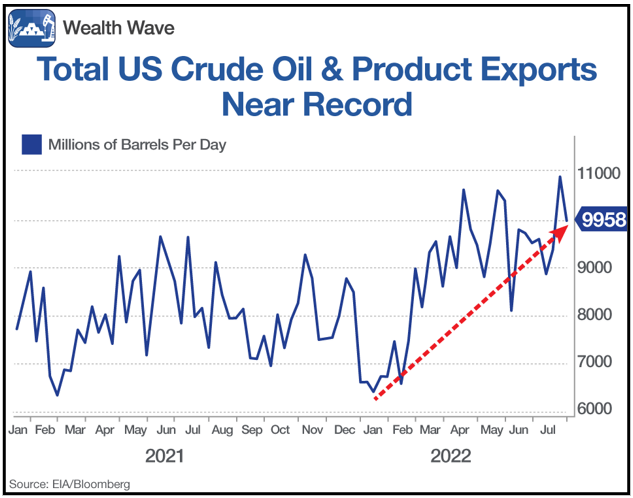 Holy smokes! Combining crude oil and oil products, the U.S. is exporting nearly 10 million barrels a day. That's near the record, which was only set in July.
And then there's liquified natural gas exports. Those are soaring, as well, as this chart based on Energy Information Administration data shows: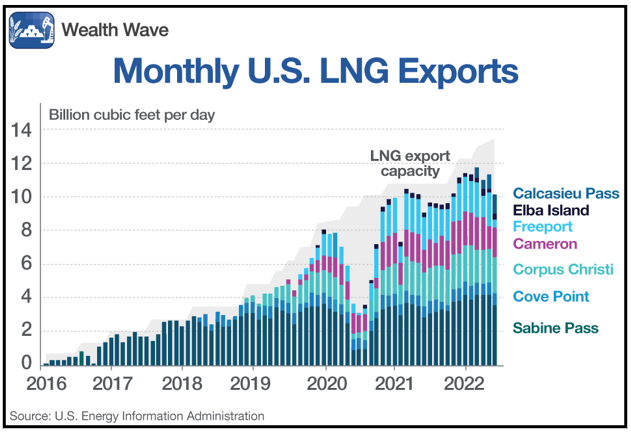 The fact is, the U.S. became the world's largest LNG exporter in the first half of the year, averaging 11.2 billion cubic feet per day. In the second half, those exports are likely to grow even more, as international nat-gas prices stay near record highs, and are much higher than what we pay here in the U.S.
Now, this is great news for the U.S. and the world. According to a new study by the American Petroleum Institute, over a six-year period, U.S. exports reduced global oil prices by an average of $1.93 per barrel, added $161 billion to U.S. gross domestic product and increased jobs in the U.S. by nearly 50,000.
But there's …
More Good News
Last Thursday, the latest U.S. International Trade in Goods and Services was released. The goods and services deficit was $79.514 billion in June. That's bad … but it would be so much worse without energy exports.
In fact, June was the third month in a row that the U.S. trade deficit shrank. And that's because our goods and services exports are surging.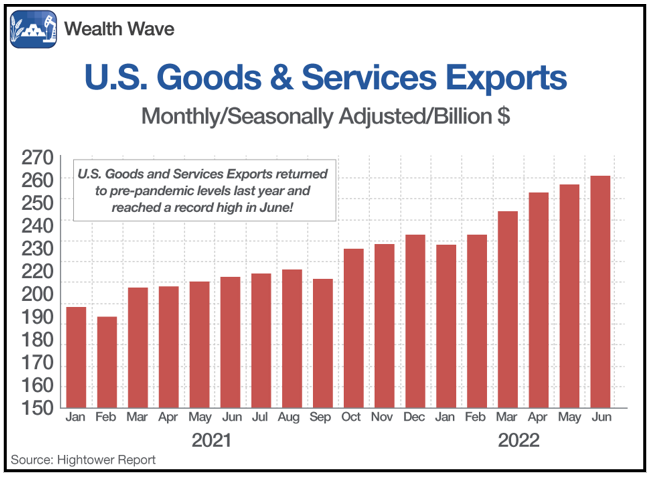 Look at that! More than $260 billion was exported in June. We aren't shipping a lot more cars overseas. We're shipping a lot more oil, natural gas and oil products.
According to the Hightower Report:
"In the first half of the year, more than 17% of all U.S. goods exports consisted of crude oil, petroleum products, natural gas and LNG. Ten of the 20 highest weekly crude oil export readings on record have occurred since the start of the year, including a new record for the week of July 22."
So, that's the unexpected bonus from America's energy boom: It's helping us get a handle on our sky-high trade deficit.
How Investors Can Potentially Profit
The easiest way to play this boom is to buy an exchange-traded fund that holds a basket of the best oil companies.
There are many such ETFs, but the Energy Select Sector SPDR Fund (XLE) is a solid example. Let's look at its daily chart: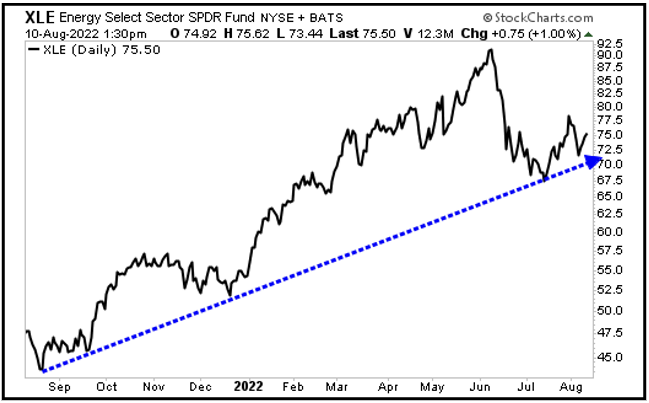 You can see that the XLE is way off highs it hit just in June, right before the energy sector as a whole pulled back considerably. But the XLE is still holding an uptrend that started last year, having bounced off of support in mid-July. So, this is a great time to buy it.
And here's a bonus: Thanks to all those oil profits, oil companies are swimming in cash recently. As a result, they're jacking up dividends. The XLE now sports a dividend yield of 3.75%! That's huge compared to the 1.54% yield of the S&P 500!
If you'd like to know which individual oil companies I'm recommending for members of my service, Wealth Megatrends, click here to join them now.
They're not only sitting on numerous double-digit open gains, but they're also being paid generous dividend yields while holding those stocks.
Investor sentiment on oil has cooled in the short-term, but longer-term forces are very bullish indeed. Wise investors would do well to ride that boom for all it's worth.
As always, make sure to conduct your own due diligence before entering a trade.
Best wishes,
Sean