Energy Zooms Higher as Tech Gets Wrecked
Something wild is happening in the markets right now — a massive change in trend.
And it points the way to making plenty of profits going forward. It's a tale I can tell in two charts.
Let me start by pointing out that I spotted this trend way back in January. I told you about it in my column, "Profit While the Market Panics." That was the change in trend from growth to value.
I explained that as interest rates went higher, and "free" money dried up, we'd see Wall Street shift from high-flying, no cash flow tech stocks to companies with real earnings. Especially energy stocks.
And that's just what's happened.
Here's a chart comparing the percentage change in the tech benchmark, the Invesco QQQ Trust (QQQ) and the Energy Select Sector SPDR Fund (XLE) — a basket of leading energy stocks: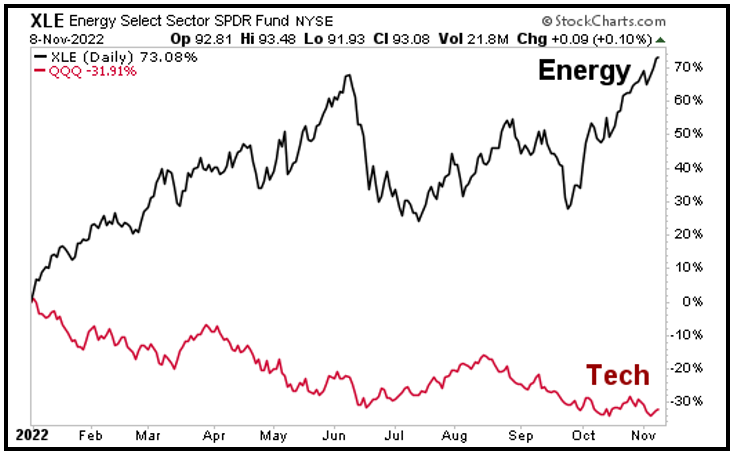 Percentage change in energy & tech benchmarks.
Click here
to see full-sized image.
Wowza!
Recently, the energy stocks as a group were up 73% for the year.
At the same time, tech stocks fell nearly 32%.
But you know that story. If you're a member of my trading services, you've been riding this trend to the bank over and over again.
Now look at this next chart. It compares the percentage performance of energy and tech over the last five years.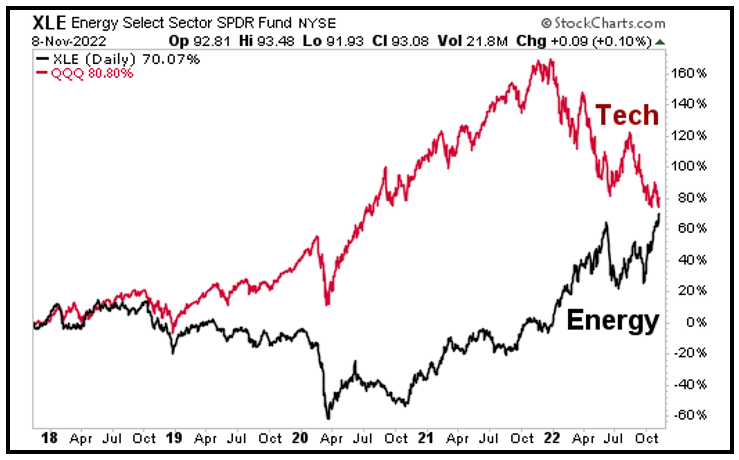 Performance of energy & tech over last 5 years.
Click here
to see full-sized image.
While tech stocks have a reputation for being highflyers, over the past five years, they've barely outperformed energy stocks.
Here's the important part: The last time energy as a group achieved parity with tech was in 2001.
What happened next?
Energy went on to outperform tech by nearly 100% over the next five years.
Mind you, the past does not guarantee future results. But it's also said that history doesn't repeat … but it sometimes rhymes.
I see one Wall Street analyst after another saying that tech is ready for a big rally. Maybe so.
But you know what? Global energy demand isn't slacking, despite a parade of energy naysayers on Wall Street.
I'm telling you, they're wrong.
Maybe tech will have a great 2023. However, if these charts are predictive, that would mean energy is going to have an even better year!
Way back in January, when I first told you about the rotation from growth to value, I recommended the Energy Select Sector SPDR Fund (XLE) as a great way to play it.
Did you buy it, or maybe individual energy stocks? Or did you miss out on the big party? Let me know.
There's another big profit party brewing in energy. Consider this your invitation.
Don't. Miss. Out!
All the best,
Sean