Holy Smokes! Cannabis Is Lookin' Good!
Just a week ago, I was talking about how cannabis stocks looked so cheap that it was like finding jewels in a dustbin.
The market gods must've heard me because cannabis stocks are heating up fast!
You know what they say: Where there's smoke, there's fire.
And this rally is just beginning!
Let me give you three reasons why marijuana stocks are on the move and give you an idea on how to potentially play it.
If you attended my cannabis presentation for MoneyShow on Tuesday, you saw some interesting charts.
I'm going to share some here because a picture is worth a thousand words.
Reason No. 1: Rock-Bottom Valuation
Are cannabis stocks cheap?
I sure think so.
First, let's look at a longer-term chart of the AdvisorShares Pure U.S. Cannabis ETF (MSOS), which holds a basket of the best American multistate operators (MSOs), as well as other marijuana-leveraged stocks.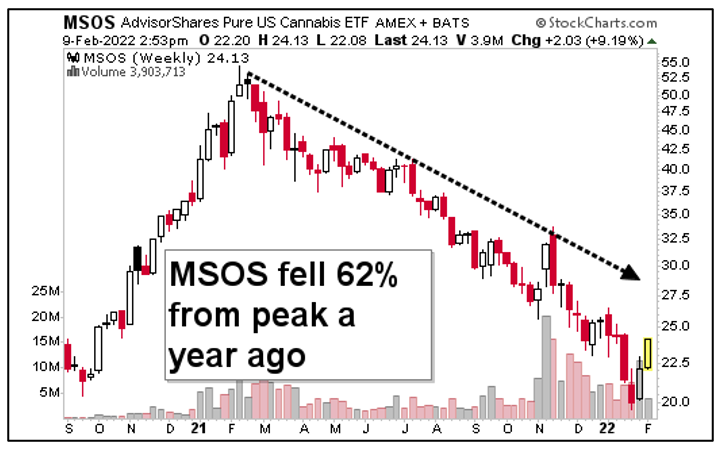 Ouch! Man, has this exchange-traded fund (ETF) fallen down the stairs. At its bottom last month, it was down 62% from a year ago.
But look at the far right of the chart ... cannabis stocks are bouncing hard and picking up steam.
Why?
Well, I have another chart for that: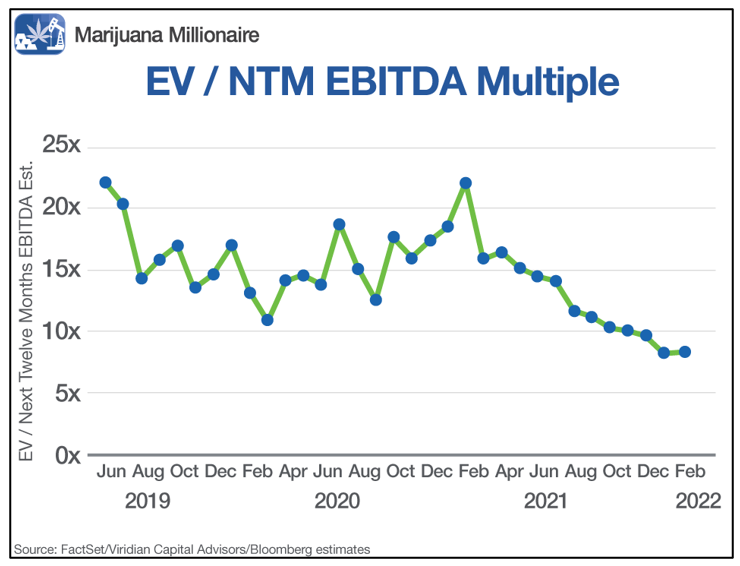 This is my updated version of a chart published by Viridian Capital Advisors.
It shows the enterprise value of leading MSOs divided by their earnings before interest, taxes, depreciation and amortization (EBITDA) for the next 12 months.
Very quickly:
Enterprise value is the total value of a company, including both the market cap and the cost to pay off debt (net debt, or debt minus cash).

EBITDA is used as an alternative to net income … often, when companies don't have net income.
Many cannabis companies didn't have net income, so that's why this valuation became the industry standard.
The point is …
By common metrics, these stocks are cheap.
I computed an EV/NTM EBITDA multiple of 8.7 for a basket of MSOs. Back in January, when these stocks bottomed, it was even lower.
So, are marijuana stocks relatively cheap? Darned right they are.
Reason No. 2: Revenues Are Soaring
Here's a table I put together for MoneyShow using data from New Cannabis Ventures. It shows revenue growth in leading marijuana stocks.
Look at the column second from the right showing year-over-year growth:
Holy smokes: 328% … 212% … 172% … 147%!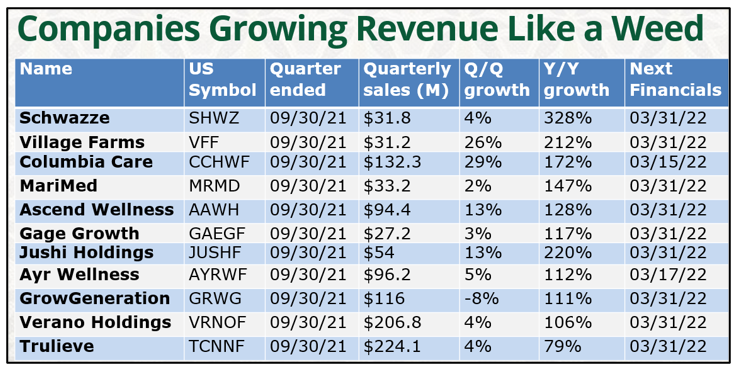 That's revenue growth that any industry would kill for!
So, select cannabis stocks aren't just comparative values, they're also growing like … well … like weeds!
Reason No. 3: States Need the Revenue
Value and growth aren't the only things pot stocks have going for them. Change is in the wind … and it smells like money.
Tax money.
States are starting to reap millions and millions of dollars from taxes on cannabis.
In fact, last year saw states rake in more than $3 billion in total tax dollars from marijuana sales, as this chart using data from NBC News shows: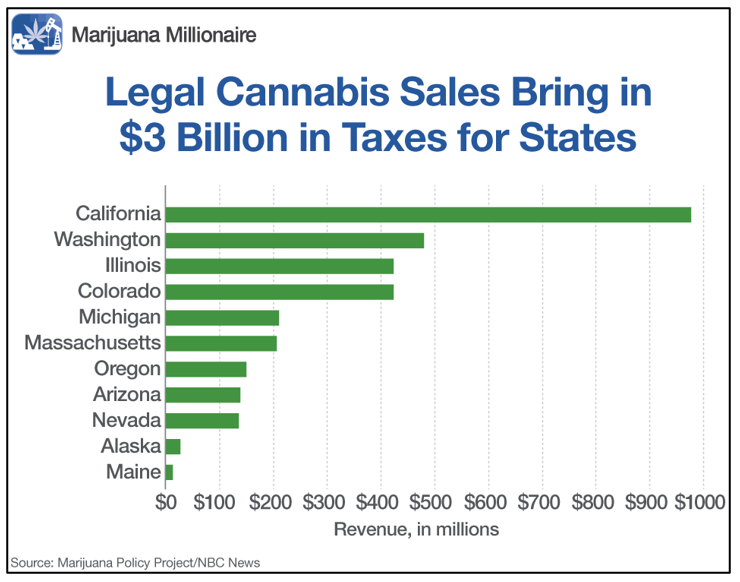 Going forward, cannabis could become much more important to states.
That's because now many municipalities are flush with cash. That's due to the COVID-19 stimulus money they received and the infrastructure spending the federal government is rolling out.
But municipalities must commit the stimulus money by 2024 and spend it by 2026.
Analysts at Barclays (BCS) say:
It's likely states will look to taxes on cannabis to fill their future funding gaps.
Sure, I could show you charts on how cannabis is becoming more popular with Americans, or how the industry has become a huge jobs creator by adding 77,000 new jobs last year alone. But what speaks loudest for politicians? Money.
And the positive benefit of cannabis taxes make legalization — either state by state or federal — increasingly likely.
How to Potentially Play This
If you missed my MoneyShow presentation, you missed my hottest stock picks, too.
But I'll be sending those to my Marijuana Millionaire subscribers sooner than later.
To be sure, the higher road for cannabis won't be a straight line. But with bullishness breaking out, pullbacks can be bought.
One great way to possibly play it is with the fund I mentioned earlier: the AdvisorShares Pure U.S. Cannabis ETF (MSOS).
Or you can potentially drill down into the fund for individual stocks in their holdings that could outperform.
As always, do your own research and due diligence, and see what suits you.
But remember: The party bus for cannabis is starting to roll!
Best wishes,
Sean