How to Beat 3 Bearish Forces Facing the Market
It's becoming painfully obvious the market wants to go lower.
I say this even though Supercycle Investor members took more than a 200% gain on a bullish position last week. The broad trend in the market is down.
So today, I want to list some of the obstacles facing bulls, what will ultimately cause the next real bottom in the market and how you can play it.
Bearish Force #1: Interest Rate Hikes to the Moon!
The Consumer Price Index numbers came in hot last week. The annual pace of inflation slowed a bit to 8.3% from 8.5% but that was way above expectations. Core inflation was hotter, too. The Fed is laser-focused on inflation now, determined to bring it down.
The only weapon it has is interest rate hikes, and it'll use those like a cudgel. The Fed fund futures imply a terminal rate around 4.25%. It's currently at 2.5%. However, some on Wall Street are now predicting a terminal rate of 5% or higher.
The Fed announces its next hike on Wednesday. 75-basis points are fully priced in. Some are predicting a hike of 100-basis points. I guess we'll see.
The problem is the interest rate hikes we've seen already this year have hammered the housing market. And the news on real estate keeps turning more bearish as the median monthly mortgage payment on a home is almost 40% higher than what it was a year ago. What will higher rates do?
What's more, traders believe that, in its quest to bring down inflation, the Fed doesn't care what damage it does to the broader economy. And it doesn't care what it does to the stock market. At least in the short term.
Bearish Force #2: Quantitative Tightening
Gordon Johnson of GLJ Research points out that, this past Thursday, the Fed stopped buying mortgage-backed securities. Johnson writes:
"This is a key moment in U.S. history given the Fed started buying MBS in 2008 to suppress mortgage rates and inflate home values. In fact, the Fed's last purchase was a very modest $387 million on Sep. 14, which will settle Oct. 20th and appear on the balance sheet Oct. 27th.
"The last time the Fed did QT, it lasted from November 2017 to February 2020, and took ~3 months for the phase-ins to become recognizable in the balance sheet … And, given the Fed has said many times it wants to rid itself of MBS entirely, it seems like only a matter of time before it starts the outright sell of MBS securities … Given the bulk of U.S. wealth is in homes, this is bad."
Well, thanks for that ray of sunshine. The fact is, we don't know if the Fed will start selling mortgage-backed securities or how real estate or the broader U.S. economy will do as the Fed increases quantitative tightening. But we do know that the last time the Fed tried to enact QT, the market freaked out and sold off hard until the Fed backed off.
This time, with the Fed focused on inflation, it's likely traders will cry uncle.
Bearish Force #3: A Recessionary Doom Loop
Wall Street is worried about the future, thanks to these first two forces I told you about.
Worry builds upon worry, making a doom loop. Traders sell in anticipation of lower prices and harder times, which then causes lower prices, triggering more selling. Here's a weekly chart of the S&P 500 that I'm watching …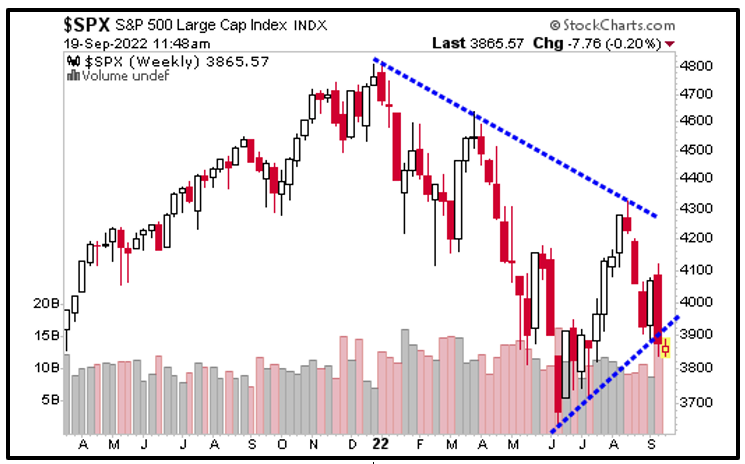 S&P 500 Weekly Chart.
Click here
to view full-sized image.
You can see that the S&P 500 has moved below its uptrend. This means we're probably at least going to visit the June low, and maybe lower.
So, where does this all end? I believe it ends when the Fed finally blinks on interest rate hikes and not before. Rather, when the Fed adjusts its language to say that it's approaching the end of its hiking cycle.
As I've said repeatedly since July, this market doesn't run on fundamentals. It runs on psychology, on anticipation of easy money from the Fed.
I don't know when the Fed will blink. But if America is accelerating toward recession, the Fed may change its mind about rate hikes even if inflation is nowhere near its target of 2%.
What Can You Do?
There are two ways to play this. One is to take bearish positions on market rallies. These would include inverse and double-or-triple inverse funds like the ProShares Short QQQ (PSQ), which goes up as the Nasdaq 100 goes down. Be warned, these funds are very speculative and strictly short term. They can bite you if you buy and forget them.
The other way is to buy dividend-paying stocks. This chart from Fidelity Research shows how dividend payers outperform in a high interest rate environment, like the one we're in now ...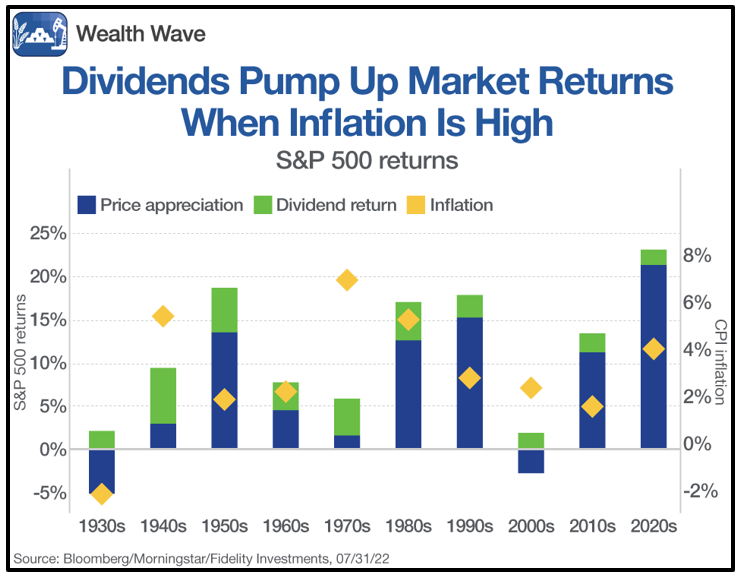 Dividend Returns.
Click here
to view full-sized image.
The dark blue bar is price appreciation, and the green bar is dividend returns. Together, those show total returns measured on the left axis. The height of the yellow diamond indicates average inflation in each decade, measured on the right axis.
As you can see, when the diamonds go higher, dividend returns become much more important. That's because bonds and other "fixed" investments pay a previously-determined rate of interest to investors who own them. On the other hand, companies can — and often do — raise dividends when inflation ramps up.
Bottom line: the market is likely headed lower. You can insulate yourself from the bumps on the way down with stocks that have a nice cushion of dividends, or, if you have higher risk tolerance, by using inverse funds.
Either way, now isn't a time for hiding under your desk. It's a time for taking action and aiming for profits. As always, make sure to conduct your own due diligence beforehand.
All my best,
Sean
If you enjoyed reading this, then check out my paid service, Wealth Megatrends. Members of Wealth Megatrends are currently sitting on open gains of around 16%, 14% and 13%!