How to Profit from Peaking Inflation
The market has zig-zagged higher recently, thanks to signs of peaking inflation.
Last Thursday, October's Consumer Price Index report beat estimates and sent stocks soaring. The S&P 500 jumped 5.5% following the news, while the tech-heavy Nasdaq had its best day since March 2020, gaining 7.4%.
Even core CPI, which excludes food and energy, rose less than expected with increases of 0.3% monthly and 6.3% annually.
Wall Street banks and other institutional investors were thrilled. Mark Zandi, chief economist at Moody's Analytics, claimed, "It's pretty clear that inflation has definitely peaked and is rolling over."
The chart below shows yearly Consumer Price Index movements since the beginning of 2020. After steadily increasing, inflation is finally moving in the right direction.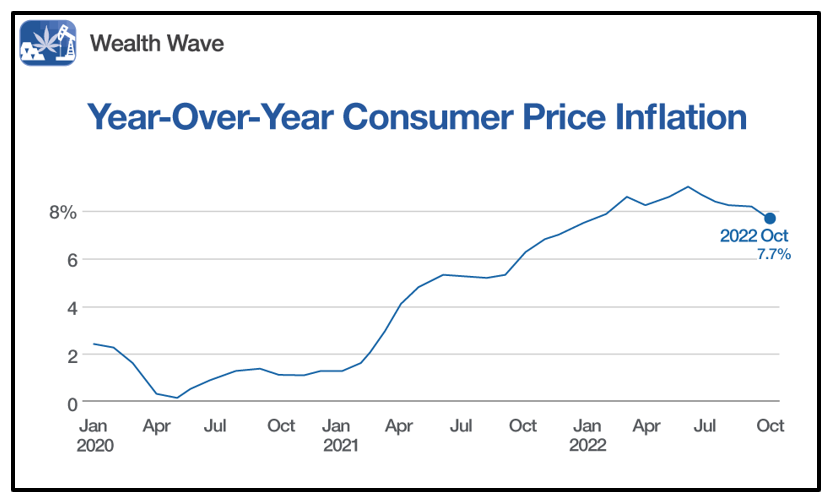 YoY Consumer Price Inflation.
Click here
to see full-sized image.
I recently mentioned how taming inflation remains the Fed's top priority ... with investors clamoring for a Fed pivot, seeing how positive inflation data brightened the market's outlook.
The market has previously rallied on hopes of a Fed pivot, only to have those hopes dashed by hawkish words from Fed Chair Jerome Powell. On Nov. 2, he said that it is "very premature to think about pausing interest rates." And that knocked the market lower. Now, the data is shifting back in optimists' favor.
Consumer prices aren't the only figures slowing down. Tuesday's Producer Price Index data showed an 8% annual increase, which was below expectations of 8.4% yearly wholesale inflation. Producer price stabilization bodes well for consumers because companies won't need to pass extra costs on to buyers.
Investors aren't out of the woods yet, but another positive reading in December would significantly improve the chances of the Fed easing up. November's CPI report will come in on Dec. 13, or one day before the Fed makes its next decision.
For now, the market continues adjusting its expectations for December's meeting. After four consecutive hikes of 75 basis points, the market is finally expecting a slowdown.
Fed Funds futures priced in about even odds between a 50- and 75-basis-point December rate hike before last Thursday's inflation data. Now, the probability for a 50-basis-point hike is about 85%. November's inflation data will be critical, but recent data could point to another solid reading.
How You Can Play It
If the Fed slows down its rate hikes, stocks that struggled during the tightening cycle should start rebounding. As this happens, growth stocks could outperform with strong short-term momentum.
Growth stocks were largely beaten down because higher interest rates increased discount rates for future cash flows. Valuations took a hit because those cash flows were expected in the near future instead of immediately.
I'm still very bullish on dividend and value stock performance moving forward given the heightened economic uncertainty, but growth stocks could make a very effective short-term trade during a pivot.
The Vanguard Growth ETF (VUG) could help play the trend while market sentiment improves. The fund tracks an index holding the largest U.S. growth stocks and targets companies with strong earnings growth. VUG holds 249 companies with an average earnings per share growth rate of 26.9%.
The fund's top three holdings are Apple (AAPL), Microsoft (MSFT) and Amazon.com (AMZN), which make up about 30% of its $137 billion in net assets. VUG's expense ratio is a negligible 0.04%, and it averages about 1.4 million shares of daily trading volume.
Looking at VUG's chart, we see that it was beaten down while the Fed jacked up interest rates.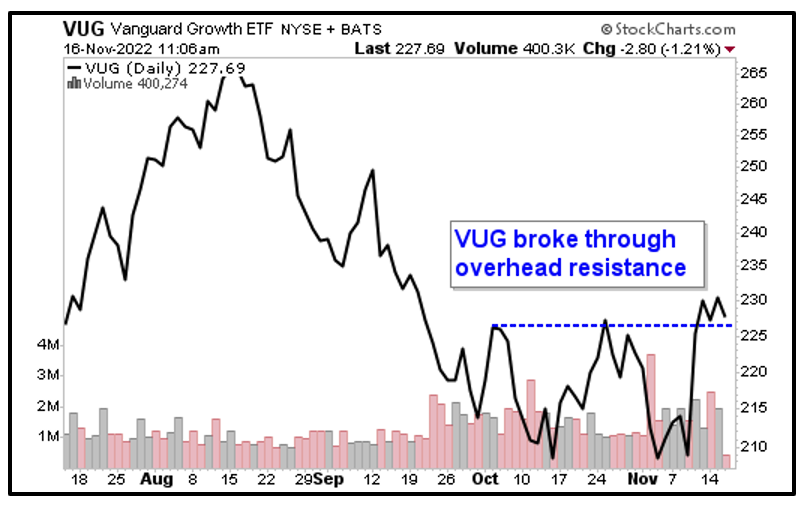 VUG daily chart.
Click here
to see full-sized image.
However, the fund is regaining momentum as pivot optimism grows. VUG just smashed through overhead resistance, and now it's trying to establish the level as support.
Make sure to do your own research before entering a position, but there may be a golden opportunity to capitalize on shifting sentiment.
I'll have more for you soon.
All the best,
Sean
P.S. If you enjoyed this issue and want more picks like these, consider checking out Disruptors & Dominators, where members are currently sitting on open gains of 40%, 27% and 51%!